Better decisions for a better world. Explore Aon's environmental, social, and governance impact on our world.
Aon remains steadfast in its commitment to its colleagues, clients and communities. During uncertain times, it is even more vital that we live by our values as a firm to foster a culture of inclusion, diversity and wellbeing within our organization to enable growth and resiliency.
The Aon United focus on collaboration, inclusive leadership, innovation and client service is the foundation of our culture. This framework energizes and engages our colleagues, making them feel more relevant, connected and valued as they seek to shape decisions for the better and achieve their full professional potential. Aon continues to build on actions and programs that support inclusion, diversity, workforce wellbeing and civic outreach to build an equitable culture within the organization and beyond.
Aon United Culture and Values
The Aon United Blueprint guides our culture and values. We know our people are the key to creating sustainable, long-term value, so we've continued our efforts to strengthen our culture in tangible ways. We believe in building a culture of opportunity for our people, one that enables each of us to bring our best each day and do great work for clients. This includes four foundational strategies:
Delivering Aon United informs the way our colleagues work together and scale strategies across the firm to deliver value to our clients, setting a new standard for client leadership.
Our Inclusive People Leadership strategy ensures all colleagues are equipped and motivated to model Aon United values and behaviors.
Greater workplace efficiency supported by Aon Business Services allows our colleagues to shift their focus to innovation and the client experience, bringing our purpose to life.
Our Innovation at Scale strategy enables us to address growing unmet client needs in managing volatility, achieving greater access to capital and building resilient workforces in addition to creating new solutions for clients.
Talent
We continue to invest in our colleagues and work to help them achieve their full potential by addressing the various dimensions of their "whole selves," including their personal wellbeing and professional careers. This inspires each of us to bring our best, authentic selves to work each day and drives us to continue to perform and perfect our service to clients.
We focus on strategic hiring by attracting talent who strengthen and complement our existing teams and prioritized opportunities. This approach allows us to deliver more integrated and impactful solutions to our clients' biggest challenges. We supplement our capability with the leverage and insight of Aon Business Services — all designed to serve our Aon United culture.
We continue to embrace a culture of feedback, allowing us to be more agile in addressing the needs of our colleagues. In 2022 alone, we received a total of 90,000 colleague responses to seven pulse surveys and our annual survey. Additionally, our two-way culture of inclusion and feedback includes the executive leadership and regional town halls, our employee-driven business resource groups and our series of listening, strategy and activation sessions.
As of December 31, 2022, colleague engagement remains at 80 percent, and our latest engagement survey reveals our Smart Working strategy, which enables colleagues to deliver their best work for clients from wherever they are best placed to do so, is not only an enabler of environmental progress but also helps foster a more inclusive workplace and is a critical contributor to our colleagues' wellbeing, productivity and engagement.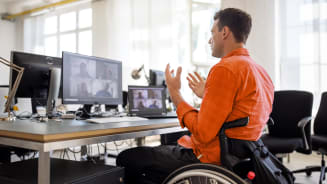 80%
As of December 31, 2022, colleague engagement remains at 80 percent.
Inclusion and Diversity
Diverse and inclusive teams produce better insight and solutions, deliver the best outcomes for clients and are vital to ensuring Aon's long-term success. We are dedicated to ensuring our workforce is representative of the communities in which we operate.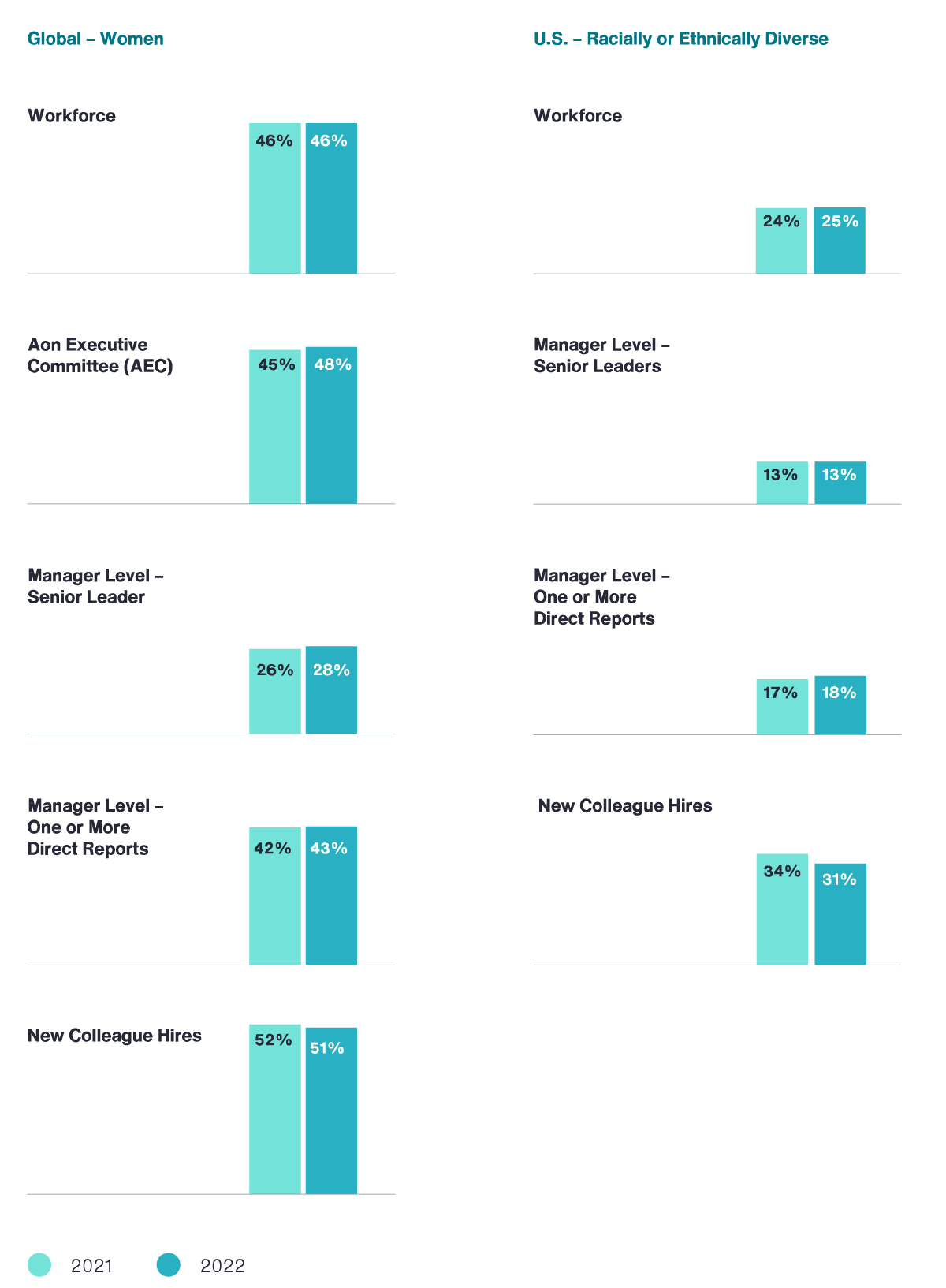 All stats as of December 31, 2022 and 2021.
Racially or ethnically diverse, calculated as a percentage of colleagues that have voluntarily disclosed their race or ethnicity to Aon.
We celebrate the strides we are making toward becoming a more diverse, inclusive team and are committed to continuous growth and evolution toward greater diverse representation. To reinforce inclusion and diversity (I&D) as a core value, we equip colleagues to live out this commitment in their daily work. Our Inclusive People Leadership strategy is grounded in colleagues leading the charge, embracing Aon United values and modeling behaviors that reflect those values.
Our Global Inclusive Leadership Council (GILC) is focused on four key I&D pillars for meaningful progress: Recruitment, Promotion, Education and Representation. The GILC is responsible for engaging the Region Inclusion Councils to ensure global practices are executed across the organization to create an inclusive workplace. The Council's work includes:
Elevation Experience for women and diverse senior leaders
Inclusive Hiring Program for our hiring managers
Unconscious Bias training now required for all colleagues in 2022
These training initiatives and programs are the foundation for all colleagues to engage in and continue their inclusion learning journey. Aon colleagues completed over 44,000 hours of I&D training — including the Activating Your Allyship course, which teaches colleagues how to support each other and drive Aon's overall I&D goals. Managers, meanwhile, participate in inclusive leadership programs to help them learn and develop their inclusive leadership, hiring and recruiting skills.
By taking part in voluntary business resource groups led by colleagues, Aon colleagues have a forum to discuss shared experiences. Examples of current chapters include the Aon Pride Alliance, Women's International Network, Aon Veterans United, Multicultural Group, Black Professional Network, Mental Health, Empowering Abilities, Asian Pacific Islanders, Latino Professional Network and Women in Technology. In 2022, 104 business resource group chapters spanned 15 countries, including several global chapters and 59 percent of colleagues belong to one or more business resources groups based on a 2022 Pulse Survey.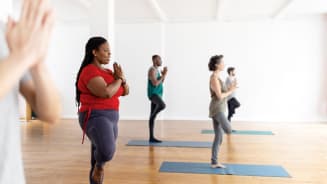 Wellbeing
Aon has also focused on evolving its approach to colleague wellbeing, including strengthening our definition of the term, building frameworks that include mental health, team and organizational resilience and establishing an organizational wellbeing maturity curve, which identifies five levels of wellbeing maturity from foundational to leading.
Using global and broadly understood terms and data measures, we have established clear foundations from which to drive change. This enables us to target our programming more precisely and pursue innovative partnerships and solutions as well as deliver best practices internally and extend our impact externally to clients. We have also set a regular reporting cycle to measure our progress and drive success.
In 2022, we gave colleagues days off as "wellbeing days," as well as many opportunities to attend global wellbeing sessions, find resources and other material on our new wellbeing site and benefit from new global wellbeing platforms and partnerships such as Burnalong, an inclusive wellbeing platform for all colleagues globally.
Our focus on wellbeing extends to our client work and supporting them and their employees to build a healthier, happier and more productive workforce. In 2022, Rachel Fellowes became Aon's first chief wellbeing officer, a position that helps accelerate Aon's ambition to improve the wellbeing of its 50,000 colleagues while also enhancing client solutions.
Bringing a more data-driven approach to wellbeing is one of the ways Aon is differentiating its approach. Fellowes developed the Human Sustainability Index (HSI), now a part of Aon, which is a new way to measure wellbeing, employee resilience and individual and team performance sustainability through diagnostics, coaching, training and strategy consultancy. Built on academic research to inspire more innovative, inclusive approaches to workforce planning, HSI is designed to provide data and information that helps to educate and empower people to make meaningful changes for themselves, their teams and ultimately their organizations.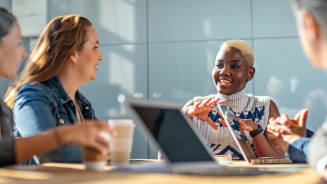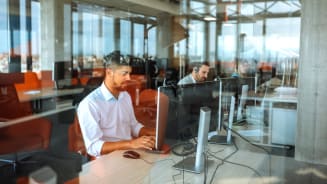 Learning and Development
Across Aon, we create a culture of opportunity for our colleagues that is driven by collaboration and innovation. To help colleagues reach their full professional potential, we work to provide targeted, meaningful learning and development opportunities. In 2022, our colleagues participated in over 75,000 hours of virtual and in-person facilitated learning and online courses.
As the impact of the COVID-19 pandemic begins to diminish, we acknowledge the importance and need to balance the benefits of scale that come from virtual learning with the unique and powerful benefits of an in-person, market-differentiating learning experience. In 2022, we redesigned and relaunched an in-person version of Mastering Client Interactions to help our colleagues serve clients more effectively, introduced multiple in-person learning experiences for leadership teams to foster high-performing team behaviors and trialed experiential and simulation-based training programs.
Additional strategic learning enhancements included the following:
On-Demand Content

Increased engagement and relevance of virtual learning content with the introduction of TED@Work and Digital IQ content, along with on-demand business and leadership book abstracts and podcasts all focused on individual and business development needs.

Development Days

Development Days bring a dedicated focus to whole-self-development and provide the virtual and in-person content tied to skills for today's workforce. Colleagues have the opportunity to participate in a wide variety for courses, including Mastering Client Interactions, wellbeing, leading people, career development, professional skills, I&D and coaching.
Impact Story - Aon United Impact Team
When industry challenges emerge, Aon colleagues rise to the occasion. Last year, the U.S. Securities and Exchange Commission unveiled a new, high-profile disclosure requirement on "pay versus performance" for U.S. companies — and clients had a limited time to comply.
As a firm with the three major areas of expertise needed to respond to this rule — equity services, governance and executive compensation — Aon was uniquely positioned to support clients in addressing this requirement. We recognized a high-impact opportunity to bring the breadth of our capabilities together to serve clients more effectively and developed an Aon United Impact Team. This team, an agile, cross-functional group of 50 colleagues, collaborated to deliver solutions for our clients while, at the same time, gaining more exposure across the firm and developing and expanding their own professional experience. Adapting to the changing needs of the market and investing in people, tools and training, we scaled successfully and created a repeatable model for Aon United. 
Our Impact Team is focused on the following:
Client impact

By developing the Aon United Impact Team, we have been able to continue to grow market share with new clients while maintaining rapid responses to existing client needs and increasing opportunities for our colleagues.

Increased capacity

Without the Impact Team, Equity Services would have hit capacity serving the critical needs of 50 clients. Now, Equity Services has more than 280 active engagements with additional companies in various stages as well as new client referrals from competitors.

Professional development and innovation

This team draws from a wide range of skills, experiences and backgrounds, allowing colleagues around the world to collaborate and see what work looks like in different parts of Aon. Our in-house software developers helped the Impact Team by building tools to make processes more efficient and effective, creating a tech-enabled model for solving future challenges.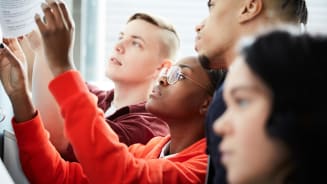 Advancing Career and Social Mobility
Aon strives to create a more equitable future through diverse hiring, talent development, and other initiatives. Through targeted programs, we seek to provide more paths for the next generation of leaders to succeed and grow — helping businesses and communities thrive.
Apprenticeships and Early Careers

Apprenticeship programs help build a talent pipeline of highly skilled and diverse professionals with advanced education and work experience. By removing some of the traditional barriers to entry-level employment, Aon helps develop local workforces, cultivates talent and improves retention rates in entry-level roles.

In 2020, Aon made a commitment to invest $30 million by 2030 to expand our U.S apprenticeship program. This work continues, with seven U.S. cities now represented in our apprentice networks.

Aon's two-year Apprenticeship Program serves as an alternative route into a permanent role for motivated, high-potential individuals. The program bridges the gap between education and employment with on-the-job and classroom training, professional skills development, mentorship and experiential learning. Apprentices also take part in small-group networking in person at the local level and virtually at a national level.

The program offers a competitive salary and full employee benefits, paid tuition at partner schools in the U.S. or government-sponsored Apprenticeship Pathway programs in the UK, leadership exposure and a full-time permanent position.

In the U.S., typical apprentices enter their first corporate position through the program while pursuing associate's degrees at a local community college. In the UK, apprentices are high school graduates who join a government-approved apprenticeship program as an alternative to university. In the U.S. and the UK, the programs are certified by the Department of Labor and the Department of Education, respectively.

In the third quarter of 2022, another global class of 145 apprentices joined Aon.

In recognition of our commitment to promote, expand and diversify apprenticeships across industries, Aon was among the companies named 2022 Apprenticeship Ambassadors by the Biden Administration's Department of Labor.

In November 2022, to mark National Apprenticeship Week, Aon hosted an event featuring First Lady of the United States Jill Biden, U.S. Secretary of Commerce Gina Raimondo, U.S. Secretary of Labor Marty Walsh and U.S. Secretary of Education Miguel Cardona. In a roundtable discussion, Aon CEO Greg Case, Secretary Walsh, and executives from JPMorgan Chase, McDonald's, United Airlines, Walgreens Boots Alliance and more addressed the importance of apprenticeships and ways to continue to scale the apprenticeship model among more employers, giving even more people greater access to sustainable careers —with paid training to be successful. First Lady Biden addressed more than 200 people at Aon's downtown Chicago office, highlighting the importance of "career-connected learning."

Mentorship and Educational Partnerships

Aon continues to share industry expertise and build relationships with the next generation of leaders by engaging with Historically Black Colleges and Universities (HBCUs). Aon has taken a robust approach to engaging with partner universities, focusing on four key areas: university support, scholarships, curriculum development and recruiting and trust building.

Brooklyn College is one of six HBCUs at which our investments support students through scholarships, recruiting and curriculum development. In 2022, we joined with Brooklyn College's Murray Koppelman School of Business and The Spencer Educational Foundation to develop a series of undergraduate programs to help students prepare for a career in risk management, insurance, finance and other professions.

Aaron Olson, executive vice president of Aon, served as executive in residence at the Koppelman School of Business. Through the program, Aaron shared his expertise in strategic decision making with students in guest lectures and one-on-one mentoring sessions with students and faculty.

The full scope of the partnership included more than 10 guest lectures from Aon colleagues, attendance at career fairs, a 75-plus person event featuring Aon executives and Brooklyn College faculty and the sponsorship and development of a three-credit course on the fundamentals of risk management and insurance for the 2022 Winter Intersession. The course introduces students to the concept of risk in the context of what households and commercial businesses face in this highly uncertain environment. Students learn how risk is assessed, measured, managed, absorbed, distributed and transferred. They also examine the value of specific household and business decisions regarding the use of insurance to protect income, wealth and property value from losses that result from certain events. In 2022, Brooklyn College selected Aon as a key community partner.

Aon also supports professional development around the world. In Latin America, the Aon Institute, which runs several social initiatives, is also focused on preparing young people — high-school-age students in Brazil's public schools — to work and find jobs. There are three main pillars of the program: training, assistance campaigns and volunteering. Since the program launched in 2014, Aon has helped 500 students, providing educational guidance, school supplies, transportation and lunches — supporting vulnerable students and addressing multiple dimensions that enable them to learn and thrive. Aon colleagues mentor students and participate in lectures; in 2022, there were 33 speakers from Aon covering topics including diversity and insurance.

In South Africa, Aon's learnership program introduces young learners to the country's insurance sector with a 12-month program and opportunities to further build their knowledge with an 18-month internship. Since it was established in 2006, the program has mentored 585 young people, 83 of whom have gone on to work for Aon on a permanent basis.

Veterans at Work

We aim to have an impact on those with specific needs as they enter or participate in the workforce —veterans in particular face unique challenges. Their military experience often does not align naturally with private-sector roles, and they may need guidance to understand how their existing skill sets can be applied to roles in civilian workplaces.

Since 2010, Aon has partnered with American Corporate Partners, a national nonprofit organization dedicated to helping military veterans transition to the private sector through one-to-one mentoring with business leaders. Aon colleagues commit to year-long mentorships, providing career guidance to veterans transitioning back to civilian life. During this partnership, 223 Aon colleagues have mentored 540 veterans.

Veterans who take part in the program expand their career opportunities, enhance their resume and interview skills, and build a professional network.

Part of Aon's larger focus on veteran wellbeing includes a focus on financial wellbeing for veterans and military families, and Aon has developed approaches to serve their unique needs.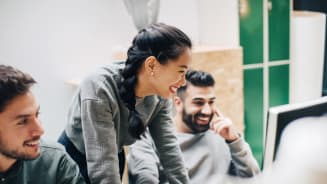 $30M
Aon made a commitment to invest $30 million by 2030 to expand our U.S apprenticeship program
Supplier Diversity
Economic inclusion is an important element of Aon's overall commitment to building a more equitable, sustainable and resilient firm. Aon Diversity Solutions (ADS) empowers small and diverse-owned businesses to play a greater role within the global economy, supporting job creation, competitiveness, individual wealth and vibrancy in local communities.
We are committed to developing valuable relationships with businesses that are owned by minorities, women, LGBTQ people, veterans, people who are disabled or differently abled, small businesses and businesses in historically underutilized business zones. We also provide opportunities for suppliers that can offer quality, innovative, competitive and cost-effective products and services.
To confirm our commitment, we signed Aon's Commitment Statement for Global Supplier Diversity in 2020, which outlines expectations that guide procurement actions and contribute to growth through commercial impact. ADS' Economic Inclusion strategies have also been embedded into Aon's Client Value Creation and Client Service Delivery models.
ADS is led by global standards together with best and next practices across regions and solution lines to bring the best of Aon to every colleague and client so communities can thrive.
Through our integrated supplier and business diversity efforts, over 6 percent of our U.S. addressable spend in 2022 was with diverse suppliers.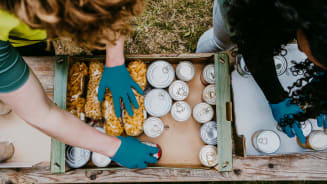 Philanthropy and Community Impact
Aon supports the communities in which we live and work. This support is driven not only by our overarching ESG strategy and goals, but by our colleagues' local connections and commitment to amplifying our impact. Our philanthropy and community efforts include:
Eight charitable foundations and two donor-advised funds directly benefit from Aon giving
Contributions of more than $11 million in 2022 to philanthropic causes
More than 1300 organizations received philanthropic support from Aon in 2022
Through our work with nonprofits at international and regional levels, Aon has contributed to the Red Cross, United Way and other local organizations in the communities where we live and work across the globe
Full-time employees can participate in civic engagement through community-based volunteering, and in the U.S., the organization encourages colleague charitable giving by matching individual contributions up to $1,000 for any 501(c)(3) nonprofit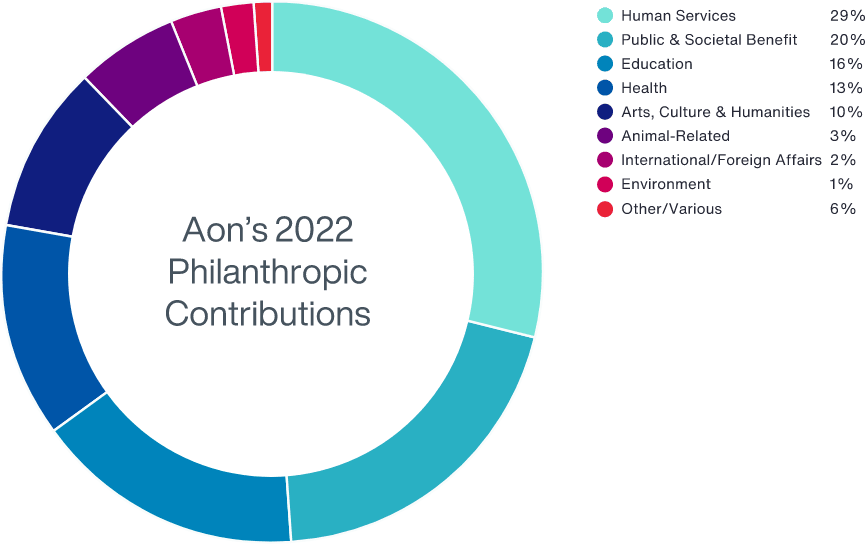 Additionally, Aon expanded its community impact in October 2022 when it began working with Truckers Against Trafficking a transportation organization dedicated to training drivers to spot and report potential victims of trafficking. This new engagement included organizing a session for Aon's 2023 Transportation Symposium — one of many ways Aon takes an active role in strengthening communities, along with volunteering and offering pro bono assistance and advice.
Impact Story - Helping a Survivor Find a New Life

Last year, Aon prevailed in a three-year-long battle to secure a visa for a pro bono client who was lured to the U.S. by a human trafficker. Anna (name changed) was promised $500 per month for domestic work in a Florida home. She was told that her employer in the U.S. would also pay her expenses to travel back to her native home of Colombia on a regular basis to visit her children.

In reality, the trafficker held Anna against her will, withholding her passport and forcing her to live in his garage and work 80-hour weeks for $200 per month. Anna endured challenges involving abuse and threats to her health but eventually managed to escape. Unable to secure legal work in the U.S., she struggled to survive. In 2019, Aon took up Anna's cause, filing a 91-page visa application on her behalf. In 2020, U.S. Citizenship and Immigration Services questioned Anna's qualifications for the visa. Aon submitted a 73-page response that included a psychological evaluation.

Anna's visa application was granted in 2022, freeing her to pursue stable work and build a better life.

Aon's Law and Compliance department championed this effort — just one of many in Aon's pro bono program working with partners from the National Immigrant Justice Center and Kirkland & Ellis. In 2022, colleagues in Aon's Law and Compliance department committed more than 2000 hours to pro bono and corporate social responsibility initiatives.

Impact Story - Addressing Global Food Chain Supply Challenges

In response to insurance coverage disruption related to Ukrainian grain exports as a result of the war, Aon colleagues from every geography collaborated with our carrier, trading and industry partners to quickly develop a cost‐effective insurance solution to facilitate the shipment of Ukrainian grain through the Black Sea. This work was enabled by our deep industry and specialty expertise and backed by our data, analytics and insights.

Our approach helped our clients address risks associated with shipping grain from Ukraine during this time of war and enabled them to safely get food to the people around the world who rely on it. Today we're facilitating the shipment of hundreds of thousands of tons of Ukrainian grain and other agricultural products each month, helping to ease the international food crisis and supporting our clients as they face ongoing challenges from geopolitical uncertainty and supply chain disruptions.
$11M
Aon contributed more than $11 million in 2022 to philanthropic causes.
Cyber Labs
Stay in the loop on today's most pressing cyber security matters.
Employee Wellbeing
Our Employee Wellbeing collection gives you access to the latest insights from Aon's human capital team. You can also reach out to the team at any time for assistance with your employee wellbeing needs.
Environmental, Social and Governance Insights
Explore Aon's latest environmental social and governance (ESG) insights.
Q3 2023 Global Insurance Market Insights
Our Global Insurance Market Insights highlight insurance market trends across pricing, capacity, underwriting, limits, deductibles and coverages.
Regional Results
How do the top risks on business leaders' minds differ by region and how can these risks be mitigated? Explore the regional results to learn more.
Insights for HR
Explore our hand-picked insights for human resources professionals.
Cyber Labs
Stay in the loop on today's most pressing cyber security matters.
Navigating Volatility
How do businesses navigate their way through new forms of volatility and make decisions that protect and grow their organizations?
Top 10 Global Risks
Trade, technology, weather and workforce stability are the central forces in today's risk landscape.
Report

Environmental Impact

We're focused on three areas of environmental impact: our own decarbonization and sustainability efforts, working to accelerate clients' climate resiliency and response, and convening leaders and organizations to collaborate and scale our ambitions.

Report

Governance Impact

Strong governance is at the core of what we do as a firm. Our own model is built for transparency and trust, helping us bring our purpose to life and create value for our clients and colleagues.

Report

ESG Impact

We see significant opportunity in both enhancing our own ESG impact and delivering innovative solutions to clients and the wider market.