Aon Executive Committee
Paul Rangecroft
Chief Executive Officer, Wealth Solutions
Paul Rangecroft is the CEO of Wealth Solutions. He is also continuing to lead the North America Retirement and International Retirement and Investment (R&I) groups. In addition, Paul leads Aon's global retirement and investment teams and retains ongoing client responsibilities.

Paul joined the firm in 1994 and has held several roles in U.S., Canadian and United Kingdom offices. He worked in the UK in 2007 and 2008 on the International Retirement Consulting Team. Immediately following the 2010 merger of Aon and Hewitt, Paul took on the role of Chief Executive Officer of the Consulting business in Canada, overseeing all aspects of the Consulting business including integrating the two legacy businesses. In mid-2011, Paul returned to the U.S. to manage the Retirement & Financial Management group, before expanding his purview to North America in 2015 and adding the International R&I team in 2016.

Paul co-authored Aon's first global Pension Risk survey, is a member of Aon's Cash Balance and Pension Equity Actuarial Resource Team including co-authoring the "Cash Balance Plan Answer Book" and is one of Aon's experts on Employee Ownership vehicles including Employee Stock Ownership Plans (ESOPs) and Employee Stock Purchase Plans (ESPPs).

Paul is based out of the Somerset, NJ, office. He is a fellow of the Society of Actuaries and an Enrolled Actuary. Paul earned both a B.S. degree in mathematics and a M.S. in statistics from the University of Kent at Canterbury in the UK.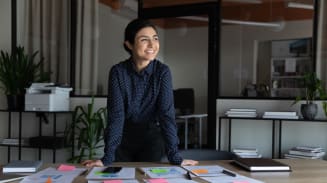 Cyber Labs
Stay in the loop on today's most pressing cyber security matters.
Environmental, Social and Governance Insights
Explore Aon's latest environmental social and governance (ESG) insights.
Insights for HR
Explore our hand-picked insights for human resources professionals.
Navigating Volatility
How do businesses navigate their way through new forms of volatility and make decisions that protect and grow their organizations?