January 6, 2021
16 Min Read
Case Study: McDonald's Responds to the COVID-19 Crisis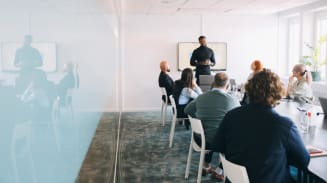 The special report by Aon focuses on the impact of the COVID-19 crisis on society and the economy, and outlines methods for reintroducing fundamental aspects of working, traveling, and convening.
Key Takeaways
The need for organizations to prioritize risk management strategies in the wake of COVID-19.

How companies can better manage their human capital in a post-COVID world.

How companies can pursue growth and innovation opportunities while still managing risk.
Overview
In Aon's special report, Helping Organizations Chart a Course to The New Better, Aon reveals exclusive research on the issues rising from the COVID-19 crisis and methods of re-introducing fundamental aspects of society and the economy: working, traveling and convening.

As part of this new report, leading global businesses and innovative thinkers reveal their strategies and action plans as they make their way to a New Better.

Here's McDonald's story.

McDonald's Corporation operates in nearly 120 countries around the world. As a large global restaurant chain founded in 1955, it has extensive experience in adjusting to changing business conditions. While a potential pandemic was already in the organization's risk preparation program, COVID-19 has impacted every community in ways no one could have fully forecast, and its rapid acceleration pushed the company to move quickly.

McDonald's level of risk preparedness, experience in managing health and safety concerns, and supply chain planning all came into play.

"Covid-19 became part of everyone's job," said Bill Garrett, senior vice president and head of the U.S. Covid-19 response team at McDonald's. "We pushed ourselves to think differently about many things including menu, operating procedures, and how to serve our customers and employees (in both restaurants and corporate offices) in new and different ways that prioritized their safety."

Mobilizing Leadership Teams to Enable Agility to Make Better Decisions
As part of its response to the pandemic, McDonald's developed an agile model and team structure that supported integrated decision making.

A COVID-19 leadership team led the charge, reporting to McDonald's U.S. senior leadership, which initially met three times daily to address quickly changing information and evolving recommendations. Subgroups, focused on a specific area of the business, brought their own solutions—for example, a team focused on enhancing more than 50 processes in U.S. restaurants as part of the swiftest operational transformation in the company's history; another team focused solely on engaging with third party experts to provide ongoing counsel and expertise on emerging science in infection prevention and control and share best practices to mitigate the spread of COVID-19.

Employee resources and support were also critically important, with sub teams focused on office re-openings or dedicated to employee health and wellness. This structure allowed the company to address the pandemic on multiple levels in a targeted way—and agility was crucial.

"We have empowered our functional leaders to make necessary decisions to help protect people and our business, but we also wanted to provide consistency in our approach to the pandemic to ensure we emerged stronger than ever from this crisis – having common principles supported this approach," Garrett said.

Using Data and Feedback to Build Trust and Confidence in Operating Restaurants and Offices
Integrated decision making was at the heart of driving safety focused procedures for McDonald's crew and corporate employees. McDonald's opened a new state-of-the-art headquarters in downtown Chicago in 2018, but its open concept required a cross-functional team of HR, legal, global safety, and others to create an office toolkit that addressed multiple dimensions of working in an open-concept design during Covid-19.  The goal is to help ensure that employees are safe and feel confident—and the collaborative approach is successful.

"People were surprised at how safe they felt when they walked into the office, so we were very proud of the team that worked together to make that happen," says Sheri Malec, Senior Director of Workplace Solutions at McDonald's. "In reflecting on lessons learned during this time, one of my key takeaways is agility. The situation is changing so rapidly so you have to be ready to respond as new data comes out or new scientific recommendations are released."

Accelerating Employee Support Pre- and Post-Pandemic
Along with many other organizations, the pandemic has meant McDonald's is now re-examining its thinking about the corporate workforce post-pandemic. The flexibility the company had already put in place before COVID-19 struck laid a strong foundation for changing working conditions and best supporting employees.

"We already had a system to support our people's personal needs during the workday," said Malec. "The flexibility and working models we had before the pandemic really set us up well to adapt to workforce changes."

General support around health and wellness was key at McDonald's along with supporting managers so they could help their people.

"We gave them the tools to understand how different employees would be affected and make sure they're adjusting accordingly," said Malec.
 

This case study originally appeared with the special report, Helping Organizations Chart a Course to The New Better. Check out the full report for defining moments of the pandemic, case studies of leading companies navigating change, key insights, and more.
General Disclaimer
The information contained herein and the statements expressed are of a general nature and are not intended to address the circumstances of any particular individual or entity. Although we endeavor to provide accurate and timely information and use sources we consider reliable, there can be no guarantee that such information is accurate as of the date it is received or that it will continue to be accurate in the future. No one should act on such information without appropriate professional advice after a thorough examination of the particular situation.
Terms of Use
The contents herein may not be reproduced, reused, reprinted or redistributed without the expressed written consent of Aon, unless otherwise authorized by Aon. To use information contained herein, please write to our team.
Cyber Labs
Stay in the loop on today's most pressing cyber security matters.
Environmental, Social and Governance Insights
Explore Aon's latest environmental social and governance (ESG) insights.
Insights for HR
Explore our hand-picked insights for human resources professionals.
Navigating Volatility
How do businesses navigate their way through new forms of volatility and make decisions that protect and grow their organizations?