It's Hard To Be A Human Right Now: Why Companies Must Support Employee Wellbeing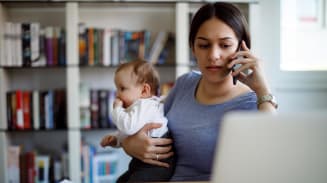 How can the COVID-19 crisis drive better health decisions for the long-term?
Key Takeaways
The COVID-19 pandemic has highlighted the importance of employee well-being.

The shutdowns around the world have led to a rise in virtual medicine and digital wellbeing programs.

Companies must take a holistic approach to wellbeing that includes financial, emotional and social aspects in addition to physical health.
After months of shutdowns due to COVID-19, companies around the world are laying out plans for a return to the workplace. But how can they create environments that help employees feel safe and secure, and balance the changing demands of different pandemic waves? 
Jim Winkler, Global Chief Innovation Officer of Health Solutions at Aon, discusses ways in which the current crisis can drive better health decisions for the long-term.
Q

How would you describe the "new normal"?

Jim Winkler: It's hard to be a human right now. We have this incredible tempest that's causing strain on our physical health, but also our mental health. As a result, employers are recognizing emotional wellbeing as a priority with their employees. At the same time, they're moving towards more digital healthcare opportunities, and addressing broader social justice/disparity issues that could affect all aspects of health.

Q

What trends do you see in healthcare in the immediate and long-term future?

Jim Winkler: With shutdowns around the world, many healthcare organizations were forced to cancel or postpone any non-emergency services. This impacted those in need of ongoing medical care, meaning that cancer patients had difficulty getting chemotherapy treatments and diabetics missed regular check-ins. We don't know the long-term implications in terms of costs and outcomes. But one positive has been in the rise in virtual medicine. Many providers have pivoted quickly to offer more telemedicine, and organizations have boosted their digital wellbeing programs. This could reshape much of our current healthcare and make it more accessible and inclusive for all.

Q

How is the increasing demand for social justice in the U.S. tied to health, and the new better ideas of wellbeing?

Jim Winkler: If wellbeing is holistic, then we absolutely must consider all aspects of being a human. Consider the data around COVID-19 impact, which shows the virus has hit people of color disproportionately. Enlightened by these disparities, as well as the demonstrations in cities around the world, employers are increasingly recognizing that caring for the humanity of their workforce requires that social justice be a part of the strategy. This will help organizations to emerge from this situation better than before. So employers must consider: Can we leverage virtual technology to ensure better access to healthcare to all? Can we take a hard look at our existing benefits and wellbeing programs, and identify gaps around social customs and norms, food scarcity, and more? Asking these questions can help build a wellbeing and healthcare plan based on equity and inclusivity.

Q

How can companies create a better working experience for their employees?

Jim Winkler: There's no immediate end in sight to the challenges we're seeing. We need a holistic view that encompasses financial, emotional, and social wellbeing, in addition to physical wellbeing. While wellbeing may have been considered a nice-to-have program earlier this year, now it's a priority, and is becoming a foundational part of how we empower our workforce. With a focus on holistic wellbeing, companies can help their people be more resilient, and navigate the changes and challenges in the future.
Cyber Labs
Stay in the loop on today's most pressing cyber security matters.
Environmental, Social and Governance Insights
Explore Aon's latest environmental social and governance (ESG) insights.
Insights for HR
Explore our hand-picked insights for human resources professionals.
Navigating Volatility
How do businesses navigate their way through new forms of volatility and make decisions that protect and grow their organizations?