Listen: Vaccinations and the COVID-19 Variants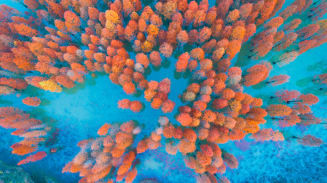 The global COVID-19 crisis has entered a new stage. While millions are now vaccinated against COVID-19, particularly in the U.S., U.K. and Europe, billions more around the world are still vulnerable.
Key Takeaways
COVID-19 variants can be more infectious and deadlier, making vaccination even more important.

Employers should continue testing and ventilation measures, as well as stay up-to-date with guidelines, to help halt the spread of the virus.

Booster shots may be necessary to maintain high levels of immunity against COVID-19, and companies can encourage employee vaccination through education and onsite or near-site clinics.
As COVID-19 vaccination rates vary dramatically around the world, the Delta variant has organizations and governments on high alert.

We sat down with Dr. Neal Mills, chief medical officer, Aon,  to learn how virus variants could impact organizations and individuals in the coming months.

Dr. Neal Mills: We know that the COVID-19 virus and many of its variants are in all nations across the globe. Some nations have begun very aggressive vaccination programs, and here in the U.S. and the UK, more than half of the nation has been vaccinated. But that also means that there are still portions of those nations that are either partially vaccinated or unvaccinated and still at risk for the native (original) COVID-19 virus plus all of the variants. The virus does continue to mutate, and some of those do appear to be more infectious and more deadly. So it's more important now to get vaccinated, considering that the virus is continuing to mutate and may be more more deadly.

Vaccination is a critical defense against the spread of the virus. But what other measures should be considered to halt the spread of the latest COVID-19 variant and others?

Dr. Neal Mills: Employers need to recall that they're going to have to continue other programs indefinitely while we remain in this place called the partially vaccinated workforce. It's going to be incredibly important to continue with your testing programs, whether it be PCR or antigen. You have to make sure that your test can detect the Delta variants and other variants as those variants change in proportion over time. So that's going to be incredibly important. The ventilation systems are going to be incredibly important and then staying on top of changing guidelines from government entities, like the Centers for Disease Control, and making sure you stay in compliance with those guidelines.

With the Delta and other variants, citizens and companies alike are wondering when and if we may achieve a sense of normal once again. The timeframe depends on organizations and communities.

Dr. Neal Mills: In the United States, there are some states that have vaccinated far fewer than half of their populations. In other places, they're soaring above 60 percent of adults that are fully vaccinated. So that will drive part of this. So it's really hard to predict, because these mutations are going to continue to occur. The virus will continue to mutate, and not only it'll mutate and impact terms of the infection rate and the mortality rate, but also its ability to evade vaccines. So this would be a very dynamic situation for many months to come, and the fact that some vaccination rates in some countries is very, very low, it's down around 1 or 2 percent, that means that the virus has many opportunities to continue to mutate in different geographies at different speeds. Therefore, booster shots may also be required, which will also be another driver for how quickly we can open and how long we can keep things fully open for.

There are booster shots that are in testing Phase III investigational trials right now, both in the UK and in the U.S. I think that employers should prepare for the reality that annual booster shots may be required or recommended to maintain the highest level of immunizations against this new COVID-19 virus.

We should prepare for that reality that there will be more surges in the future. Keep in mind that the vaccine is not 100 percent effective against these new variants.
In some areas in the world, including the U.S., vaccine hesitation has caused vaccinations to slow. How can companies encourage their employees to get vaccinated?

Dr. Neal Mills: Understanding what the employer can do in their local communities, regardless of where on the globe it is, how they can contribute to the vaccine campaigns, either through providing directly vaccines themselves or sponsoring onsite, near-site clinics or education programs that drive home how safe and effective these vaccines are.
There's lots of multi-national employers right now that have asked for speakers from Aon to educate their workforce regarding how effective the vaccine is against the native (original) and COVID-19 variants, as well as speaking to the safety, the risk of side effects, and addressing some of those more rare side effects so that the informed consent decisions can be made around individuals, employees and their families receiving the vaccine.
As some organizations attempt to return to the workplace, employee testing may continue to be crucial to preventing these new COVID-19 variants from spreading.

Dr. Neal Mills: Only a small number of employers appear to have a workforce that is 100 percent vaccinated. So, we're in this realm of the partially vaccinated workforce. So as a result, there needs to be surveillance programs for testing to keep your partially vaccinated or unvaccinated workforce safe. We should prepare for that reality that there will be more surges in the future. Keep in mind that the vaccine is not 100 percent effective against these new variants. So as a result, the surveillance program would benefit all. I think one of the most important that I think would have the biggest impact for your employees is reviewing your wellbeing strategy. We know that those with diabetes, cancer, those that are immunocompromised, those over the age of 50 are more susceptible and experience far higher mortality rates. So reviewing your wellbeing strategy to make sure that you are affording those with chronic serious conditions every opportunity to maximally maintain their health and achieve the best possible health outcomes so that should the virus or any virus continue to mutate and come back into the workforce, your employees are offered or afforded every opportunity to have the best possible outcome, should they get infected.
Cyber Labs
Stay in the loop on today's most pressing cyber security matters.
Environmental, Social and Governance Insights
Explore Aon's latest environmental social and governance (ESG) insights.
Insights for HR
Explore our hand-picked insights for human resources professionals.
Navigating Volatility
How do businesses navigate their way through new forms of volatility and make decisions that protect and grow their organizations?
Article 17 Min Read

How Academic Research Can Help Drive Climate Risk Resilience

By leveraging the advances made by academic research, companies can develop more robust climate risk resilience.

Article 19 Min Read

Pricing Platform: Avoiding Pricing Pitfalls

Pricing pitfalls are more common than you think, whether it's working with incomplete data or key man risk – but with the right pricing process, many of these issues can be mitigated. Read our article to learn about the most common pricing errors, and what insurers can do about it.

Article 18 Min Read

Pricing Platform: The Importance of Getting Pricing Right

In today's increasingly complex insurance landscape, an inadequate pricing system can not only impact insurers' view of risk, but also prevent them from making the right decisions at the right time. Read our article on why it's essential to get pricing right.