Resilience and Resolve: What a Gradual Recovery Will Look Like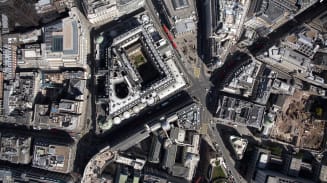 Dave Guilmette, President of Global Health Solutions at Aon, discusses the challenges faced by companies in their return to the workplace following the COVID-19 pandemic.
Key Takeaways
Companies are concerned about the safety of their employees as they return to the workplace, with questions about COVID-19 testing and compliance with local policies.

Virtual health and telehealth are expected to increase as a response to the pandemic and the strain on healthcare systems.

Employee safety and healthcare — including virtual health — will play a crucial role.
Companies around the world are mapping out a return to the workplace. How will companies build effective plans — and how will this impact their workforces?
Dave Guilmette, President of Global Health Solutions at Aon, discusses ways we can adapt to constantly changing demands, and create better employee benefit options for the long-term.
Q: What is top-of-mind for companies planning for a return to workplace?
Dave Guilmette: Many employees have been working from home during lockdowns, so the idea of "return to work" involves returning to the worksite and/or to travel and convening. With this in mind, organizations and leaders have many questions about the particulars of keeping employees safe. For example, should their strategy involve COVID-19 testing? What does that look like from a very practical standpoint – temperature checks, full testing, contact tracing, or more? And what does this mean for a global company, with offices in different cities with different local policies?
We're working to help organizations with these enormous questions with the Work Travel Convene coalitions, starting first in Chicago and expanding to other cities. Companies can share best practices and help each other with strategies, with the goal of creating a replicable approach to help employers and employees.
Q: With employee health a critical focus, what trends do you see in healthcare in the immediate and long-term future?

Dave Guilmette: Virtual health and "tele-health" will fundamentally change how healthcare is delivered in the future. The pandemic has pushed healthcare systems all over the world to the breaking point, calling into question the resiliency of our systems. In fact, lockdowns and other government policies have been imposed to ensure the pandemic does not crush our healthcare system. We've made huge tradeoffs and incurred significant economic costs to help keep our healthcare systems stable. At the same time, there are still demands that haven't been met. In the U.S., for example, patients have been impeded from getting the care they need due to hospitals shutting down other services during lockdown.
As a result, virtual health and telehealth had significant spikes in usage. Where 3-4 percent of employees might have used virtual health options prior to the pandemic, initial data shows during the first 30 days of COVID-19 shutdowns this jumped to 30-35 percent. We think this will continue, and potentially increase. Offering more virtual health opportunities could help strengthen the resilience of our healthcare systems around the world.
Q: How can companies create a "new better" for their employees?

Dave Guilmette: Employees now have stressors we've never encountered due to the pandemic, including new mental health stress, changing physical fitness levels, financial strains and more. As a result, employers need to do a lot more to account for the safety of employees and ensure a resilient workforce. We could see new behavioral health programs offered to employees in the future, as well as expanded virtual health options.
This is not a sprint — recovery will happen gradually, and unevenly around the world. So we need to be adaptable, evolving with changing policies and learning from one another along the way.
General Disclaimer
The information contained herein and the statements expressed are of a general nature and are not intended to address the circumstances of any particular individual or entity. Although we endeavor to provide accurate and timely information and use sources we consider reliable, there can be no guarantee that such information is accurate as of the date it is received or that it will continue to be accurate in the future. No one should act on such information without appropriate professional advice after a thorough examination of the particular situation.
Terms of Use
The contents herein may not be reproduced, reused, reprinted or redistributed without the expressed written consent of Aon, unless otherwise authorized by Aon. To use information contained herein, please write to our team.
Cyber Labs
Stay in the loop on today's most pressing cyber security matters.
Environmental, Social and Governance Insights
Explore Aon's latest environmental social and governance (ESG) insights.
Insights for HR
Explore our hand-picked insights for human resources professionals.
Navigating Volatility
How do businesses navigate their way through new forms of volatility and make decisions that protect and grow their organizations?
Article 17 Min Read

How Academic Research Can Help Drive Climate Risk Resilience

By leveraging the advances made by academic research, companies can develop more robust climate risk resilience.

Article 19 Min Read

Pricing Platform: Avoiding Pricing Pitfalls

Pricing pitfalls are more common than you think, whether it's working with incomplete data or key man risk – but with the right pricing process, many of these issues can be mitigated. Read our article to learn about the most common pricing errors, and what insurers can do about it.

Article 18 Min Read

Pricing Platform: The Importance of Getting Pricing Right

In today's increasingly complex insurance landscape, an inadequate pricing system can not only impact insurers' view of risk, but also prevent them from making the right decisions at the right time. Read our article on why it's essential to get pricing right.