Aon Executive Committee
Lambros Lambrou
Chief Executive Officer, Human Capital and Chief Executive Officer, Commercial Risk Solutions
Lambros Lambrou is Chief Executive Officer, Human Capital, and Chief Executive Officer, Commercial Risk Solutions. In this role he is responsible for delivering high impact solutions, including leveraging the firm's data and analytics, to better deliver and inform clients with critical insights that improve decision making.

Lambrou, who is based in New York, has worked in the risk management industry for over three decades, with experience across Asia Pacific, North America, Europe, Middle East and Africa. With his diverse geographical experience and far-reaching network, Lambrou ensures clients have unfettered access to Aon's global resources and capabilities whenever and wherever they need them.

His career has focused on insurance, reinsurance and alternative capital markets. Lambrou has also played a central role in steering a number of Aon's key growth initiatives over the last 10 years. This includes Lambrou' contributions to the development of Aon's Global Risk Insight Platform which today is the world's leading repository of insurance placement information. He also helped to create Aon's first Centre for Innovation and Analytics, housed in Dublin, the rollout of Aon Client Promise and his architecting of the industry first Sidecar solution developed with Berkshire Hathaway.

He has held several positions with Aon internationally. Most recently, Lambrou served as Chief Commercial Officer and Chief Executive Officer of Global Specialties in Aon's Commercial Risk Solutions business, responsible for driving the growth strategy across the business. Previously, he was Chief Executive Officer of Aon's retail business in Australia. This followed roles as Chief Executive Officer of Aon's Global Broking Centre in London, Chief Broking Officer of EMEA, Global Chief Operating Officer for Aon Broking and Head of Aon Analytics.

Lambrou has an Economics and Statistics degree (with Honors) from the University of Exeter in the UK and is a graduate of the INSEAD Executive Leadership Program.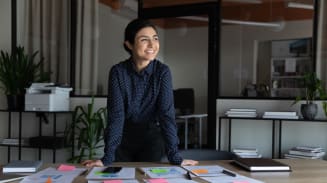 Cyber Labs
Stay in the loop on today's most pressing cyber security matters.
Environmental, Social and Governance Insights
Explore Aon's latest environmental social and governance (ESG) insights.
Insights for HR
Explore our hand-picked insights for human resources professionals.
Navigating Volatility
How do businesses navigate their way through new forms of volatility and make decisions that protect and grow their organizations?