Aon Executive Committee
Lisa J. Stevens
Executive Vice President, Chief People Officer and Global Head, Human Capital Solutions
Lisa Stevens is Executive Vice President, Aon's Chief People Officer (CPO) and Head of Global Human Capital Solutions.

As CPO, she is responsible for creating, implementing and leading the strategies that empower Aon's 50,000 global colleagues to fully align with the client-centric Aon United mission. Stevens leverages her ability to deliver business results as she leads the People Organization, including culture and change, talent, rewards and diversity, equity and inclusion strategies and their global functions. Reporting to the CEO, Stevens plays a critical role in overseeing the coaching and executive talent development and succession planning strategies for Aon. In addition to her CPO role, Stevens leads Aon's Global Human Capital Solutions business, which provides clients with a powerful mix of data, analytics and advice to help them make better workforce decisions. With 2,000 colleagues across 30 countries, the team includes Rewards, Talent Assessment, Corporate Governance, Environmental, Social and Governance consulting and performance & analytics practices.

Prior to joining Aon, Stevens served as Head of Western United States for Wells Fargo where she was responsible for 34,000 employees and 2,700 branches. She has an extensive background in managing operating, market, reputation and credit risk and has managed a multi-billion-dollar profit-and-loss statement.

Stevens earned a Bachelor of Science degree from Santa Clara University. She serves as a commissioner for the Rose Bowl Operating Committee and is an active board member of several non-profit organizations including the Executive Committee of the California Roundtable, Children's Hospital of Los Angeles, Arizona State University's Global Institute of Sustainability, Los Angeles Philharmonic Association and the Board of Regents for Santa Clara University.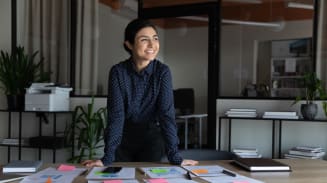 Cyber Labs
Stay in the loop on today's most pressing cyber security matters.
Environmental, Social and Governance Insights
Explore Aon's latest environmental social and governance (ESG) insights.
Insights for HR
Explore our hand-picked insights for human resources professionals.
Navigating Volatility
How do businesses navigate their way through new forms of volatility and make decisions that protect and grow their organizations?