Aon Executive Committee
Mindy Simon
Mindy Simon serves as chief operating officer of Aon and is a member of the Aon Executive Committee.

Simon previously served as chief information officer (CIO) for Conagra Brands. In this role, she oversaw global business services, information technology and cyber security. Prior to her CIO position, Simon held a variety of roles in finance and information technology with Conagra Brands since joining the company in 2000, including serving as vice president of Global Business Services and vice president of Information Technology.

Simon holds a B.S. in agricultural economics from the University of Nebraska – Lincoln and a M.B.A. from Creighton University. She presently serves on the executive committees of the board of directors' for the Omaha Chamber of Commerce and the Nebraska Tech Collaborative and on the boards of the Aksarben Foundation, T200 Women CXOs in Tech and Creighton College of Business. Simon also previously served on the board of directors for Girls Inc. of Omaha.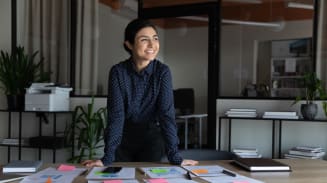 Cyber Labs
Stay in the loop on today's most pressing cyber security matters.
Environmental, Social and Governance Insights
Explore Aon's latest environmental social and governance (ESG) insights.
Insights for HR
Explore our hand-picked insights for human resources professionals.
Navigating Volatility
How do businesses navigate their way through new forms of volatility and make decisions that protect and grow their organizations?