Cyber Threat Intelligence Services
Learn how your organization can benefit from our cyber threat intelligence services. 
What is Cyber Threat Intelligence?
Cyber Threat Intelligence helps identify online threats and business risks to individuals and organizations. We tailor our Cyber Threat Intelligence engagement to your organization's needs, leveraging tactical and strategic intelligence and turning meaningful research into actionable insights.
Cyber Threat Intelligence: The Why and When
Explore the research and data points below to learn more about why an effective and proactive approach to cyber threat intelligence is an important value-add for organizations at time of rising cyber security risk:
Breach Assistance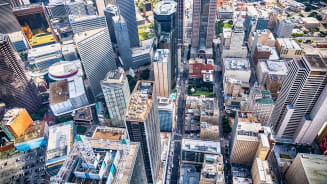 8.6%

Public companies lose an estimated 8.6% of their value after a cyber breach. (1)

46%

of organizations experience at least one successful cyber attack over a 12-month period. (2)

$24T

The global cost of cybercrime is expected to increase to $23.84 trillion by 2027, up from $8.44 trillion in 2022. (3)
Cyber Threat Intelligence: Our Methodology
Threat Intelligence

Aon's Threat Intelligence provides relevant, timely and defensible information to help in better protecting organizations from threats. The Aon team can work both reactively after a security incident and proactively before one happens to offer the following services:

Deep and Dark Web Scan: A one-time scan that identifies potential online security vulnerabilities for enterprises such as leaked corporate data, exposed credentials and indicators of compromise (IOCs).
Threat Monitoring: Ongoing monitoring of the open, deep and dark webs to help identify active and potential threats.
Threat Intelligence Analysis: Threat actor attribution, campaign analysis or TTP/IOC enrichment  during cyber incidents.
Threat Actor Profiling: Threat actor-centric intelligence leveraging research across open sources, deep web sites and the dark web.
Individual Vulnerability Assessment: A comprehensive review of an individual's digital footprint to identify potential vulnerabilities and reduce risk.
Online Takedown Services: Removal of publicly available content for individuals on online data aggregator sites to help reduce exposure to security and reputational risks.
Corporate Threat Intelligence Assessment: A comprehensive review of an entity's risk profile to help identify potential vulnerabilities related to targeting by adversaries across cyber, fraud and physical security.

Due Diligence Services

Due Diligence Services conducts appropriate and targeted individual and corporate background checks to help provide critical insight into the reputation and historical activities of executive and board hires, mergers and acquisitions  targets, distributors, vendors and joint venture partners. By conducting due diligence before completing legal agreements, organizations can be more aware of any potential reputational, regulatory or commercial risks.

Depending on the client's needs, Aon can deliver two levels of background checks:

Level 1 Reports: High-level research on the individual or entity with 10 years of searches using web-based searches, public/commercial records, and open sources.
Level 2 Reports: Enhanced research on professional and financial backgrounds with 20 years of searches using all Level 1 sources plus on-site searches for records.

Due Diligence Services also conducts Asset Searches, which identify assets for collections or litigation purposes.

 

Investigative Research

Investigative Research applies robust analytical methodologies to help solve complex investigative problems, providing robust and defensible  conclusions on matters related to workplace misconduct, insider theft and litigation disputes. Our consultants leverage experience in a variety of disciplines to connect dots, uncover concealed activities and solve complicated investigations.

We can help solve complex problems across both investigations and litigation with the following services:

Business Email Compromise or Phishing Schemes: Determining the true identity, background, and location of the fraudster or threat actor.
Bad Leaver or Leaked Information: Conducting link analysis to identify insider threats and leaked sensitive data such as intellectual property or financials exposed online or with competitors.
Fraudulent Financial Transactions: Tracing money movements from political or charitable donations, fraudulent schemes and fake accounts.
Expert Witness Testimony: Providing support to legal cases on a variety of topics.
How Aon Can Help: Cyber Threat Intelligence Tools
Cyber Threat Intelligence helps identify online threats and business risks to individuals and organizations. Our research covers open sources, public records, social media  and the dark web to help identify critical findings during cyber-fraud investigations, insider threat incidents  and litigation cases. We offer tailored intelligence reports, analysis on sector-specific threats and trends, reactive and proactive monitoring  and solutions to better assess your personal and business risks. 
The Aon Team
The global team at Aon has analysts located in North America, Europe and Asia with decades of deep experience and access to several thousand sources of information. Our team is positioned to connect seemingly unknown relationships, uncover deeply buried insights and provide actionable feedback. Our experience is deep and broad:
Languages: Intelligence analysts are fluent in 14 different spoken languages and every major coding language.
Certifications: Team members maintain specialized certifications including CAMS, CFE, GSEC, GCIH, GPEN, GCTI, CREST, CompTIA Security+, CompTIA A+, OSCP, OSWP and OSSTMM.
Ongoing Training: Aon invests a significant amount of time and money annually on training and development for our consultants so they have the most up-to-date skills. Two-thirds of Cyber Threat Intelligence team members gained multiple new industry certifications in 2022.
Information Sources: Access to hundreds of sources of information, including:

Open souces, public records and commercial repositories
5,000+ Deep & and Dark web sites, including underground marketplaces and closed forums
Threat actor instant messaging chatrooms
Repository of 350 database dumps with 5+ billion records
200+ paste sites
U.S. and international social media
(1) How data breaches affect stock market share prices
(2) How many times do you estimate that your organization's global network has been compromised by a successful cyber attack within the past 12 months?
(3) Cybercrime Expected To Skyrocket in Coming Years
Insurance products and services are offered by Aon Risk Insurance Services West, Inc., Aon Risk Services Central, Inc., Aon Risk Services Northeast, Inc., Aon Risk Services Southwest, Inc., and Aon Risk Services, Inc. of Florida, and their licensed affiliates.
The information contained herein and the statements expressed are of a general nature, not intended to address the circumstances of any particular individual or entity and provided for informational purposes only. The information does not replace the advice of legal counsel or a cyber insurance professional and should not be relied upon for any such purpose. Although we endeavor to provide accurate and timely information and use sources we consider reliable, there can be no guarantee that such information is accurate as of the date it is received or that it will continue to be accurate in the future.