Deep and Dark Web Monitoring
Learn how your organization can benefit from our deep and dark web monitoring.
What is Deep and Dark Web Monitoring?
Deep and dark web monitoring services from Aon helps organizations understand their digital risk exposure from breached data, compromised credentials, threat actor targeting and online security vulnerabilities on the deep and dark webs. Experienced Aon cyber professionals use specialized tools and methods to check data sources not discoverable by search engines, including password-protected repositories, encrypted networks, social media, underground marketplaces, and threat actor instant messaging platforms. Our reporting includes actionable advice for mitigating the threats we've identified.
Deep and Dark Web Monitoring: The Why and When
The searchable open web comprises only a small part (as little as one percent) of the total information available online. Search engine results reveal only a small fraction of an organization's overall digital risk exposure. Vast repositories maintained by data aggregators, social media networks, research services, government agencies and others sit behind paywalls on what is known as the deep web. This includes content about an organization that could cause reputational damage. On the dark web, illicit content such as leaked data, exposed corporate assets, compromised credentials and other types of online security vulnerabilities are available — for free or at a price. 
Breach Assistance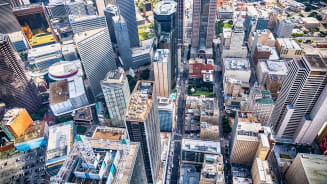 96%

The deep and dark web comprises 96%–99% of the internet, according to estimates. (1)

$24T

The global cost of cybercrime is expected to increase to $23.84 trillion by 2027, up from $8.44 trillion in 2022. (2)

200+

The average days to identify a breach from an exploited vulnerability. (3)
How Aon Can Help
Deep and Dark Web Scan

This assessment provides a point-in-time snapshot of an organization's risk exposure. Aon professionals review the unique characteristics of the client's online footprint, creating search parameters around corporate domains, subdomains, credentials and internet-facing IP addresses. 

Using these organization-specific criteria, we conduct searches in open, deep and dark web sources — including underground discussion forums, TOR and I2P  servers, Freenet anonymous network protocols, underground marketplaces, threat actor instant-messaging chatrooms, paste and dump sites, social media and open sources.

Threat Intelligence Monitoring

This service provides continuous monitoring of open sources and deep and dark webs to identify active and targeted threats. As with one-time scans, monitoring is based on customized criteria based on an organization's online profile.

Scans are conducted daily, and Aon professionals review the results and report on their findings. This reduces false positives and enables triage of large volumes of data. Clients can choose to receive reports on a weekly, bi-weekly or monthly basis. Urgent issues are escalated in near-to-real time.
The Aon Team
Deep and Dark Web Monitoring services leverage deep analytic experience in mining specialized data sources and using custom tools to search the deep and dark webs. As Aon has professionals across the globe, their skills and experience are broad and deep.