Digital Executive Protection
Digital executive protection provides cyber security threat protection for people who are high-value targets for cyber criminals and nation-state threat actors.
What is Digital Executive Protection?
Digital executive protection from Aon helps people who are high-value targets for cyber criminals and nation-state threat actors, including high-net-worth individuals, business leaders and public officials. Each engagement is customized for the client and can include an Individual Vulnerability Assessment, online takedown services, security testing on the client's home network and an assessment of online accounts.
Digital Executive Protection: The Why and When
Public records, social media, blogs and other online sources all contain personal information that can be pieced together and used for malicious purposes — including doxing, identity theft, spear phishing, social engineering, impersonation and business email compromise. As a result, high-net-worth individuals can face extortion attempts, while executives may be targets of hacktivist groups, nation-states or fraudsters seeking to steal sensitive data and cause reputational harm.
Due to their proximity to wealth and the top levels of corporations, high-net-worth individuals and executives continue to be popular targets for cyber criminals, fraudsters, and other types of threat actors. Elected and appointed government officials at all levels and candidates for public office are also vulnerable to harassment, hacktivism, and even physical attacks.
Breach Assistance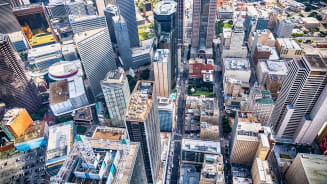 38%

Percentage of ultra-high-net-worth families and family businesses that do not have a cyber security plan in place. (1)

94%

Percentage of U.S. mayors that have faced online targeting and threats; 16% have suffered physical violence. (2)

67%

Percentage of home computer networks affected by at least one cybersecurity threat each month. (3)
How Aon Can Help
Individual Vulnerability Assessment

This assessment provides a point-in-time analysis of an individual's online data footprint, using data compiled from the open, deep and dark web. These sources include public records, commercial databases and data aggregators, real estate sites, business websites, blogs, media outlets, social media platforms, underground marketplaces, threat actor forums and sites on the dark web where leaked data is posted. Experienced Aon professionals provide a detailed report with customized recommendations for the individual and their immediate family to assess risk exposure.

Online Takedown Services

Aon professionals do the leg work to have personally identifiable information removed from more than 60 U.S. data aggregator sites that display names, dates of birth, home addresses, email addresses, phone numbers and names of relatives. Deleting this data from easy-to-access locations can help reduce a prominent individual's online exposure.

Online Accounts Assessment

The Aon team tests online accounts owned by the client and family. They search for default or easily guessable passwords, answers to password reset questions on social media, and stolen credentials posted on the dark web. The assessment includes actionable feedback to help individuals reduce their risk.

Home Network Penetration Test

Clients receive a small device through which Aon professionals test the home network for vulnerabilities. Past engagements have revealed routers or security cameras that use default passwords, Internet-of-Things devices with known vulnerabilities and other potential attack paths for cyber criminals. These security gaps can enable long-term persistence, man-in-the-middle attacks, and other tactics. The Aon team provides a report with instructions for bolstering home network security.
The Aon Team
Digital executive protection leverages deep analytic experience in mining specialized data sources and using custom tools to search the open, deep, and dark web. Aon has highly skilled specialists based across the globe:
Languages: Intelligence Practice consultants are fluent in 14 different spoken languages and every major coding language.
Certifications: Team members have 40+ cyber security certifications, certifications in 11 industries and specialized certifications, including CAMS, CFE, GSEC, GCIH, GPEN, GCTI, CREST, CompTIA Security+, CompTIA A+, OSCP, OSWP, OSEP, OSWE, OSCE, CRTO, and OSSTMM.
Sector experience: Aon professionals have broad experience across all major industries and the public sector.
Training and development: Aon invests significant time and money in training and development for our consultants so they have the most up-to-date skills. Two-thirds of Intelligence Practice team members gained multiple new industry certifications in 2022.
Information sources: Access to hundreds of sources of information, including:

5,000+ dark web, underground, criminal, and invitation-only forums
Closed deep web forums
Threat actor instant messaging chatrooms
Repository of 350 database dumps with 5+ billion records
200+ paste sites
U.S. and international social media
(1) Cyber Security: How High-Net-Worth Households can Protect Themselves
(2) An Assault on Local Democracy
(3) Who is Responsible for Cybersecurity in the Home?
Insurance products and services are offered by Aon Risk Insurance Services West, Inc., Aon Risk Services Central, Inc., Aon Risk Services Northeast, Inc., Aon Risk Services Southwest, Inc., and Aon Risk Services, Inc. of Florida, and their licensed affiliates.
The information contained herein and the statements expressed are of a general nature, not intended to address the circumstances of any particular individual or entity and provided for informational purposes only. The information does not replace the advice of legal counsel or a cyber insurance professional and should not be relied upon for any such purpose. Although we endeavor to provide accurate and timely information and use sources we consider reliable, there can be no guarantee that such information is accurate as of the date it is received or that it will continue to be accurate in the future.