Business Continuity Management for Cyber Risk
To learn more about how your organization can benefit from our business continuity management for cyber risk.
What is Business Continuity Management for Cyber Risk?
Business Continuity Management (BCM) for Cyber Risk from Aon leverages our extensive experience in helping clients to plan for scenarios that could disrupt their business operations. Aon helps clients to identify gaps in their legacy business continuity plans (BCP) and upgrade them to help them prepare for disruptive cyber scenarios.
Business Continuity Management for Cyber Risk: The Why and When
Explore the research and data points below to learn more about why developing business continuity management programs for cyber attacks is an important value-add for organizations at time of rising cyber security risk:
Breach Assistance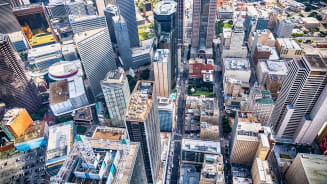 49%

Ransomware frequency increased sharply, up 49% in Q1 2023. (1)

25

On average, a ransomware attack results in 25 days of full or partial downtime. (2)

$4.5M

The average cost of a ransomware attack was $4.54 million in 2022 — not counting the cost of the ransom itself. (3)
In the last few years, every organization has accelerated their digital transformation, deploying more cloud-based services, adopting more Industrial Internet-of-Things (IIoT) devices and embracing advanced data analytics and edge computing. While these initiatives have helped businesses in many ways, they have also made them more vulnerable to cyber attacks.
Unfortunately, not every organization has updated their legacy BCM processes to mitigate emerging cyber threats to their business-critical applications and networks — and the potential operational and reputational losses that could result. Cyber insurers, hit hard by increased losses from disruptive attacks, are tightening underwriting requirements around organizations' business continuity strategies for cyber risk .
How Aon Can Help
Aon's Business Continuity Management for Cyber Risk works with businesses to better assess their current BCP through the lens of disruptive cyber risks facing the organization. This analysis generally covers diagnostic methodologies, including maturity assessments, tabletop and simulation exercises and interviews with key personnel about current governance structures and processes. Armed with these extensive insights, the Aon team then helps update and upgrade BCPs to more properly address disruptive cyber scenarios and help improve the level of organizational preparedness.
Organizations that take advantage of BCM for Cyber Risk can gain critical insight into their growing dependencies on digital technology. This enables them to take steps to better align their BCP with the needs of the business and help to increase cyber resilience. These initiatives, in turn, can improve insurers' perceptions of the company's risk profile, potentially unlocking broader coverage at competitive terms.
Our Methodology
Diagnostics and Strategy. The Aon team conducts a proprietary maturity assessment to determine if existing BCM strategies address current technology dependencies and emerging cyber threats.
Planning. Aon professionals execute practical improvements to existing BCPs to help address disruptive cyber scenarios impacting critical technology.
Testing. The team facilitates bespoke tabletop or simulation exercise to test awareness and effectiveness of BCPs in real-life settings.
Governance. The Aon team guides the development of new internal governance structures to create and embed a revised, cyber-focused BCM program.
The Aon Team
Our business continuity management services are delivered by our global team of highly qualified and BCM/DR certified professionals with decades of experience across all areas of cyber security, as well as disciplines like law enforcement, accounting, law, risk management, business resilience, disaster recovery, crisis management, insurance and more.
Insurance products and services are offered by Aon Risk Insurance Services West, Inc., Aon Risk Services Central, Inc., Aon Risk Services Northeast, Inc., Aon Risk Services Southwest, Inc., and Aon Risk Services, Inc. of Florida, and their licensed affiliates.
The information contained herein and the statements expressed are of a general nature, not intended to address the circumstances of any particular individual or entity and provided for informational purposes only. The information does not replace the advice of legal counsel or a cyber insurance professional and should not be relied upon for any such purpose. Although we endeavor to provide accurate and timely information and use sources we consider reliable, there can be no guarantee that such information is accurate as of the date it is received or that it will continue to be accurate in the future.