Cyber Quotient (CyQu) Evaluation
Learn how your organization can benefit from our cyber quotient evaluation. 
What is Cyber Quotient (CyQu) Evaluation?
The Cyber Quotient Evaluation (CyQu) is Aon's proprietary eSubmission platform that helps clients identify, measure and manage their cyber risk exposure. It includes, among others, multiple insurance application question sets to support Cyber, Errors & Omissions, and Miscellaneous Professional Liability insurance placements while helping clients identify gaps in performance, prioritize spend and measure year-over-year changes in cyber maturity.
CyQu Evaluation: The Why and When
Explore the research and data points below to learn more about why platforms like CyQu can be an important value-add for organizations at time of rising cyber security risk:
Breach Assistance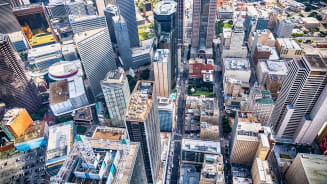 9.4M

The average cost of a data breach in the U.S. (1)

8.6%

Public companies lose an estimated 8.6% of their value after a cyber breach (2)

49%

Ransomware frequency increased sharply, up 49% in Q1 2023 (3)
As the cyber risk landscape quickly evolves, insurers are constantly evaluating their risk tolerance by tightening underwriting requirements and adjusting the breadth of their coverage — especially for systemic risk factors. Now, more than ever, they gauge clients' controls specific to cyber risk as an integral part of the underwriting process.
This evolving risk profile is the result of very real volatility in cyber threats to organizations of all sizes and in all industries. Business leaders increasingly have an interest in where their company stands in terms of cyber resilience — including top executives and the board of directors. For the security team, one challenge is to understand the organization's security posture themselves, including the exposure it brings to the balance sheet. Another is to communicate that information clearly to non-specialist stakeholders.
How Aon Can Help
By combining quantifiable insights and analytics with our knowledge and experience, CyQu Assessments help support the execution of insurance transactions for Aon clients. The CyQu platform from Aon has won many awards, including the Business Insurance Innovation Awards and the Risk Consulting Initiative of the Year, because it improves the submission workflow and helps clients make better decisions about their cyber maturity.
Knowing the complex dynamics of how risks emerge and are mitigated is an ongoing challenge. Aon has embedded its cyber risk assessment and Ransomware Red Flags methodology into the placement process to help clients improve their cyber posture and provide better awareness of what drives their cost of risk. The all-in-one CyQu interface helps to eliminate the need for paper applications while helping clients gain visibility into their cyber maturity across nine critical control areas including Endpoint and Systems Security, Data Protection and Business Resilience.
Instant access to industry peer and target benchmarks provides clear insights into how a client stacks up across the nine critical controls. The CyQu platform helps to drive stakeholder alignment by providing a framework for risk managers, finance professionals, security practitioners and IT team members to work together on applications and communicate cyber posture in an intuitive way to executive management, the board of directors and partners.
Our CyQu Evaluation Methodology
Complete

Stakeholders in your organization complete the CyQu questionnaire and relevant supplemental insurance applications online. Past responses that are still accurate can be automatically applied to a subsequent year's renewals. The CyQu platform collects information in the proper format and can be submitted directly to cyber insurance providers.

Review

Aon's specialist, the insurance broker and your account team walk through the findings of the CyQu Evaluation to help you understand underwriting pain points and recommend vulnerability mitigations.

Update

You can add any cyber security improvements you complete to your application. An enhanced security posture may help you secure better terms for your cyber insurance coverage.

Submit

When you are ready to move forward, share the application with your broker for insurance market
(1) Cost of a data breach 2022
(2) How data breaches affect stock market share prices
(3) Aon's Q1 2023 E&O and cyber market review.
Insurance products and services are offered by Aon Risk Insurance Services West, Inc., Aon Risk Services Central, Inc., Aon Risk Services Northeast, Inc., Aon Risk Services Southwest, Inc., and Aon Risk Services, Inc. of Florida, and their licensed affiliates.
The information contained herein and the statements expressed are of a general nature, not intended to address the circumstances of any particular individual or entity and provided for informational purposes only. The information does not replace the advice of legal counsel or a cyber insurance professional and should not be relied upon for any such purpose. Although we endeavor to provide accurate and timely information and use sources we consider reliable, there can be no guarantee that such information is accurate as of the date it is received or that it will continue to be accurate in the future.