February 9, 2023
10 Min Read
Climate Change Challenges the Food, Agriculture and Beverage Industry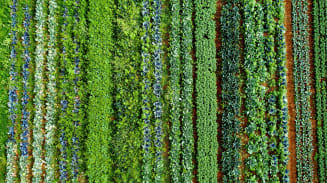 The food, agriculture and beverage sector is examining sustainable solutions and environmentally friendly practices to ensure a resilient future.
Key Takeaways
Water shortages, supply chain pressures and population growth are some of the pressures facing the sector. 

The industry is adopting sustainable practices and environmentally friendly solutions such as regenerative agriculture, circular economy practices and renewable energy. 

By prioritizing sustainable practices and investing in innovation, the sector can not only reduce its environmental impact buy also build a more resilient and profitable future. 
Overview
As temperatures continue to rise and natural disasters grow in frequency and severity, businesses around the world are seeking new ways to adapt to climate change. For the food, agriculture and beverage industry, finding solutions to environmental pressures is a complex — and urgent — undertaking.
To meet the needs of the planet's growing population, food producers are searching for ways to run a sustainable and efficient business. "A lot of our food production and manufacturing facilities are located in climate-sensitive areas," explains Tami Griffin, national practice leader of Food, Agribusiness and Beverage Industry Practice at Aon, adding that these facilities also face the risk of heatwaves, hurricanes or other natural disasters.
The industry also needs to balance protecting its workers and daily operations amid growing climate threats, but also scaling its processes to keep up with demand. The number of people experiencing food insecurity is rapidly increasing, up from 135 million in June 2020 to 345 million as of June 2022.
In Depth
Climate change is posing challenges to all levels of the food, agriculture and beverage industry. Workers living in areas affected by climate change may be unable to get to work — or even lose their homes or lives — in a major natural catastrophe. In the event of a climate crisis, global food supply chains can become unstable, particularly when compounded by trade restrictions or international conflicts. For business leaders to respond to these crises, they must maintain an understanding of climate risks and how to navigate them.
Decisions surrounding climate change also carry an element of business risk, with inaction or poor planning potentially resulting in major financial losses. Some estimates indicate that businesses in this industry could incur some $150 billion in investor losses if they don't adopt climate-friendly practices by 2030. "There isn't a lot of time to think about this because this is all happening really, really quickly, and it is critical that there is a timely climate transition," says Ciara Jackson, Aon's EMEA Food, Agribusiness and Beverage Practice leader.
 "A lot of our food production and manufacturing facilities are located in climate-sensitive areas"
Food Production Under Pressure
Farmers around the world are particularly vulnerable to climate change. Expedient and sustainable changes in production methodologies could help the food, agriculture and beverage industry keep up.
Instituting climate-friendly practices at the beginning of the supply chain and exploring new partnerships will be critical as the industry innovates in the face of climate threats. Change starts at the crop-growing and agricultural production level, but many farmers lack the financial resources to adopt new practices.
Griffin notes that strategic partnerships could help to incentivize sustainability. "We're working with stakeholders to enable a shift in production practices or invest in different technologies and practices to help reduce their emissions," Griffin explains, noting that government support could also help farmers with critical funding.
Decisions Powered by Data
Data can yield valuable insight about ways to build more sustainable processes in food production. "Consider a dairy processor," says Jackson. "The minute the milk arrives at the plant, they're measuring it. They've got operational, quality, and commercial systems established all the way through the production and sales process. They have a huge volume of data around the type and quality of products that they're making."
Building on this data from food providers and companies could also inform better decisions and more accurate modeling. "The insurer mindset needs to change from big banks of historical data that are validated, verified and modeled in a certain way to future-focused, scenario-based, predictive models that by their very nature have a level of assumption in them," Jackson says. "Is there a way that we can take that company data, blend it with proprietary and open-source data, and use it to inform a risk conversation? It's something we're looking to explore."
Protecting a Crucial Resource
One of the consequences of climate change, water shortages, are also affecting the industry, including the supply chain. "Water is probably one of the areas the least focused on," Griffin says, adding that media attention primarily centers around emissions. Critical for irrigation, maintaining the food supply and reducing food insecurity in growing areas, usable water could become increasingly rare. "There are multiple effects of water being a scarce resource from a supply perspective, a quality perspective and a safety perspective," Jackson adds.
Resource management is part of the challenge in maintaining an adequate water supply. "In the American West, there are farming communities that don't have drinking water, yet there is water for irrigating crops as a result of complex water rights and inadequate, deteriorating infrastructure," Griffin says. A lack of water for irrigation can compound other agricultural challenges, such as December 2022's lettuce shortage, which was fueled in part by a virus that took hold on the crop during periods of unseasonable heat.
An Industry Explores Solutions
Amid climate crises, the food, agriculture and beverage industry may find hope in strategic approaches to sustainability. Innovations in science and technology can help companies find new environmentally friendly solutions. Some companies are creating livestock feed mixes that result in lowered carbon emissions. Others are developing partnerships across the supply chain, with collaborations creating change at the farming, processing and retail stages.
New business solutions, sources of capital and insurance could also help to manage climate risk in the food, agriculture and beverage industry. Griffin notes that warranties, guarantees and the use of industry data from the private sector could help companies scale sustainable changes with speed, and Jackson adds that helping clients quickly access capital in event of a climate disaster could help affected workers and communities rebuild and create positive social impact.
A Unified Approach to Climate Change
To face the risks and challenges of the climate crisis, the industry must embrace change and work across levels of business, production and the supply chain. "I think the general understanding in the industry is that there is the need to expand the existing solutions that we have, leverage the power of technology and innovate to address the protection gap", Jackson says. "And all of that needs to be done in a collaborative way."
To find out more about Aon's insights for the Food, Agriculture and Beverage industry, click here.
Interested in joining us? Learn more about working for Aon and discover opportunities at aon.com.
General Disclaimer
The information contained herein and the statements expressed are of a general nature and are not intended to address the circumstances of any particular individual or entity. Although we endeavor to provide accurate and timely information and use sources we consider reliable, there can be no guarantee that such information is accurate as of the date it is received or that it will continue to be accurate in the future. No one should act on such information without appropriate professional advice after a thorough examination of the particular situation. 
Terms of Use
The contents herein may not be reproduced, reused, reprinted or redistributed without the expressed written consent of Aon, unless otherwise authorized by Aon. To use information contained herein, please write to our team.
Cyber Labs
Stay in the loop on today's most pressing cyber security matters.
Environmental, Social and Governance Insights
Explore Aon's latest environmental social and governance (ESG) insights.
Insights for HR
Explore our hand-picked insights for human resources professionals.
Navigating Volatility
How do businesses navigate their way through new forms of volatility and make decisions that protect and grow their organizations?