COVID-19 has Permanently Changed the Way We Think About Wellbeing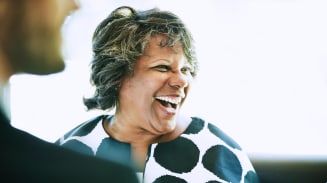 Aon's 2022–2023 Global Wellbeing Survey explores what employers around the world are doing to support the needs of today's workforce.
Key Takeaways
Creating the right kind of wellbeing initiatives can help build workforce resilience.

Companies around the world are moving away from a siloed approach to employee support.

Employers are developing wellbeing strategies that address the interconnected needs of their employees.
Overview
The COVID-19 pandemic radically redefined our working and home lives around the globe. As a result, workplaces worked to support their employees' wellbeing. As the impact of the pandemic has been superseded by today's turbulent economic and sociopolitical times, companies are realizing that wellbeing is just as important now if their organizations and workforces are to remain resilient.
To explore this connection, Aon's 2022–2023 Global Wellbeing Survey interviewed human resources and benefits leaders from more than 1,100 companies. Among surveyed companies, 83 percent have a wellbeing strategy in place, with more than a quarter of these companies implementing their new wellbeing strategy in the past two years. The survey found companies that improved factors in employee wellbeing, workplace culture, work/life balance and belonging enhanced their performance by up to 55 percent. Additionally, the survey explored the extent to which companies invest in and support wellbeing, how their approach has changed and the advantages this investment can bring.
"Many companies are making their focus on their people above their profits," says Stephanie Pronk, senior vice president at Aon and leader of its US National Health Transformation team, noting that corporations are recognizing the importance of wellbeing. "That means they're recognizing that people and performance are connected."
In Depth
Employee wellbeing encompasses many areas, including interpersonal relationships, financial stability and psychological safety. Since COVID-19, preserving these factors has become more important to employees, and companies that realize this are seeing more stable workforces and better returns.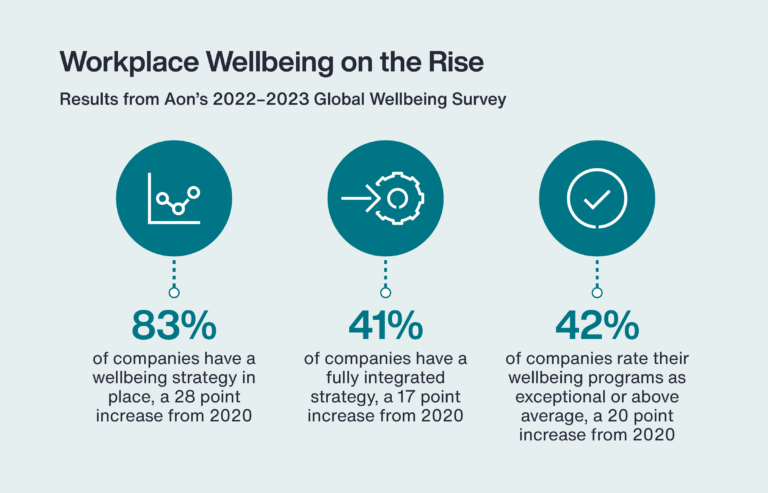 Wellbeing Strategies Across Industries and Regions
Pronk notes that the Global Wellbeing Survey challenged assumptions about the relationship between company culture and prioritizing employee wellbeing. "We hypothesized that employees in people-oriented cultures would be more inclined to say that their employee wellbeing was higher and that their leadership was more supportive," explains Pronk. "But we didn't see that. Instead, we saw that it was about the same across all types of cultures, which shows that wellbeing is important across all organizations no matter the type of company culture."
Sustaining a workforce and company culture directly links to a company's resilience, and across industries, increased support from leadership and funding has helped put wellbeing at the top of business priorities. In fact, Aon's surveys of employees over the past year show that people are 1.5 times more likely to stay with their employers if they feel like their wellbeing is supported in their jobs.
Naturally, approaches to wellbeing initiatives may differ based on the needs of a particular workforce. Frontline employees at a manufacturing company, for example, may require different considerations than computer programmers. Small organizations can benefit faster from these goals than big organizations because they can communicate easier and have a more focused audience.
Region-wise, North America has been the leader in wellbeing for some time. The survey also found that the Middle East and Africa have made notable improvements in employee wellbeing — 48 percent of companies in this region rated the overall wellbeing at their company excellent or very good.
Weaving Wellbeing into the Fabric of Workplace Culture
More employers are recognizing the fact that wellbeing means focusing on all aspects of a person: their identity, mental health, emotions, family and more. Rather than just using wellbeing programs as a way to reduce healthcare costs, diversity, equity and inclusion (DE&I), environmental social and governance (ESG) factors, safety and risk management have all become part of companies' wellbeing strategies. Workplace safety studies are also beginning to incorporate emotional wellbeing and psychological safety components along with standard accident risk.
Having a large number of their employees working from home has also forced employers to look at their approach to wellbeing differently. Engaging with employees in a virtual setting can make it more difficult — and more critical — for managers to make people feel connected. The Global Wellbeing Survey found that companies have begun measuring the success of their wellbeing approaches based on employee retention, satisfaction and engagement. Employees who strongly agree that their organization cares about their overall wellbeing are about 70 percent less likely to actively search for a new job.
In terms of overall business and talent strategy, the Aon survey showed that integration of wellbeing with overall business and talent strategy increased 17 points since 2020. This means wellbeing is no longer a siloed program coming from one department. "Wellbeing has become something that the entire organization does," Pronk says. "It's not just about programs and initiatives; it's about changing the culture and the way we work."
Wellbeing has become something that the entire organization does. It's not just about programs and initiatives; it's about changing the culture and the way we work.
Changing Perspectives on Wellbeing
Employees across generations and life stages expect flexibility in hybrid and in-person working options. Changes in wellbeing initiatives that emphasize a work/life balance also help keep employees happy and engaged at work. "New generations coming into the workforce are expecting wellbeing to be part of their day," says Pronk. "They're expecting that an organization provides the climate and culture of positive wellbeing."
The Global Wellbeing Survey found that organizations are innovating in the delivery of their wellbeing initiatives. For example, one program may meet multiple needs at once, such as a credit counseling program that helps with financial and emotional wellbeing. These approaches help address several facets of wellbeing while providing employees options based on their needs or concerns.
Many workplaces are also addressing the social determinants of health in their wellbeing strategies, focusing mostly on employment, healthy behaviors, and physical, emotional and psychological safety. Few organizations, however, listed food security, transportation and housing as part of their strategy, which points to an opportunity for employers to address these considerations.
Employee Wellbeing Coincides with Company Wellbeing
Above all, the findings of Aon's 2022–2023 Global Wellbeing Survey suggest that employee wellbeing is directly tied to the resilience of the organization and the individual. In uncertain economic times, companies that protect their people and build thoughtful, sustainable working conditions could see a better output from their workforce.
"If we learned anything over the past few years, it's that people are pretty resilient," says Pronk. "But they also need to feel like they belong and that there's some sort of flexibility in the relationship between their work and their personal life. Personal lives and work came together very quickly in 2020, and pulling them back apart is going to be challenging. Wellbeing will still be an important component to whatever new normal companies find themselves in."
General Disclaimer
The information contained herein and the statements expressed are of a general nature and are not intended to address the circumstances of any particular individual or entity. Although we endeavor to provide accurate and timely information and use sources we consider reliable, there can be no guarantee that such information is accurate as of the date it is received or that it will continue to be accurate in the future. No one should act on such information without appropriate professional advice after a thorough examination of the particular situation.
Terms of Use
The contents herein may not be reproduced, reused, reprinted or redistributed without the expressed written consent of Aon, unless otherwise authorized by Aon. To use information contained herein, please write to our team.
Cyber Labs
Stay in the loop on today's most pressing cyber security matters.
Employee Wellbeing
Our Employee Wellbeing collection gives you access to the latest insights from Aon's human capital team. You can also reach out to the team at any time for assistance with your employee wellbeing needs.
Environmental, Social and Governance Insights
Explore Aon's latest environmental social and governance (ESG) insights.
Q3 2023 Global Insurance Market Insights
Our Global Insurance Market Insights highlight insurance market trends across pricing, capacity, underwriting, limits, deductibles and coverages.
Regional Results
How do the top risks on business leaders' minds differ by region and how can these risks be mitigated? Explore the regional results to learn more.
Insights for HR
Explore our hand-picked insights for human resources professionals.
Cyber Labs
Stay in the loop on today's most pressing cyber security matters.
Navigating Volatility
How do businesses navigate their way through new forms of volatility and make decisions that protect and grow their organizations?
Top 10 Global Risks
Trade, technology, weather and workforce stability are the central forces in today's risk landscape.