Failure to Attract or Retain Top Talent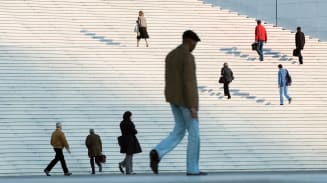 Failure to Attract or Retain Top Talent is the fourth biggest risk facing organizations globally, and is predicted to remain the fourth most critical risk by 2026, according to our survey.
What Is the Failure to Attract or Retain Top Talent?
Top performers and talented hires are the lifeblood of an organization, providing new skills, capabilities, perspectives, creativity and innovation. Companies that fail to consistently attract and retain these employees can struggle to maintain their overall business performance.
Why Is the Failure to Attract or Retain Top Talent a Top Risk for Organizations Today?
Companies excel when they have the best possible talent in each role, from the C-suite to the front line. An inability to fill these slots and retain top-performing employees can have serious repercussions. Today's rising stars in an organization can become tomorrow's competitors.
Plus, without a steady infusion of talent, companies may lack the skill sets they need to keep pace with market and industry trends. Companies depend on top talent to bring in fresh thinking, new strategies, innovation and creativity — all critical elements to remaining competitive. Many industries, including travel and hospitality, are still struggling to fill positions since the pandemic, while workers for certain roles, particularly in digital and tech, remain at a premium.
An inability to attract top candidates can also have a negative impact on those remaining in the workforce, because it can lead to additional work and responsibilities for the talented employees who remain. This increased pressure can lead to burnout, disengagement and retention issues.
Two key trends have had a massive impact on talent strategy:
Pay and inflation. Overall, salaries have risen considerably over the past two years. In the U.S., wages and salaries increased 5.3 percent year over year in June 2022 and an additional 4.6 percent in June 2023.1 Even though wage growth is starting to cool, it is still high relative to previous years, and in June 2023 it surpassed inflation for the first time in two years.2
The global rise in inflation since early 2022 has spurred employees to seek higher pay. In addition, many countries and jurisdictions are implementing regulations around pay equity and transparency, giving employees visibility into salaries.
Employee experience. The pandemic transformed the notion of the workplace. Many employees were able to work from home, and many have expressed a preference for the added convenience and flexibility. A Washington Post-Ipsos survey found seven in 10 respondents would work from home all or most of the time.3 At the end of 2022, nearly three-quarters of companies offered hybrid-work arrangements.4 The focus on what employees want out of work has also elevated the focus on workplace wellbeing.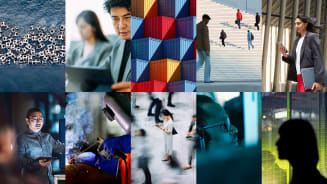 Losses and preparedness
Despite three quarters of respondents stating they are prepared for this risk, nearly a third suffered a loss in the last twelve months.
32%

of respondents suffered a loss from this risk in the 12 months prior to the survey.

Source: Aon's 2023 Global Risk Management Survey

74%

of respondents stated their organizations were prepared for this risk.

Source: Aon's 2023 Global Risk Management Survey
Why Is the Failure to Attract or Retain Top Talent a Risk in the Future?
The workplace has changed dramatically in the past few years — an evolution that is likely to accelerate. Several trends will continue to affect the workforce:
Artificial intelligence (AI) will change the nature of work, though its impact will vary from one role to another.
Increased global geopolitical and economic volatility could have an impact on business continuity, growth and the labor force.
The introduction of remote and hybrid work will spur employees to demand more flexibility. If remote work is not an option, employees may demand other benefits to offset the lack of flexibility.
Climate change will threaten the financial, mental and physical wellbeing of employees. Building climate change into the employee value proposition (EVP) may be a challenge given the unpredictable and multifaceted nature of threats related to climate change.
A multigenerational workforce will have differentiated segments, each with its own distinct needs and preferences. Failure to identify and cater to the needs of each segment will mean failure to win and retain talent.
How Can Organizations Mitigate the Impact of Failing to Attract or Retain Top Talent?
While pay is clearly at the top of the list of levers that can influence the decisions people and organizations make, increased pay is not always sustainable. In the current environment, the key to managing external factors such as inflation and employee expectations is balance. Companies should seek to find the right balance between investing in the workforce to attract and maintain a talent pool while also keeping salaries, benefits and other people-related costs within a manageable range.
A key strategy that organizations can use to attract and retain top talent is reimagining the EVP. Previously, many companies took a one-size-fits-all approach. Today, personalization has become a much higher priority. To meet the needs of a diverse workforce and ensure that talented workers have reason to join or stay with an organization, business leaders can take a data-driven approach to personalize employee benefits. HR data can provide valuable insights into what different employees value and support the development of tailored and targeted options that can drive a return on investment for both individuals and organizations.
For example, organizations can use data to develop distinct personas and then group them by common characteristics and behaviors. Each persona will be attracted to a different aspect of the organization's EVP, enabling the company to personalize its EVP (including rewards, benefits and overall employee experience). Data-driven models such as this can also highlight the risk of attrition, the impact of engagement and other risk factors if employees do not receive the level of personalization they desire.
Developing a personalized EVP strategy can help organizations remain competitive and mitigate key people risks. These key questions can help guide the process:
Is our EVP aligned with our business strategy?
Does our EVP support our growth ambitions?
Is our EVP helping us to attract and retain the talent we want?
What do our HR data tell us about our employees' needs?
How can we balance employee expectations and business requirements?
Do we have a plan to implement a data-driven EVP?
+9
Failure to Attract or Retain Top Talent has risen nine ranks compared to our previous survey, reaching its highest ever ranking.
Source: Aon's 2023 Global Risk Management Survey
General Disclaimer
This document is not intended to address any specific situation or to provide legal, regulatory, financial, or other advice. While care has been taken in the production of this document, Aon does not warrant, represent, or guarantee the accuracy, adequacy, completeness or fitness for any purpose of the document or any part of it and can accept no liability for any loss caused by reliance on it. Any recipient shall be responsible for the use to which it puts this document. This document has been compiled using information available to us up to its date of publication and is subject to any qualifications made in the document.
Related Products & Solutions
Top 10 Global Risks
Trade, technology, weather and workforce stability are the central forces in today's risk landscape.