August 3, 2023
19 Min Read
El Niño and the Storm Brewing in Supply Chains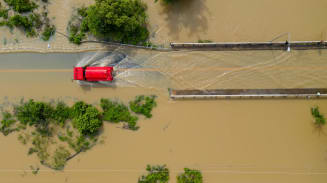 The return of El Niño is creating challenges for the global supply chain, including risks for transportation and logistics. As disruptive weather and climate events persist, vulnerable industries will need to rethink their supply chain strategies to maintain resilience.
Key Takeaways
Natural effects from El Niño, such as floods and droughts, will affect suppliers' ability to deliver goods on time.

These weather and climate events will cause prices to rise for both suppliers and customers, and supply will be impacted by unexpected occurrences.

Making a plan and being flexible will help support success in the long term.
Overview
This year saw the return of a cyclical climate pattern called El Niño, which is associated with warmer waters in the Pacific Ocean and can lead to rising temperatures, extreme rainfall in some areas and drought in others. Because the condition can last for many months, its effect on agriculture, the oceans and everyday life can be extreme.
One area that may be particularly affected is supply chain function. The global supply chain has already been tested by shortages, geopolitical conflicts and inflation, and companies may now have to contend with hazards created by the weather. For example, the Panama Canal, one of the world's most important supply routes, has already cut weight limits and raised surcharges on vessels due to the effects of El Niño on the canal's water levels.
"Climate is a risk amplifier," says William Bruce, global managing director of Aon's Climate Risk consulting group. "Supply chains are already quite vulnerable because they're sophisticated. They operate with just-in-time principles and are particularly long, complex and global. El Niño will amplify some existing vulnerabilities."
Companies will need to become better at anticipating, assessing, planning and reacting to the effects of El Niño and other climate-related pressures to ensure the resilience of their supply chains.
Supply chains are already quite vulnerable because they're sophisticated. They operate with just-in-time principles and are particularly long, complex and global. El Niño will amplify some existing vulnerabilities.
In Depth
Certain conditions, such as flash floods and wildfires, are bound to occur because of El Niño. But it's difficult to know precisely how these events will occur.
"When you're operating vessels or moving goods, you want a certain amount of predictability," says Chris Bhatt, chief commercial officer for Aon's Global Marine team. "It's hard for companies to plan because they don't know where it's going to affect them and when."
Despite the unpredictability of El Niño, logistics companies and businesses will have to learn to respond quickly to supply chain disruptions as they arise. Knowing how supply, transportation and costs will be affected will help companies evolve appropriately.
How El Niño Will Influence Supply and Costs
Bruce describes El Niño as a compressed climate event. For example, inland waterways that are vital for transporting goods — such as the Rhine and the Danube in Europe — will have fluctuating levels of water because of El Niño, which may hinder supply operations if ships cannot travel below bridges.
Higher commodity pricing at the bottom of the supply chain could also increase interest rates, especially when it comes to food and agricultural products such as fresh fruit and cereal crops, which are impacted greatly by droughts and flooding. As such, pricing from a retail and customer perspective may be influenced more by El Niño than other climate events.
El Niño's Effect on Transportation and Logistics Industries
Lee Meyrick, co-lead for global specialties and CEO of the Global Marine team at Aon, says the most obvious effect of El Niño on the transportation and logistics industries will be people moving from global supply chains to more regional ones. For example, as the Panama Canal became more affected by fluctuating water levels, it imposed limits and surcharges on vessels using the waterway, thereby causing shipping rates to increase dramatically and pushing companies to find alternative routes.
"The transportation and logistics industries had to respond to that change and shift in demand," Meyrick says.
The uncertainty surrounding when people can get goods, where they can source them from and how much they can get is also causing companies to hold on to more inventory. But there is a further risk, Meyrick notes: if a storm surge or flood hits these companies, there is an increased concentration of risk, and their warehouses could be damaged or destroyed.
On top of that, companies may also experience issues with contracts due to El Niño, with weather-related supply chain interruptions spurring some businesses to sacrifice contractual prices and quickly buy goods from another supplier at a loss.
How Supply Chains Will Evolve
The size, geographical diversity and complexity of a company's supply chain will all contribute to its ability to withstand changes and disruptions caused by climate. Some typically warmer and high-risk parts of the world, such as the Middle East and North Africa, have workforces who are more used to working in extreme heat conditions. These countries are therefore more confident they can withstand warmer temperatures caused by El Niño. Shorter, simpler supply chains may also be less affected by climate risk.
Industry regulations will influence how quickly supply chains can react to El Niño. "A lot of supply chains are flexible by their nature," explains Bruce. "They can respond relatively quickly to events to source goods and services or commodities from different parts of the world — but it does depend on the industry you're in. There are some industries, such as life sciences, where the regulatory environment means you can't automatically go from a supplier in one location to another, whereas food producers can pivot easier. For instance, if the climate is forecasted to get hotter in Southern Spain, where they source a lot of tomatoes, they can decide to source tomatoes from Northern Spain instead."
Developing New Strategies
Companies across industries can keep these nuances in mind when they develop supply chain resilience strategies. To preserve capital and shore up protections, parametric insurance and resilience bonds may also become more popular. Both investments help companies protect themselves against climate-related disasters or predefined events that occur regularly in certain areas.
Meyrick also says that as a result of changing regulations some shipping companies are seeking to refit/replace their vessels, which could be increasingly difficult as interest rates rise. "There's not a lot of fat or price/cost hedging built into the supply chain," says Meyrick. "Suppliers may hold back on buying new vessels if the demand for products reduces and/or costs become prohibitive."
Meyrick notes that climate has become as contentious to supply chains as political violence or terrorism in terms of unpredictability and disruption. But over the years, these challenges have shown how the most flexible and advanced supply chains can deliver goods on time.
"COVID-19 raised people's awareness of how fragile supply chains can be, but we've come a long way," says Meyrick. "The cause and effect are clear with climate, so different industries will learn to increase agility and resilience, particularly through integrated logistics solutions, accordingly."
COVID-19 raised people's awareness of how fragile supply chains can be, but we've come a long way. The cause and effect are clear with climate, so different industries will learn to increase agility and resilience.
Cyber Labs
Stay in the loop on today's most pressing cyber security matters.
Environmental, Social and Governance Insights
Explore Aon's latest environmental social and governance (ESG) insights.
Insights for HR
Explore our hand-picked insights for human resources professionals.
Navigating Volatility
How do businesses navigate their way through new forms of volatility and make decisions that protect and grow their organizations?
Article 17 Min Read

How Academic Research Can Help Drive Climate Risk Resilience

By leveraging the advances made by academic research, companies can develop more robust climate risk resilience.

Article 19 Min Read

Pricing Platform: Avoiding Pricing Pitfalls

Pricing pitfalls are more common than you think, whether it's working with incomplete data or key man risk – but with the right pricing process, many of these issues can be mitigated. Read our article to learn about the most common pricing errors, and what insurers can do about it.

Article 18 Min Read

Pricing Platform: The Importance of Getting Pricing Right

In today's increasingly complex insurance landscape, an inadequate pricing system can not only impact insurers' view of risk, but also prevent them from making the right decisions at the right time. Read our article on why it's essential to get pricing right.