April 20, 2023
12 Min Read
Four Ways to Increase the ROI of Your Benefits Strategy With Technology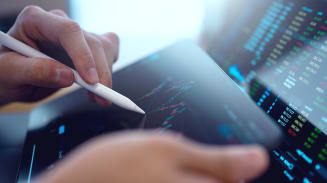 Return on investment is one of the biggest considerations in implementing employee benefits. This is more pertinent as global economic volatility forces companies to balance costs with expectations.
Key Takeaways
Companies should focus on creating a seamless employee experience to drive engagement.

Your benefits strategy should be informed by data on the needs and motivators of your employees.

Clear communication is essential to success; employees cannot engage with benefits they do not know about.
Benefits platforms are an investment, both financially and in your people. But they also need to drive value and make a positive impact on your workforce. Not only do employers want the best health and benefits experience for their employees; they also want meaningful and actionable insights around what's happening within their workforce — securely stored but easily accessible.
For some, assessing value can be challenging, but technology is helping to overcome the barriers we once saw around monitoring benefits uptake and understanding employee motivation. In this article, we discuss how technology can help increase the ROI of your benefits strategy and create deeper value.
Creating a Better Employee Experience
A good technology platform increases value for its users. At a simplified level, if employees have a better experience accessing their employee benefits, they will be more engaged with the options available. This can lead to improved wellbeing — which can improve company profit, customer service and employee retention.
Technological innovation has driven consumer expectations, and this has filtered across into the benefits space. Technology platforms are now consumer-grade; they align to the digital expectations set by disruptive technology companies. Good benefits technology provides anytime, anywhere access to employees looking to manage their benefits or understand their options.
Integrating benefits platforms with your existing framework can be challenging, especially for businesses who are expanding geographically or growing through a merger or acquisition. Adopting a highly customizable technology platform can help streamline these processes, even across a global infrastructure. For example, Aon's benefits platform uses automated processes to reduce the administrative effort required to input, transfer and set-up benefits programs across an organization. This can have a huge impact on the ROI of implementing a new technology platform; not only does the initial setup require less resource, but the ongoing benefits management also reduces the effort involved.
Related Insights and Solutions
Employers who care about wellbeing stand to benefit in several ways. When employees feel like their leaders care about wellbeing, they are more engaged, and more productive. They achieve more, have fewer safety incidents and lower turnover.
Data to Inform Employee Needs
While it can be easier to understand what benefits employees want, it is more challenging to determine what they actually need. Employee health data is one way of getting an unbiased picture of overlooked gaps and opportunities to provide support. Alternatively, companies can access more granular health information via health tracking applications and drill down into specific risks. Designed to report on key personal health metrics at an aggregated level — and anonymized to protect individual privacy — these applications can inform better decisions around physical and mental wellbeing. Technology-informed early intervention can help reduce long-term costs associated with chronic illness or problem debt.
Technology is a tool that can drive and inform your benefits strategy by providing direct insight into the health and wellbeing of your workforce. It's non-intrusive for employees and is mutually beneficial for both employee and employer: Employees get better access to their benefits, and employers get actionable insights.
Assessing Employee Engagement
Technology platforms enable businesses to assess how engaged employees are with their available benefits. Companies can tap into this information to understand how it aligns with wider initiatives. For example, are employees accessing benefits intended to enhance wellbeing and promote resilience? Are benefits being utilized across the employee population? Analyzing data by employee demographics allows employers to better understand where there are gaps in engagement and usage.
For multinational businesses, a global technology platform can facilitate a benchmark for benefits uptake across different geographies, helping to better understand cultural nuances and geographical opportunities.
The comprehensive dashboards allow employers to benchmark engagement, comparing to historic performance or highlight disproportionate engagement levels across the different benefits available. By overlaying with life stage data, this data could reveal trends for further investigation. For example, perhaps parents or guardians are adding minor dependents to health or dental insurance but not utilizing emergency childcare support. This information can also help companies assess whether benefits engagement reflects employee survey information and where there is potential disconnect.
Complex Communication, Made Clear
Multi-faceted benefits strategies need clear communication to drive engagement. Awareness is typically the first barrier to employee benefits engagement. If employees aren't aware of the array of benefits available to them, uptake will invariably be lower. But in a world where individuals are continually bombarded with messaging, benefits communication must compete or risk getting lost in the noise. Technology can help facilitate a sophisticated communication strategy and be programed to tailor messaging around employees' key life events. Building a benefits strategy around the moments that matter for your employees is a strong way of connecting them to the benefits you offer.
Technology can help employers understand why employees might not be engaging with their benefits. Running short pulse surveys via a push notification can be a good litmus test for employee awareness and education. Are employees not engaged because they aren't aware of the benefits available? Or are they aware but don't understand them fully?
Experimentation is facilitated by technology; digital communication channels enable employers to run sophisticated A/B testing on communications while live dashboarding showcases the impact and result.
Developing a Future-Ready Benefits Platform
In an environment facing ever-rising costs, getting a better return on investment is a key priority for many companies right now. Historically, the resource required to implement or switch platforms may have been off-putting, but today's seamless systems make it easier for organizations to adopt a future-ready benefits platform. Value isn't just financial; it's also about impact. Benefit platforms need to reflect the digital experience found within the wider consumer ecosystem. They need to connect, engage and inspire employees. Does yours?
Find out more about how Aon's Online Benefits Platform - The Benefits Solution - could help amplify your benefits strategy and enhance ROI
General Disclaimer
The information contained herein and the statements expressed are of a general nature and are not intended to address the circumstances of any particular individual or entity. Although we endeavor to provide accurate and timely information and use sources we consider reliable, there can be no guarantee that such information is accurate as of the date it is received or that it will continue to be accurate in the future. No one should act on such information without appropriate professional advice after a thorough examination of the particular situation.
Terms of Use
The contents herein may not be reproduced, reused, reprinted or redistributed without the expressed written consent of Aon, unless otherwise authorized by Aon. To use information contained herein, please write to our team.
Cyber Labs
Stay in the loop on today's most pressing cyber security matters.
Environmental, Social and Governance Insights
Explore Aon's latest environmental social and governance (ESG) insights.
Insights for HR
Explore our hand-picked insights for human resources professionals.
Navigating Volatility
How do businesses navigate their way through new forms of volatility and make decisions that protect and grow their organizations?