July 27, 2023
22 Min Read
From Test Tubes to Terabytes: AI's Takeover of Life Sciences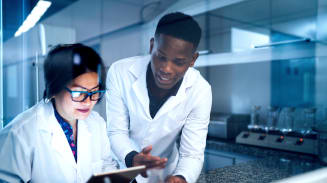 AI  is creating new possibilities in life sciences, especially in R&D, training  and marketing. But, as the industry adapts to AI, it also faces risks and challenges.
Key Takeaways
Artificial intelligence is being used in the life sciences industry to lower costs and save time during research and development.

Cutting costs associated with developing new drugs may make it easier for life sciences companies to create treatments for rare and specific conditions.

The accessibility of AI technology could widen the divide between emerging and established life sciences companies.
Overview
Artificial intelligence has already had a massive impact in the business world, and new applications are constantly being discovered. In the life sciences industry — with its meticulous and thorough research, testing and data aggregation — AI is poised to radically disrupt how the sector operates.
"AI is already being used from molecule to market," says Lars Sørensen, co-lead of global life sciences industry vertical at Aon. "This is a game-changer for the industry."
Life sciences companies cover everything from small-scale startups to multinational corporations, and work within subsectors spanning from biotechnology and pharmaceuticals, medical devices, health IT, nutraceuticals and agricultural sciences. While these companies have been adjusting to the post-COVID landscape, AI may signal the start of the next paradigm shift.
"We saw AI start to be incorporated into all industries — especially life sciences — many years back," says Meaghan Piscitelli, partner and co-lead of global life sciences industry vertical at Aon. "COVID really escalated the use of AI in the life sciences industry. It has led to exciting innovations and improvements in various areas like drug development, disease diagnosis, personalized medicine and genomics research."
Understanding the current and potential impacts of artificial intelligence in the life sciences industry can help leaders stay ahead of the curve. If businesses can capitalize on the emerging benefits of AI while navigating the possible pitfalls, they may lead the way to a healthier society.
AI is already being used from molecule to market. This is a game-changer for the industry.
In Depth
The current applications of AI in the life sciences industry can be used as a road map to what changes are yet to come. An AI-designed drug has already been approved for human testing, and AI-powered tools that rapidly escalate insights and data collection for life sciences companies are in production.
"There's enormous opportunities for the industry if they get this right," says Sørensen.
Near-Term Innovations
Many innovations in the life sciences industry are time-intensive and often require a large financial investment. AI technology could have an outsized impact on life sciences due to its unique capabilities to process and rapidly organize vast quantities of information. This means that the pace of innovation in biotechnology and pharmaceuticals may accelerate rapidly in the near future, especially if current trends continue.
"AI is already being used in the research space to find promising molecules that scientists can then work further on," says Sørensen. "Companies are already saving a lot of time by applying AI at these early stages of development."
In a different area of life sciences research, companies are increasing the breadth and quality of trial data. "AI is currently being used in identifying candidates for clinical trials, especially for rare disease drugs where it's difficult to find people who can participate in a trial," Sørensen explains.
The potential for AI technology in researching rare diseases means that it becomes more feasible for life sciences companies to produce more niche drugs that may have at one time been passed over in favor of bigger treatments to deal with more popular ailments.
"AI can significantly shorten the life sciences research timelines by streamlining various aspects of the research process and accelerating the pace of discovery," says Piscitelli. "Data analytics, drug discovery, virtual screening, clinical trial optimization, drug repurposing, biomarker discovery, personalized medicine, automation of lab tasks and literature review all have ways of AI improving those processes. By harnessing the power of AI in these and other ways, we can lead to quicker discoveries, faster development and ultimately improve patient outcomes. If we have more efficiencies there, we can also think about not necessarily just looking to go for the 'big bang' products — but with the inclusion of AI, it now might allow us to have more 'mini-blockbusters'."
AI can significantly shorten the life sciences research timelines by streamlining various aspects of the research process and accelerating the pace of discovery.
The Future of AI in Life Sciences
AI may promise big changes for not only research and development, but other areas such as marketing new treatments.
"The marketing of new treatments due to AI is likely to undergo several changes and advancements," says Piscitelli. "Now with AI, they can have a much more targeted approach. With personalized medicine marketing, digital engagement, real-world evidence (RWE), patient education and improved targeting in advertising using AI-powered algorithms, they can optimize specific target audiences helping pharma companies reach the right patients and healthcare professionals."
Additionally, AI technology has the potential to make drugs safer, as better data acquisition and analytics can pick up on potential issues that otherwise would have been missed.
"When you have a drug on the market, you get thousands of adverse events reported on a regular basis, and you need to figure out the indications of whether something might be wrong or ought to be investigated further," says Sørensen. "Companies can use AI and machine learning to crunch the data much faster and smarter, so they might be able to identify problems earlier."
The AI-Powered Workforce
AI also has the potential to drastically alter what the workforce looks like in the life sciences industry.
"The widespread adoption of AI is reshaping even the job market," says Piscitelli. "There are a ton of new skill sets needed to operate in these new business models. The integration of AI is creating a demand for a diverse range of skill sets that combine technical expertise with domain-specific knowledge and soft skills. To succeed in the AI-driven future, individuals must be proactive in acquiring these skill sets and be ready to embrace lifelong learning to stay relevant in the dynamic job market."
Collaborative and human-driven work processes once common to the life sciences industry may be affected by the introduction of this new technology as well.
"Most likely, one of the areas that we will see the most development in the next five years is that everyone's role will to some degree have something to do with AI," adds Sørensen.
Risks and Considerations of AI in Life Sciences
While there are opportunities in the recent AI boom, there are challenges as well. Understanding potential downsides to AI could help life sciences businesses minimize risk.
"It's something that always gets mentioned a lot, but cyber security is a big concern," says Sørensen. "AI tools deal with a lot of data. And because a lot of AI activities are initiated through acquisitions, there's pressure on an organization to make sure that they check these acquisitions to ensure they follow the same standards as the overall organization."
"Overall, AI's integration in life sciences has the potential to revolutionize medical research and healthcare, leading to improved treatments, personalized medicine and better patient care" says Piscitelli. "However, it's essential to address ethical, regulatory, and privacy considerations to ensure responsible and transparent AI implementation in the field."
While AI offers revolutionary benefits, it inevitably presents new hurdles in life sciences. By being aware of and preparing for potential risks, leaders in the industry can take full advantage of these new innovations.
General Disclaimer
The information contained herein and the statements expressed are of a general nature and are not intended to address the circumstances of any particular individual or entity. Although we endeavor to provide accurate and timely information and use sources we consider reliable, there can be no guarantee that such information is accurate as of the date it is received or that it will continue to be accurate in the future. No one should act on such information without appropriate professional advice after a thorough examination of the particular situation.
Terms of Use
The contents herein may not be reproduced, reused, reprinted or redistributed without the expressed written consent of Aon, unless otherwise authorized by Aon. To use information contained herein, please write to our team.
Cyber Labs
Stay in the loop on today's most pressing cyber security matters.
Environmental, Social and Governance Insights
Explore Aon's latest environmental social and governance (ESG) insights.
Insights for HR
Explore our hand-picked insights for human resources professionals.
Navigating Volatility
How do businesses navigate their way through new forms of volatility and make decisions that protect and grow their organizations?