March 15, 2023
8 Min Read
Facing a Worker Shortage, Healthcare Companies Focus on Digital Job Skills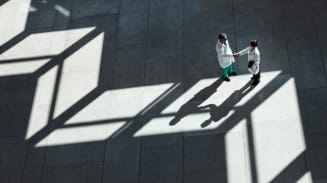 As healthcare organizations digitalize their business and face global workforce shortages, our analysis finds they are rapidly recruiting new talent with specific data skillsets.
Key Takeaways
Facing workforce shortages, healthcare organizations are actively recruiting talent with data skillsets.

Top innovative hospitals are recruiting at higher rates for roles that use data in more advanced ways.

There is an opportunity for all healthcare organizations to synch their digital business and talent strategies to deliver better patient care.
Companies across all industries are digitalizing their business and, in turn, hiring talent with specific skills to help them deliver on their strategy. This is particularly true in the healthcare industry, which is undergoing rapid digital transformation and addressing disruption to their business and workforce from the pandemic.

Amid this volatility, two workforce trends have important implications for the future of patient care. First, workforce shortages are plaguing the healthcare industry. Burnout and stress from the pandemic have led to a shortfall of healthcare workers. Globally, the World Health Organization projects this shortfall to rise to 10 million care workers by 2030. The worker shortage is adversely affecting the quality and accessibility of care, leading to longer wait times, increased health costs and poorer health outcomes for patients.
Second, the digitalization sweep across the industry means hospitals and other healthcare organizations are generating vast amounts of data from electronic health records, medical devices, wearables, operational data and other sources. With the ability to collect, analyze and interpret large of amounts of data, healthcare organizations can improve the accessibility and quality of healthcare. This can be done through using internal data assets to forecast patient needs, optimize scheduling or custom-tailor treatment plans for patients. However, attracting workers with these in-demand skills is challenging in today's competitive labor market. Fortunately, we see there is progress being made to recruit and retain employees with the requisite digital skills healthcare organizations need.
Recruiting Talent with Digital Skills That Align to Strategy
At Aon, we use a framework known as the Data Value Chain to help organizations across all industries hire the right talent. This helps firms realize value from their internal data assets, enabling many value-added activities from digitalization. The framework consists of three tiers that categorize digital skills and jobs. These include:
Tier 1: Data collection
This includes more basic digital skills. Most healthcare systems today have made the requisite investments to digitize patient records, conduct admissions check-ins and more. Now they are actively recruiting for jobs such as data processing that use these skills.
Tier 2: Data infrastructure
This includes skills that focus on managing and structuring data to make it digestible and actionable for all stakeholders. Jobs in this tier include data engineer and software engineer.
Tier 3: Data analytics
This includes skills that use data and tools to drive key decisions, such as what investments to make to improve patient outcomes or how to speed up insurance claims and payments. Jobs include business intelligence analysts and data scientists.

To better understand the pace at which healthcare companies are recruiting for these types of jobs, Aon's Human Capital Solutions team used data from Lightcast to analyze job openings over the past seven years at U.S. News & World Report's Top 25 Most Innovative Hospitals in the United States and the healthcare industry in the U.S. overall.
Our analysis used a proprietary, AI-enabled skills taxonomy solution to map skills listed in these job postings to the Data Value Chain framework. We find hiring for data-centric skillsets is not just a passing trend, but rather a reflection of a larger shift in the healthcare industry toward using data to inform decision making and drive better patient outcomes. Since 2016, growth in job postings requiring data-related skills outpaced growth in overall healthcare job postings, which was 4 percent. Demand for jobs with Tier 1 skills witnessed the largest overall growth, increasing at an annualize rate between 7 to 9 percent. However, the biggest growth for jobs with data skills is seen among the Top 25 hospitals. After accounting for market size, our analysis shows this group is three times more likely to seek talent with data skillsets.
10M
Projected healthcare worker shortage by 2030
Source: World Health Organization
With the worst of the pandemic behind us, hospitals and other healthcare systems have renewed their focus on digitalizing their organizations.  
Top Hospitals in the US Lead in Hiring for Data Skills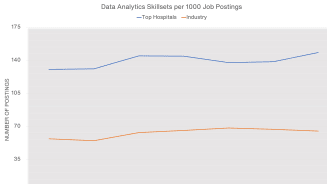 While many healthcare organizations across the industry are well positioned to hire skills Tier 2 and Tier 3 of the Data Value Chain, there may be a knowledge gap when it comes to knowing how to effectively structure and recruit for these roles. There could also be reluctance to hire too many roles that tend to command higher pay.
If we look at pay levels for the representative jobs in each tier, it is not surprising that the value of the jobs is higher for those in the more advanced tier. However, we know from our data and client engagements, the return on investment for these more advanced data skills is both quickly realized and sustainable over time if a company is ready to deploy advanced data skills to fulfill the business strategy.

Using Aon's Radford Global Compensation Database, which represents compensation data from more than 19 million employees across 6,400 participating organizations, we find data analytics professionals earn a median base pay that is around one and a half times the base pay for a data center operations professional.
Focusing on the Right Skills to Fuel Growth in Healthcare
Healthcare organizations are at an important inflection point. With continued economic uncertainty, leading organizations recognize the importance of having an impactful digital experience at the core of their business, patient and workforce strategy.

Start by understanding how jobs can facilitate your organization's movement up the Data Value Chain. Then take time to truly learn the cost and value of the jobs. This will position your firm to provide both a leading patient and workforce experience.

To learn more about how Aon can help your healthcare organization with your talent strategy, please write to [email protected].
General Disclaimer
The information contained herein and the statements expressed are of a general nature and are not intended to address the circumstances of any particular individual or entity. Although we endeavor to provide accurate and timely information and use sources we consider reliable, there can be no guarantee that such information is accurate as of the date it is received or that it will continue to be accurate in the future. No one should act on such information without appropriate professional advice after a thorough examination of the particular situation.
Terms of Use
The contents herein may not be reproduced, reused, reprinted or redistributed without the expressed written consent of Aon, unless otherwise authorized by Aon. To use information contained herein, please write to our team.
3x
Top hospitals are three times more likely to seek talent with data skillsets
Source: Aon Data Analysis
Cyber Labs
Stay in the loop on today's most pressing cyber security matters.
Environmental, Social and Governance Insights
Explore Aon's latest environmental social and governance (ESG) insights.
Insights for HR
Explore our hand-picked insights for human resources professionals.
Navigating Volatility
How do businesses navigate their way through new forms of volatility and make decisions that protect and grow their organizations?