January 13, 2023
8 Min Read
How the Right ESG Approach Makes an Impact On Your Talent and Your Business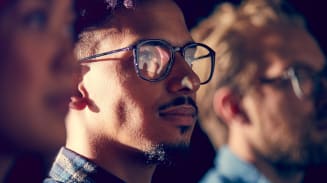 ESG strategies are becoming a key part of the corporate landscape as executives and investors use new metrics to assess a company's long-term success.
Key Takeaways
As the focus on ESG has increased, the conversation has expanded from the boardroom to individual employees.

A growing share of the workforce wants to know what a company stands for and how their actions and investments align with their values. 

Applying ESG considerations to an organization's people strategy can create value in terms of talent attraction and retention, as well as organizational strength and resilience.
Overview
Environmental, social and governance (ESG) strategies are rapidly becoming a critical part of the corporate landscape. Executives and investors are looking to the risks, opportunities and metrics connected with ESG as a measure of where a company is today, and how it's positioned for long-term success.
One consideration that has become increasingly important is how employees view — and participate in — their organization's commitments and supporting initiatives across the ESG pillars.
A growing share of the workforce wants to know what a company stands for and how their actions and investments align with their values. As a result, applying ESG considerations to an organization's people strategy can help employers create value in many ways, from talent attraction and retention to organizational strength and resilience.
"Employees may already be taking action themselves and they want to know what else they can do within their organizations," says Andrew Cunningham, chief commercial officer for EMEA Health Solutions at Aon. "The C-suite can set priorities and HR has the opportunity to amplify that message and mobilize the workforce behind a common set of goals. Companies have the opportunity to demonstrate authentic action against commitments or to align with what their employees believe is important."
In Depth
As the focus on ESG has increased, the conversation has expanded from the boardroom to the individual employee. While the focus on ESG themes was already building, the pandemic was a catalyst for a mindset shift.
"People have taken the opportunity to reset, figure out what's important to them and how that applies to the work they do on a day-to-day basis," says Cunningham. "If they don't feel that element of purpose, they're leaving their organization."
As workers increasingly identify climate change and other issues like inclusion and diversity that are also ESG factors as top personal priorities, leaders are recognizing the importance of connecting commitments with action and a values-driven approach to attracting and retaining talent.
Analyzing the Opportunities
Many businesses are already engaged in a number of activities that can be considered an ESG issue, such as wellbeing initiatives or promoting inclusion and diversity. To maximize the effectiveness of these efforts, employers must think strategically.
"One way to get started is conducting an inventory of what the company is actually doing and providing to employees, and then understand how that lines up with their corporate ESG strategy and objectives," says Madeleine Catzaras, strategy and solutions development lead for EMEA Health Solutions at Aon.
As ESG strategies become more prominent in organizations' day-to-day operations, connecting those strategies with a company's biggest asset — its people — is fundamental to evolving how the company does business and achieving their ESG goals.
After identifying some of the organization's efforts and activities that already fit within the ESG realm and their corporate ESG objectives, employers can better understand where the gaps and opportunities are such as climate-friendly pension strategies and procurement that considers suppliers' I&D and sustainability credentials. Then the organization can develop short- and long-term objectives in those areas and establish a specific ESG People strategy connected to broader corporate ESG goals.
"The C-suite will set the business agenda, and then HR will help execute the vision through the talent agenda," Cunningham says.
One way to get started is conducting an inventory of what the company is actually doing and providing to employees.
Making Strategic ESG Investments
An organization's ESG-workforce strategy can take shape in a number of different ways:
Investments and pensions — Revising the investment strategy to align with the values shared by the organization and their ESG objectives. This can help encourage pride in the company and the pension plan. "It's a two-fold approach," says Chris Inman, partner at Aon. "You get engagement and commitment from employees and for your organization. When that engagement exists and people are contributing, they see better outcomes."
Benefits strategy — "Benefits investments are huge opportunities to embed ESG goals and values. What vendors are we considering? That's a huge amount of capital and an opportunity to bring ESG to the fore," Cunningham says.
Workforce health — Working remotely presents a challenge, but employers can still exercise a positive influence, especially as employees' work-home lives blend in new ways. "HR will have to think about how to achieve the same objectives as if they were investing in, say, sustainable facilities or healthy foods at work," says Catzaras. "There is room for HR to think creatively about embedding ESG into actions and initiatives and have impact on employees even when working remotely."
Making the ESG Connection
Business leaders should start thinking now about how their organizations can embed ESG initiatives and metrics into the employee experience and people strategy, working closely with HR as the catalyst for action and change. This will not only help build a happier, healthier workforce, but attract talent that cares about working for an organization that leads with purpose, and whose mindset can help the organization prepare for and overcome current and future challenges.
"It is a journey, but it all begins with starting somewhere and really just making that connection between ESG and people," Catzaras says.
General Disclaimer
The information contained herein and the statements expressed are of a general nature and are not intended to address the circumstances of any particular individual or entity. Although we endeavor to provide accurate and timely information and use sources we consider reliable, there can be no guarantee that such information is accurate as of the date it is received or that it will continue to be accurate in the future. No one should act on such information without appropriate professional advice after a thorough examination of the particular situation.
Terms of Use
The contents herein may not be reproduced, reused, reprinted or redistributed without the expressed written consent of Aon, unless otherwise authorized by Aon. To use information contained herein, please write to our team.
Cyber Labs
Stay in the loop on today's most pressing cyber security matters.
Environmental, Social and Governance Insights
Explore Aon's latest environmental social and governance (ESG) insights.
Insights for HR
Explore our hand-picked insights for human resources professionals.
Navigating Volatility
How do businesses navigate their way through new forms of volatility and make decisions that protect and grow their organizations?
Article 17 Min Read

How Academic Research Can Help Drive Climate Risk Resilience

By leveraging the advances made by academic research, companies can develop more robust climate risk resilience.

Article 19 Min Read

Pricing Platform: Avoiding Pricing Pitfalls

Pricing pitfalls are more common than you think, whether it's working with incomplete data or key man risk – but with the right pricing process, many of these issues can be mitigated. Read our article to learn about the most common pricing errors, and what insurers can do about it.

Article 18 Min Read

Pricing Platform: The Importance of Getting Pricing Right

In today's increasingly complex insurance landscape, an inadequate pricing system can not only impact insurers' view of risk, but also prevent them from making the right decisions at the right time. Read our article on why it's essential to get pricing right.