The Details of Data: Using Technology for Better Analysis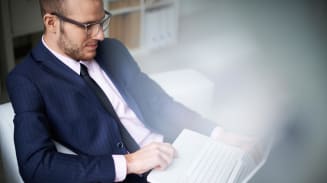 How technology can help solve the difficulties organizations face analyzing data
Key Takeaways
Collecting and analyzing data is critical for organizational growth.

AI can help organizations analyze and make sense of their data by identifying patterns and mapping data.

"No code" or "low code" technology solutions can simplify the process of capturing and using data.
Collecting and gaining insights from data is critical to an organization's operations and growth. But organizations still have difficulty effectively managing, analyzing and using the huge quantity of data that's generated — and then struggle to make better decisions based on the findings.
How can technology, including artificial intelligence (AI), better capture and amplify the power of data for organizations? Aon Chief Operating Officer James Platt joined other industry COOs at the recent Financial Times' Digital Dialogues, "Transforming Operations and the Customer Experience" and provided his thoughts.
Q: Why do you think organizations struggle with data?
James Platt: So much effort and time may be spent on collecting and reporting data, rather than gleaning insights from the data. Take a common scenario, when a client has a risk that they want to have protected. The client will need to provide a lot of information about their historic losses and exposures. That information can still come in Excel and PDF documents, which are hard to manipulate.
Collecting data, then, can be cumbersome, as can providing that information in a structured way to insurers. The entire data analyzing process has more points like this, with lots of complicated data and difficulties with capturing and managing that data.
Q: Where does artificial intelligence come in?
James Platt: Analysis, and particularly pattern finding. AI can match and map data, helping firms get to the point of effectively using their data.
A simple example: Clients may need insurance certificates to better carry out their business. It can be a painful process, with data coming in from different places around likely litigation scenarios and claims. By using pretty thoughtful AI, we can prioritize which require more attention. By allowing us to focus, we're definitely creating a much, much better customer experience.
Q: How do "no code" or "low code" technology solutions help?
James Platt: "No code" and "low code" refer to technology systems that need configuring rather coding. They're simpler solutions for capturing and using data. It's not AI, but it's a step up from many current data processes. Whether it's small transactions or large complicated transactions, these systems can help ensure data comes in in a structured way.
General Disclaimer
The information contained herein and the statements expressed are of a general nature and are not intended to address the circumstances of any particular individual or entity. Although we endeavor to provide accurate and timely information and use sources we consider reliable, there can be no guarantee that such information is accurate as of the date it is received or that it will continue to be accurate in the future. No one should act on such information without appropriate professional advice after a thorough examination of the particular situation.
Terms of Use
The contents herein may not be reproduced, reused, reprinted or redistributed without the expressed written consent of Aon, unless otherwise authorized by Aon. To use information contained herein, please write to our team.
Cyber Labs
Stay in the loop on today's most pressing cyber security matters.
Environmental, Social and Governance Insights
Explore Aon's latest environmental social and governance (ESG) insights.
Insights for HR
Explore our hand-picked insights for human resources professionals.
Navigating Volatility
How do businesses navigate their way through new forms of volatility and make decisions that protect and grow their organizations?