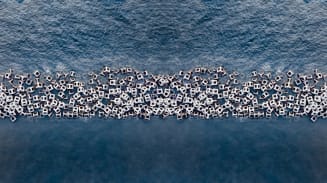 Business Interruption is the second biggest risk facing organizations today and is predicted to fall to the sixth most critical by 2026, according to our survey.
What is Business Interruption?
Business interruption is the loss of income or profit suffered when an organization's operations are suspended or reduced as a result of direct or indirect (contingent) loss, such as through property damage or a cyber attack. An organization might see a loss of revenues, an increase in operational costs in order to maintain sales — or both effects at the same time.
Why is Business Interruption a Top Risk for Organizations?
The threat that business interruption poses to businesses was clearly demonstrated during the summer of 2023, when oil and gas processing plants across Canada shut down in response to wildfires, halting production on the equivalent of 240,000 barrels of oil a day. 

Losses arising from business interruption can be significant and even put an organization's survival at risk. Disruption events can come in many forms and affect reputation, customer trust, cash flows and much more, making this a key concern for businesses.

Traditionally, organizations looked at the possible disruptions caused by their own losses — for example, a fire, explosion, or natural catastrophe that might damage their premises. Over the past couple of decades, companies have broadened their lens to include supply chain disruptions and risks related to losing customers, suppliers or utilities.
In recent years, business interruption has become increasingly complex as the world has become even more volatile and interconnected:
Regulatory and legislative changes require updated and ongoing compliance measures.
Weather or climate-related events have caused extensive damage on numerous occasions.
Cyber attacks, the number-one risk in our survey this year, are a main matter of concern, not least in part because of their ability to halt business operations.
The effects of COVID-19 are still being felt, especially in terms of global supply chain disruptions, as shown by the semiconductor shortage in 2022.
Workforce shortages caused by demand for relevant talent, skills gaps and an aging population have left key job roles left vacant. 
Supply scarcity means equipment failures that would once have led to brief stoppages in the past can now potentially cause long delays due to the extended lead times of replacement parts. Many companies no longer consider repair and rebuild when determining the length of a stoppage; instead, the time required for the delivery of new machinery is the default.
Geopolitical events such as conflicts provide ongoing risks and obstacles to business.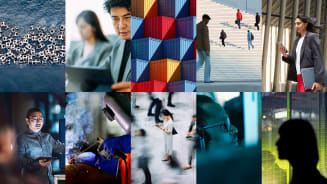 Losses and preparedness
Despite three quarters of respondents stating they are prepared for a business interruption event, nearly a third suffered a loss in the last twelve months.
32%

of respondents suffered a loss from this risk in the 12 months prior to the survey.

Source: Aon's 2023 Global Risk Management Survey

74%

of respondents stated their organizations were prepared for this risk.

Source: Aon's 2023 Global Risk Management Survey
How Can Organizations Mitigate the Impact of Business Interruption? 
Both pre-loss preparedness and post-loss reaction are critical in limiting the impact of business interruption.
Organizations should regularly revisit and update their crisis management and business continuity plans. These plans substantially reduce the impact of an event and can be a major differentiator in whether a company recovers from a disruption.
On a tactical level, multiple sourcing is a tried-and-tested way of reducing the risk of supply chain disruption. More recently, some companies have also chosen to increase their inventory as a measure against short disruptions. This approach provides further protection, but holding stock can come with additional financial costs.
An insurance policy is an important part of incident reaction plans, as it covers losses and protects assets. Companies should be in regular contact with their brokers and insurers to keep their plans up-to-date. Seeking professional advice for handling and presenting an insurance claim can free up the organization to focus on production and clients, thus cushioning the impact of a business disruption.
If a loss does occur, companies should mitigate the effects by maintaining business operations, securing the means of continuing work and focusing on recovery. Crisis management and business continuity plans ensure these tasks are manageable even in the middle of a crisis.
=
Business Interruption remains the second biggest risk facing organizations today, the same rank it held in our previous survey.
Source: Aon's 2023 Global Risk Management Survey
General Disclaimer
This document is not intended to address any specific situation or to provide legal, regulatory, financial, or other advice. While care has been taken in the production of this document, Aon does not warrant, represent, or guarantee the accuracy, adequacy, completeness or fitness for any purpose of the document or any part of it and can accept no liability for any loss caused by reliance on it. Any recipient shall be responsible for the use to which it puts this document. This document has been compiled using information available to us up to its date of publication and is subject to any qualifications made in the document.
Related Products & Solutions
Top 10 Global Risks
Trade, technology, weather and workforce stability are the central forces in today's risk landscape.