Featured Topic
Supply Chain Resilience
Supply chain risk is front-of-mind for consumers around the world. It's time to invest in resiliency.
Supply chain risk and disruptions continue to impact nearly every corner of commerce and remain firmly on the minds of global business leaders. Supply chain vulnerabilities were exposed during the COVID-19 pandemic, first by a considerable drop in demand followed by a sharp recovery swing that caught a fragile system unprepared. Risks continue to increase vulnerabilities, causing leaders to make critical changes to mitigate supply issues that have hampered revenues.

Whether due to natural disasters and the increased impacts of climate change, heightened geopolitical issues and conflicts zones, or digital-enabled systems providing additional entry points for cyber attacks or even the lack of talent workers, supply chain risks are on the minds of executives across the globe.

Supply chain risk is complex, multi-faceted and costly with disruptions having a significant impact on company business and financial performance. Improved insights around where and how risk impacts the supply chain can help business leaders be better informed, and better advised to make better decisions that prepare them for unplanned events and volatile supplier performance.
Insights to Make Better Supply Chain Decisions
Top 5

Among executives, supply chain disruption is now a top five risk.

Source: Aon's 2022 Executive Risk Survey

No. 8

Globally, supply chain disruption ranks as the 8th most pressing risk for businesses.

Source: Aon's 2021 Global Risk Management Survey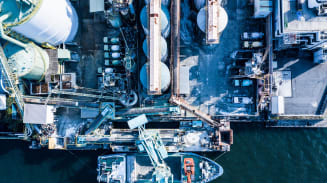 Keep Exploring
Unlock new perspectives on this topic by exploring the latest insights and research from our team.