Learn how your organization can benefit from our pay equity services.
How to Address Pay Equity
Pay transparency regulations are emerging as a key aspect of employment law reforms worldwide, reshaping how organizations approach compensation practices. These regulations mandate that companies provide greater disclosure regarding pay structures, salary ranges, and benefits. By increasing transparency, these regulations aim to address wage disparities, promote fairness, and empower employees to make informed decisions about their careers. While compliance with these regulations is essential, organizations are realizing that pay transparency goes beyond legal requirements. 

It also serves as a strategic tool to attract and retain top talent, enhance employee engagement, and foster a culture of trust and equity. Moreover, companies recognize that transparent pay practices align with the expectations of shareholders who value accountability and ethical business practices. Embracing pay transparency is not solely driven by regulations; it is also motivated by the belief that it is the right thing to do for creating a more inclusive and equitable workplace. As these regulations continue to evolve, business leaders and HR professionals must adapt and develop clear strategies that not only comply with the new standards but also prioritize fairness, internal alignment, and external reputation.
Understanding Terminology Around Pay Equity
Five Point Pay Equity Checklist
Reflect on these questions to ensure your company is going in the right direction with pay equity:
Is your approach to levels/grades robust, non-discriminatory and supported by an analytical job evaluation/classification methodology?
Do you have clear guidance to support reward and promotion decisions that you would be comfortable sharing with employees?
What is your current gender pay gap, and how can you improve it?
If you use performance management to justify pay differentiation, how robust and consistent is your existing approach?
Do you have enough market data to defend potential differences based on market premiums?
Connecting Pay Equity to HR and Business Strategy
New policies and strategies to address pay equity, pay transparency and gender pay gaps should not be viewed in isolation. Addressing these topics holistically will support your organization's progress toward meeting its ESG goals and DEIB objectives. The topic of pay equity is also central to an attractive total rewards strategy and your evolving employee value proposition.
Global and Local Pay Equity Expertise
Regulations around pay reporting and transparency vary from country to country, and multinational companies often struggle with a fragmented regulatory landscape. Aon's global team of reward experts covers all regions and industries and can help to guide you through this complex landscape of local regulations and practices.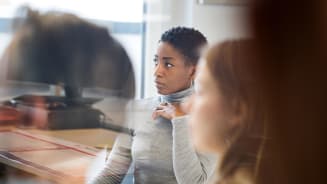 13%

The estimated gender pay gap across the EU.

Source: EuroStat

44%

U.S. companies that plan to disclose pay ranges only when required.

Source: Aon's 2022 Pay Disclosure Pulse Survey

31%

U.S. companies that will disclose pay ranges nationwide regardless of legislation.

Source: Aon's 2022 Pay Disclosure Pulse Survey
Building Transparency in Pay Equity
Aon's comprehensive approach helps you move from a reactive approach to a strategic one in three stages. Where you start depends on where you are on your journey.
Stage 1: Gender Pay Gap Reporting

Gender pay gap reporting to comply with local regulations
Analysis of, e.g., payroll fields/employee definitions of gender and ethnicity/exclusion of codes and employees, classification of codes
Methodology and results documentation and action planning to address gaps
Internal/external communications support

Stage 2: Pay Equity Analysis

Statistical modeling to compare pay for similar work while accounting for legitimate business factors that drive pay
Identifying job groups where protected categories are drivers of pay
Developing pay adjustment scenarios based on the results of the analysis and budget availability
Short-term and long-term remediation plans for any pay gap
Internal/external communications plan

Stage 3: Equal Pay/Transparency Strategy

Compliance with local transparency regulations and proactive action planning to continue improving transparency and equal pay outcomes
Reviewing employee value proposition and total reward philosophy to incorporate and embrace transparency fully
Full change and implementation planning and ongoing governance and review to maintain the evolutions required to deliver change