April 21, 2023
12 Min Read
How to Future-Proof Your Workforce Skills Strategy in 5 Steps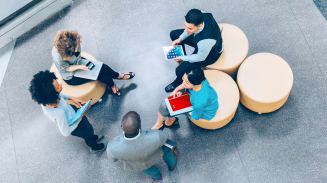 Where, when and how work gets done is changing, causing companies to reassess existing roles and determine what skills are required for the future.
Key Takeaways
Future-proofing your workforce with the right skills that align to your company's core values is critical for success.

Establishing a sustainable skills framework linked to job architecture is a key part of planning.

Always take advantage of all available resources, including skills data, to help make informed talent and workforce planning decisions.
Future skills are needed in today's business environment where disruption is everywhere. They include competencies, behaviors and abilities that go beyond traditional technical skills and enable the workforce to operate in a more agile and resilient way.
Every organization is at a different stage in its future skills journey. At times it can be overwhelming for senior leaders to manage change at the scale that is needed to stay ahead of today's competition.
Always start by identifying workforce skills that are critical to your organization's ongoing success and core values, and then connect these skills to your job architecture. Once that's accomplished, you can then use this as a tool to pinpoint any gaps and evaluate recruitment, hiring, development and promotion policies.
From frameworks to cost planning, here are five helpful steps to guide you on the right path forward on your future skills journey.
1. Establish a Sustainable Skills Framework
Business is being disrupted and the requirements needed to be successful in the workplace are changing. Leaders must therefore assess what skills they need for certain roles both today and into the future.
Skills should still meet the basic technical requirements of the role, in addition to transferable skills like competencies, behaviors and abilities.
In order to assess for these types of future-leading skills, employers will benefit from a skills framework — a structure that allows organizations to develop and execute a strategy on how to buy and maintain the necessary skills.
We work with clients across sectors to develop workforce skills frameworks that elevate a company's ability to improve their strategies around skills-based pay, career pathing, workforce planning and future-focused job architectures.
Identify Current and Future Capabilities to Build a Sustainable Skills and Competencies Framework

Future skills are needed in today's business environment where disruption is everywhere. They include competencies, behaviors and abilities that go beyond traditional technical skills and enable the workforce to operate in a more agile and resilient way.
2. Connect Your Skills Framework to Your Job Architecture
In this rapidly changing and converging business environment, many employers are evaluating their job architecture at the same time as they are assessing what skills they require among their workforces. These two activities have clear synergies; the good news for HR leaders is that a skills framework can and should be integrated with your job architecture.
Connecting your workforce skills framework to your job architecture is an incredibly powerful combination. While you can do one without the other, the result is usually sub-optimal. Job architecture is a firm-wide structure that defines roles and jobs, leading to increased transparency around organizational mobility, including both lateral and vertical career progression. "Linking skills to architecture helps determine exactly what is needed to explain the connection to learning programs and offerings," explains John McLaughlin, chief commercial officer and partner in the Human Capital Solutions practice at Aon. "We all want career transparency, but actually getting there requires both."
Direct benefits include:
Understanding your workforce needs
Effectively targeting skills gaps
Strengthening your firm's overall workforce resilience
3. Integrate Your Skills Framework with Current HR Processes
It's important to also apply your future skills framework analytically across your organization, including current HR processes and technology infrastructure. Ensure there is a common understanding and language for employees to drive organization strategy and goals. A future-proofed skills framework that's aligned to business strategy will have a significant impact on your HR ecosystem, from job architecture as discussed above, to organizational effectiveness in identifying gaps or overlaps, performance ratings, career pathing and opportunities, recruitment and rewards, training possibilities and psychometric assessments. With skills data from both tools like Workday and external sources, organizations can also connect workers with internal opportunities, such as projects, gigs and new roles, to deliver more personalized experiences and help nurture career growth.
The use of online assessment tools then validates what skills people truly have by measuring readiness through certifications, technical assessments, soft or competency-based assessments, as well as valuations for hard skills.
4. Understand Cost Implications and Value-Add
Always understand and weigh any cost implications associated with future skills planning. How much time and money would you save by focusing on skills you may already have versus hiring external talent? Reskilling and upskilling are two effective ways to address skill gaps. Even further, companies that openly make reskilling and upskilling part of their employee value proposition and total rewards strategy will build trust and understanding, leading to increased engagement and loyalty. But how can you be sure this approach is right for your business? Increasingly sophisticated human resources information system platforms make it much easier to capture and maintain skills information, so your decisions are always informed.
While skills taxonomy offers a top-down view of what is expected of individuals in a role, assessments give the bottom-up perspective, validating what skills they truly have. 
5. Use Data to Make Talent Decisions
HR technology and artificial intelligence (AI) allow firms to use skills through the entire employee life cycle in different ways. However, to unleash the power of the AI, you need to know how skills link to the roles in the organization, and then keep tabs on how they change over time. Far too often, companies have people frameworks that don't speak to each other and lack clear connection points. With access to more than 10,000 skills data points, Aon can leverage this data, along with data from our Workday partnership, to help organizations determine how to make the most of the resources they have. Using interconnected systems and data to make decisions around talent, staffing and workforce planning is the key to success. Doing so also provides timely benchmarks and opportunities for improved agility and the ability to maintain a resilient workforce that adapts and responds better to changing business demands.
Next steps for Your Future Skills Planning
Companies must maintain the right level of depth to support activities like resource planning, while also ensuring they are not diving too far into the weeds. No matter where you are on your future skills journey, remember that it's a relay, not a sprint. Take a moment to be strategic — the process for improving skills is collaborative and always iterative.
Learn more about Aon's approach to skills framework design and how we can help your organization develop a plan that's right for you. You can also contact one of our experts to keep the conversation going.
General Disclaimer
The information contained herein and the statements expressed are of a general nature and are not intended to address the circumstances of any particular individual or entity. Although we endeavor to provide accurate and timely information and use sources we consider reliable, there can be no guarantee that such information is accurate as of the date it is received or that it will continue to be accurate in the future. No one should act on such information without appropriate professional advice after a thorough examination of the particular situation.
Terms of Use
The contents herein may not be reproduced, reused, reprinted or redistributed without the expressed written consent of Aon, unless otherwise authorized by Aon. To use information contained herein, please write to our team.
52%
of firms are using data and analytics to measure talent mobility to inform their talent strategy
Source: Aon's Pulse Survey
Cyber Labs
Stay in the loop on today's most pressing cyber security matters.
Environmental, Social and Governance Insights
Explore Aon's latest environmental social and governance (ESG) insights.
Insights for HR
Explore our hand-picked insights for human resources professionals.
Navigating Volatility
How do businesses navigate their way through new forms of volatility and make decisions that protect and grow their organizations?