August 25, 2023
13 Min Read
Evolving IP Litigation: Three Trends to Watch in H2 2023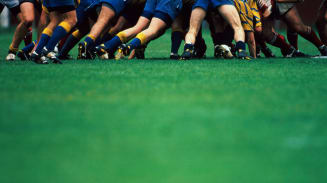 In a rapidly changing IP landscape, companies should consider assessing their risk exposures and management strategies to help protect some of their most valuable assets.
Key Takeaways
A spike in IP patent litigation suits filed by NPEs and an upward trend in damages awarded indicate shifting risk exposures.

New legislation will impact businesses operating in Europe — both domestically and internationally.

Insurance is becoming more accessible and remains a key risk management tool to help businesses protect their balance sheets.
Today's economy is driven by technology and innovation, and ownership of that technology is often dictated by intellectual property (IP) rights, such as patents. For these innovative companies, IP rights are typically business' most valuable asset and can often create substantial liability for clients. In H1 2023, the biggest award for damages peaked at almost $470 million against a technology giant1, signaling that litigation costs can be a material threat to IP-rich businesses.

More damages were awarded in H1 2023 than in previous years' first halves: 49 in H1 2023 compared to 31 in 2022 and 28 in 2020. Of those damages awarded in H1 2023, there are five of $100 million or more, surpassing any of the first halves of past nine years, according to Lex Machina data.

IP patent liability can be costly. As the risk to businesses evolves, it's critical for companies to consider the changing exposures driving new approaches to risk and assess anticipated trends to help ensure an effective risk management strategy for the future. 
Three Emerging Trends to Watch in H2 2023
1. IP patent litigation exposure is tilting toward NPEs
Although the severity of damages awards broke records, the actual number of patent cases steadied during 2022. Working against this trend, the percentage of cases filed by non-practicing entities (NPEs) has steadily increased since 2018. In H1 2023, roughly 51 percent of cases were filed by NPEs, which is significantly higher than the proportion of NPE suits in first halves for the past 10 years2. The rise in NPE activity indicates that the type of IP patent litigation exposure is changing. 

NPE suits are particularly thorny because they can target anyone, and they don't necessarily target a company's core technologies. As a result, they are often hard to defend against since classical methods - such as having a large patent portfolio to countersue - tend to be of little help. In fact, insurance can be a key tool to help defend against this kind of threat.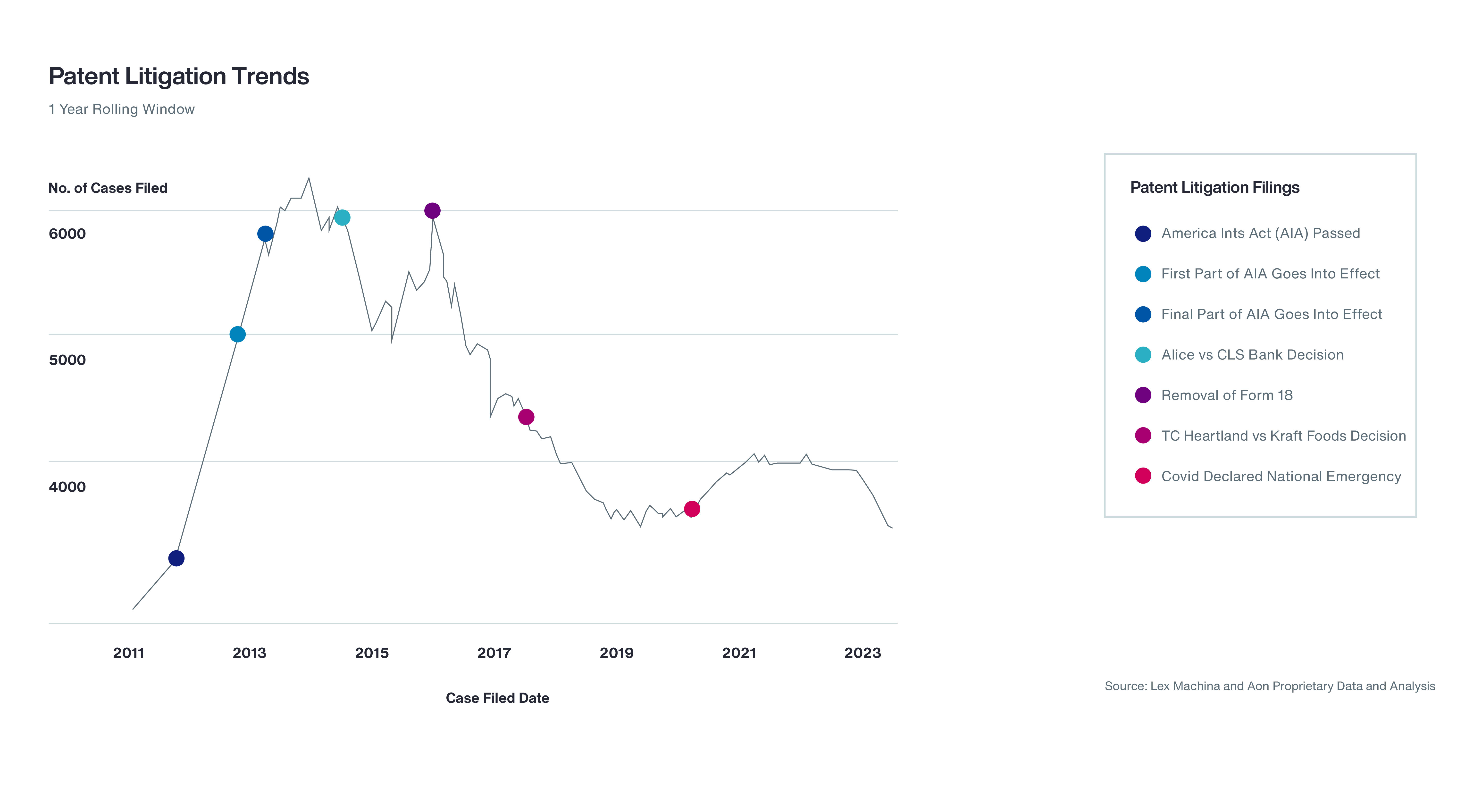 2.
Evolving technologies will drive an uptick in activity across different sectors

Technology industries continue to suffer the lion's share of patent litigation, with parties that could be mapped to an industry representing 42 percent of suits in H1 2023, according to FactSet and Lex Machina data. These tech industries include computers and electronics, networking and communications, software and data processing, and semiconductors. The automotive industry has seen the longest continued growth in number of suits of any industry, as reported by Aon propriety data and analysis. Other industries experiencing an increase in suits include B2B services and retail. 

Increasingly, businesses are leveraging new technologies to evolve their operations and, in some cases, to stretch into new sectors. As a result, the need for IP patent litigation coverage is expected to grow exponentially. 
The demand for IP liability coverage is rising at a fast pace. We're seeing a broader diversity of clients purchasing it, from Fortune 500 financial institutions and big tech companies to manufacturing companies and start-ups.
3.
New legislation will impact activity in certain regions

Activity in Europe and parts of Asia is also driving demand for IP liability insurance. Beginning in June 2023, the European Union's new Unified Patent Court (UPC) will allow businesses to file patent infringement or validity claims in a central court that will apply across Europe. This not only includes European businesses, but also multinationals that operate in the region. While this will enable businesses to file litigations more efficiently, companies should be aware that if a litigation suit is filed, the losses could be amplified across the entire continent, rather than being contained within one country.
In Europe, we expect to see claims filed with greater frequency as the new laws introduce different levels of risk. It will be easier for patent trolls to litigate and potentially demand higher values from their targets.
Adjust Your Risk Management Strategies with Patent Litigation Insurance
For global entities focusing on growth, IP litigation can be a catastrophic loss. This can be especially true for the balance sheets of smaller businesses. With the upward trend of NPE activity expected to continue, the types of risk exposures are changing. A shift from corporate litigation to NPEs is making litigation more difficult to predict.

The latest patent litigation insurance now offers revised contract breach stipulations and potential coverage for legal costs associated with: 
Pursuing a third party that has misappropriated trade secrets
Enforcing rights under a contract that controls the exploitation of products/solutions or IP
Enforcing IP against an infringer or bringing claims regarding a third party "passing-off" (misrepresenting) its goods or services as being those of another
Coverage can also extend to adverse media costs, bonds, business interruption loss, court attendance costs, damages (i.e., liability), investigation costs, professional fees, and expenses and withdrawal costs. 

The combination of lower pricing, greater capacity and evolving coverage can make patent litigation insurance a key tool for helping to manage rapidly changing risks and protecting balance sheets. By working with a specialist team to assess your risk exposures, adjust your risk profile and invest in risk management strategies, your business can help protect these valuable assets and maintain its competitive advantage in a rapidly changing landscape.

Explore how to help maximize the value of your IP, align IP with your business strategy, assess and mitigate risk and capitalize on investments here.
1 Litigation data derived from Lex Machina.
2 NPE data derived from Aon's proprietary review and Stanford Law School (2023).
General Disclaimer
Insurance products and services offered by Aon Risk Insurance Services West, Inc., Aon Risk Services Central, Inc., Aon Risk Services Northeast, Inc., Aon Risk Services Southwest, Inc., and Aon Risk Services, Inc. of Florida and their licensed affiliates. All descriptions, summaries or highlights of coverage are for general informational purposes only and do not amend, alter or modify the actual terms or conditions of any insurance policy. Coverage is governed only by the terms and conditions of the relevant policy. Coverage may not be available in all jurisdictions. The information contained herein and the statements expressed are of a general nature and are not intended to address the circumstances of any particular individual or entity. Although we endeavor to provide accurate and timely information and use sources we consider reliable, there can be no guarantee that such information is accurate as of the date it is received or that it will continue to be accurate in the future. No one should act on such information without appropriate professional advice after a thorough examination of the particular situation. All descriptions, summaries or highlights of coverage are for general information purposes only and do not amend, alter or modify the actual terms or conditions of any insurance policy. Coverage is governed only by the terms and conditions of the relevant policy.
Terms of Use
The contents herein may not be reproduced, reused, reprinted or redistributed without the expressed written consent of Aon, unless otherwise authorized by Aon. To use information contained herein, please write to our team.
Cyber Labs
Stay in the loop on today's most pressing cyber security matters.
Environmental, Social and Governance Insights
Explore Aon's latest environmental social and governance (ESG) insights.
Insights for HR
Explore our hand-picked insights for human resources professionals.
Navigating Volatility
How do businesses navigate their way through new forms of volatility and make decisions that protect and grow their organizations?