August 4, 2023
12 Min Read
HR Plays a Pivotal Role as People Risks Become Business Risks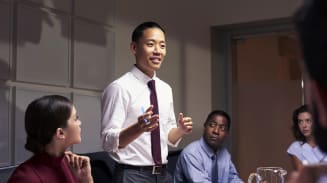 To maintain a competitive edge in today's complex global economy, people leaders must expand their data strategies and get organized to keep up-to-date and make better risk decisions.
Key Takeaways
People leaders have a lot of data at their fingertips, but it's often disjointedly collected across several departments.

Disparate data makes it difficult for companies to gain the best insights and execute on that information in a timely manner.

As stakeholder expectations continue to evolve, gaining access to tools that provide real-time, critical company insights is essential.
Over the last few years, organizations have recognized that business risks and people risks are intertwined. This trend is reflected in the fact that eight out of the top 10 business risks in Aon's 2021 Global Risk Management Survey were people-related. Meanwhile, Aon's 2022 Executive Risk Survey identified workforce shortage concerns as number seven in the top 10 issues that business leaders spend a great deal of time on.
With people-related issues becoming a top business risk, the traditional role of the HR leader has expanded. Effective people leaders are strengthening their role within the organization, partnering with risk leaders and the C-suite, and ensuring their firm's enterprise risk management systems include critical aspects of human capital management.
"Many of our clients include people-related metrics regarding progress against diversity goals, turnover rates and a company's reputation amongst employees as a standing agenda item in the boardroom," says Amy Jennings, a partner in Aon's Talent Solutions practice.
As these topics gain priority for the C-suite, HR needs to prepare with the right data and an understanding of what it means for the current and future state of the business.
Evaluating People Risks Across Four Dimensions
Annual benchmarking, engagement surveys and other point-in-time assessments are valuable data points for developing a talent strategy. But when it comes to evaluating people-related risks holistically, these data points are only part of the picture. They can become outdated as external variables — including the regulatory landscape, financial stakeholder expectations and peer practices, as well as changing employee expectations — rapidly evolve. Instead, companies need a more strategic approach to managing people-related data and insights to mitigate business risk.
We categorize emerging people-related risks across four primary areas that, taken together, provide a more complete picture. These risk areas can be evaluated by Aon's Digital Business Insights (DBI) platform — a cloud-based tool that identifies and monitors every aspect of people risks in real time.
People Performance Risk — Workforce uncertainty and recent economic stressors are taking a toll on employee wellbeing and posing risks to business performance. Recent headlines around the Great Resignation and Quiet Quitting underscore the volatility of an increasingly mobile workforce. People leaders' focus is shifting from solutions centered on improving just one aspect of individual wellbeing to those that offer multi-dimensional wellbeing support, including physical, financial, emotional and mental health.

Companies can mitigate this risk by monitoring employee sentiment on a breadth of topics that impact workplace wellbeing. Doing so will highlight trends over time and provide an up-to-date picture of areas where a company outperforms or underperforms relative to peers. Identifying areas of sentiment where a company scores lower gives leaders a clearer idea of employee expectations and allows companies to better mitigate this risk. Tracked topics include employee sentiment on company leadership; work-life balance; the opportunity for career advancement; workplace culture; and diversity, equity and inclusion.
20%
Increase in performance during times of change, innovation or uncertainty seen by companies that target wellbeing solutions.
Source: Aon's Human Sustainability Index
People Security Risk — Employees can expose a company to a myriad of risks including cyber security attacks, harassment and discrimination lawsuits, or blows to company reputation. Maintaining a highly engaged workforce and strong company culture helps to mitigate those security risks triggered by people.

Companies can mitigate this risk by evaluating real-time metrics and best practice guidance on company policies and procedures. For example, as people security risk evolves, DBI outlines expectations from the perspective of investors and insurance underwriters. Companies should track data and insights related to trends in shareholder policies and proxy voting for environmental, social and governance (ESG)-related topics, reputational risk events and areas where public perception may be impacted by employee sentiment.
44%
Increase in insider cyber threats, both inadvertent and malicious, over the last two years.
Source: Ponemon Institute, 2022 Cost of Insider Threats Global Report
Activism and Reputational Risk — Expectations from institutional investors are constantly evolving and influencing other financial and non-financial stakeholder expectations. We are seeing an increased amount of shareholder support for companies to report on topics like gender and racial pay gaps, as well as workplace harassment and discrimination.

To evaluate this risk, get to know and continuously monitor investor policies and expectations. Look at trends across top stock indices or other key industry players. Doing so will help gauge their impact and enable pulling in the right resources early.
Progress Against Public Commitments — Over the last three years, companies have made a substantial number of public commitments on topics like net-zero emissions, pay equity and workforce diversity goals. Organizations are expected to be transparent in how they share goal progress and any major obstacles across various communication channels. Both current and prospective employees are asking questions to ensure management is living its stated values and goals — and providing support to employees to help them live those values as well.

Looking at metrics related to how employees and investors perceive a company's commitments — or a broader industry — can help companies as they evaluate the impact in connection with a recent announcement or major initiative. For example, a company that has committed to significant investment in clean energy projects can track progress on their goals from multiple angles, including employee perspective of the company's commitment to ESG.
"It is common for candidates to request data on promotion rates, attrition levels, pay equity and other DE&I reference points," says Laura Wanlass, who leads the Human Sustainability practice in Aon's Talent Solutions. "Some candidates also ask more broadly about firm culture and what support mechanisms are in place to ensure sustainable performance once goals are met."
3 Topics People Leaders Should be Ready to Talk About
In today's rapidly changing economic and business landscape, people leaders must continually monitor and interpret their companies' risk profiles relative to their peers. This will enable leaders to make better decisions for sustainable business performance and quickly adapt to evolving business risks.
As people leaders track risks related to human capital along the four pillars we've just identified, they should be prepared to speak to C-suite about the following topics:
Latest stakeholder expectations and the company's perceived performance
How the company is investing in sustainable people performance initiatives and tracking return on those investments
Employees' public-facing comments about recent initiatives and how to leverage this as an early indicator of concerns or progress
Aon's DBI can help firms quickly strike the right balance between optimizing people spend and planning for the future. Contact our team at [email protected] to learn more.
26%
Loss in shareholder value in the year following a major reputational crisis. The impact on prospective talent pools can linger for years.
Source: Pentland Analytics' Respecting the Grey Swan
General Disclaimer
The information contained herein and the statements expressed are of a general nature and are not intended to address the circumstances of any particular individual or entity. Although we endeavor to provide accurate and timely information and use sources we consider reliable, there can be no guarantee that such information is accurate as of the date it is received or that it will continue to be accurate in the future. No one should act on such information without appropriate professional advice after a thorough examination of the particular situation.
Terms of Use
The contents herein may not be reproduced, reused, reprinted or redistributed without the expressed written consent of Aon, unless otherwise authorized by Aon. To use information contained herein, please write to our team.
Cyber Labs
Stay in the loop on today's most pressing cyber security matters.
Environmental, Social and Governance Insights
Explore Aon's latest environmental social and governance (ESG) insights.
Insights for HR
Explore our hand-picked insights for human resources professionals.
Navigating Volatility
How do businesses navigate their way through new forms of volatility and make decisions that protect and grow their organizations?