August 5, 2023
12 Min Read
Navigating Talent Challenges in the GCC Real Estate Industry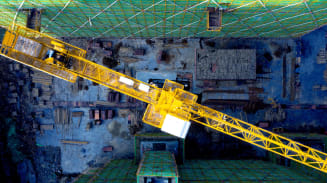 Exploring the human capital challenges in the Middle East arising from the current interest rate environment.
Key Takeaways
The GCC real estate industry appears resilient in the current interest rate environment.

Wage inflation and higher attrition rates mean reevaluating talent and rewards strategies.

With the push to develop real estate in KSA the competition for talent is expected to intensify.
While the impact of interest rates can be significant, it is difficult to isolate their impact as other factors such as demographics and population trends, employment rates, geopolitical events and government policies also have a material impact on the industry.
To simplify things, we highlight the impact of interest rates assuming other factors remain constant. Whilst we will examine the industry impact in a rising rate scenario, the impact of falling rates is likely to be the opposite. This is especially relevant given the broad consensus that rates are close to a peak for the medium term.
Developers: Higher interest rates make it more expensive to finance new developments, leading to higher construction costs and potentially lower profits. Developers who rely on loans to fund their projects may have to reduce their scope or delay them altogether.
Operators: Operators of commercial real estate, such as office buildings, shopping centers, and industrial parks, are also sensitive to interest rates. Higher interest rates increase financing costs and reduce cash flow, which can lead to lower property values and lower profits.
Real Estate Investment Trusts (REITs/REIFs): As interest rates rise, the cost of borrowing increases, and this affects REIT profitability. REITs that hold long-term debt face higher interest expenses, which lower their net income and distributions to shareholders.
Construction companies /contractors: Given the capital-intensive nature of infrastructure projects, higher interest rates can make these projects more expensive, potentially leading to delays and cancellations. Such decisions have a negative trickling effect on the construction companies and sub-contractors, affecting the overall productivity and efficiency of the construction companies.
GCC Real Estate Trends
The real estate industry for the majority of GCC countries appears resilient and broadly insulated from global inflationary pressures:
UAE: During the COVID pandemic, the UAE demonstrated resilience as a robust economy with a strong infrastructure. This, coupled with favorable policies such as the Golden Visa program, simplified business setup, and low taxes, has made the UAE an increasingly attractive destination for expatriates to live and invest. Consequently, real estate demand, particularly housing, has remained robust in the region. Moreover, with travel and tourism predicted to rebound to pre-pandemic levels, the UAE's hospitality and retail market is also anticipated to experience strong growth.
KSA: Despite Saudi Arabian Interbank lending costs being at the highest on record, the real estate industry in KSA is in a high-growth start-up phase, with special economic zones being established across KSA and development firms, asset operators and REITs looking to be set up and established. This is primarily driven by the focus and drive with which KSA is progressing to meet Vision 2030 targets.
Bahrain: Despite rapidly rising interest rates, Bahrain's real estate sector continued its upward trend in Q1 2023 (but at a slower pace than in 2022). Leading real estate expert Savills found that capital values of villa developments in the mid-end segment experienced a year-on-year increase of 5.2 percent. With initiatives such as the 'Golden License' recently launched to create jobs and increase the attractiveness of investment, this should help to shield Bahrain's economy from global uncertainty.
Qatar: After the successful hosting of the 2022 World Cup, trading in the Qatar real estate industry saw a strong start to 2023. The Qatar real estate market saw transactions of QAR 4.4bn in Q1 2023, with the number of real estate indexes also increasing compared to Q1 2022. In addition, global real estate consultant Frank Knight claimed the hospitality market could grow by 89 percent to over 56,000 hotel room keys by 2025.
Kuwait: Kuwait has experienced a slow reduction in residential house prices since the third quarter of 2022 when they reached their peak. The value of transactions in Q1 2023 was 38 percent lower than Q4 2022 and down 49 percent compared to Q1 2022.
Oman: Real estate transactions in Oman were up 24.3 percent over the year to March 2023. The news was also positive for the residential real estate industry, with the number of mortgage contracts reached over the year up 23 percent over the year to March 2023.
Managing Employee Rewards in Expanding But Challenging Markets
Over the last four years, we have partnered with some of the largest organizations in the GCC real estate sector to help them rethink their human capital strategy so that it remains fit for purpose. Organizations require a new approach to talent, rewards and performance to retain their business advantage.
In the real estate sector, wage inflation has affected the industry and has led to higher attrition rates, with the impact more pronounced in technical job families.
Examining the recent trends for the sector, our data shows that:
Demand for niche technical skillsets often necessitates significant pay premia for professional qualifications and experience. A shortage of talent in niche skill sets means that demand outstrips supply. This increases the competitiveness of the talent war and increases pay pressure at professional levels. The shortage of such profiles is forcing local organizations to expand their talent pool to mature economies. This in turn is leading them to a high fixed pay premium, as can be seen in the chart below for Aon JobLink levels 4 to 9.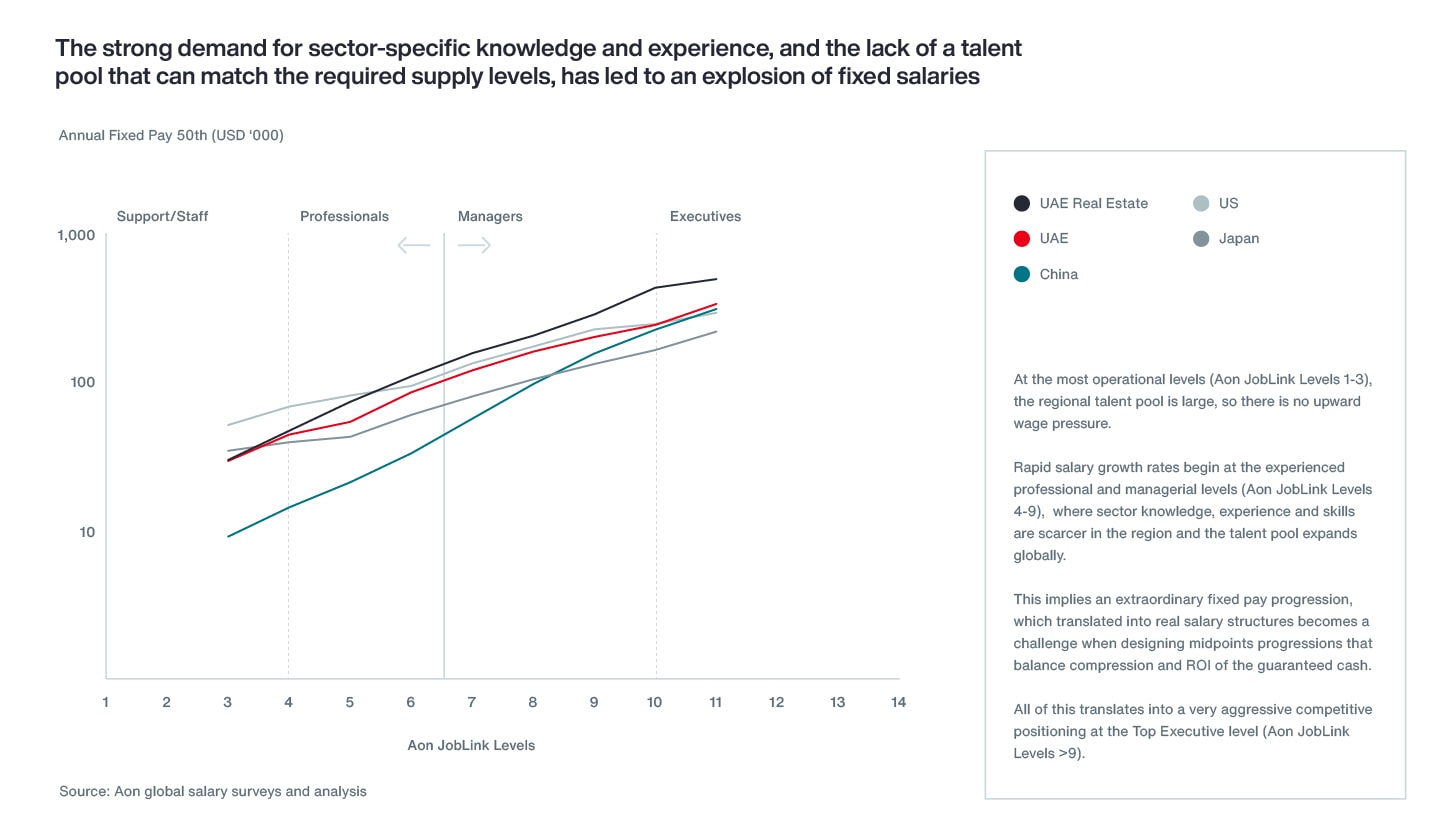 High salaries at the professional level is putting upward pressure on senior management/executive level salaries, resulting in a pay compression (a flatter pay line) as compared with other markets.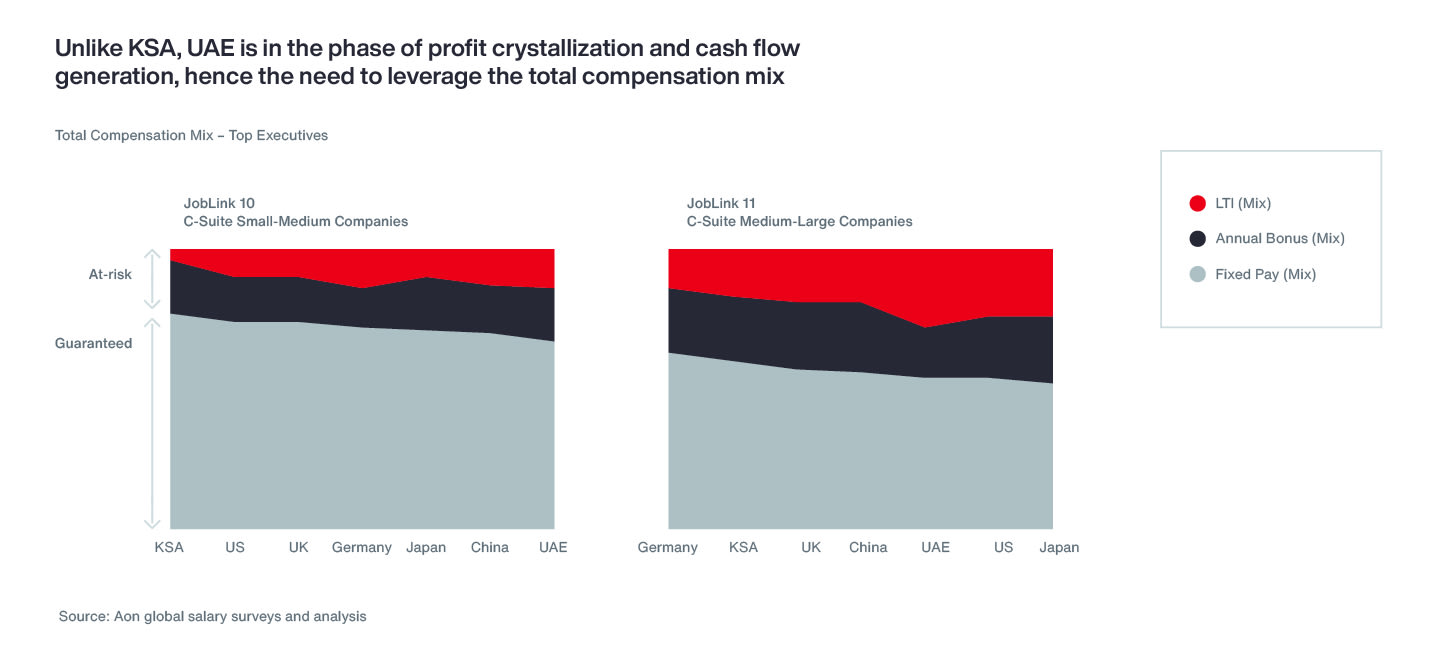 The proportion of variable pay in executive compensation in Saudi Arabia (KSA) is lower compared to other developed economies. Increasing the proportion of pay tied to long-term incentive plans can help retain critical talent and align with long-term performance measures. Saudi-based real estate organizations can optimize the pay-productivity relationship by aligning more executive pay to be variable based on company performance through sales incentive plans, short-term incentive plans, and long-term incentive plans.
Competing for Talent – KSA and UAE
KSA has become the UAE's main competitor in the war for talent. Real estate companies in KSA and UAE are at different stages of the real estate life cycle, with companies in KSA and UAE differing in their focus, operating models, structures and priorities. The market in UAE is focused on cash flow generation (i.e., sales) after years of intense real estate development whereas the KSA is focused on infrastructure development and construction.
Based on this, our hypothesis is that Saudi-based real estate organizations are focusing their attention on the UAE market for attracting critical talent in the development, delivery, construction and project management functions.
To test this hypothesis, we carried out a pay differential analysis for the UAE real estate sector market:
Sales & Leasing, Marketing – The focus for players in the UAE is around bringing to market the stock of real estate (commercial, residential, and hospitality) developed over the past decade. This is reflected in higher salary premiums in Sales & Leasing and Marketing over other functions.
Development, Strategy & Investments – These functions are paid at an approximate 7 percent discount to Sales & Marketing (after controlling for the impact of other pay drivers). It creates a flight risk for professionals working in these job families in the UAE, as they can take on more lucrative opportunities in Saudi Arabia with higher salaries. There have been instances of entire development teams in large UAE firms leaving to join large giga and mega development projects in KSA.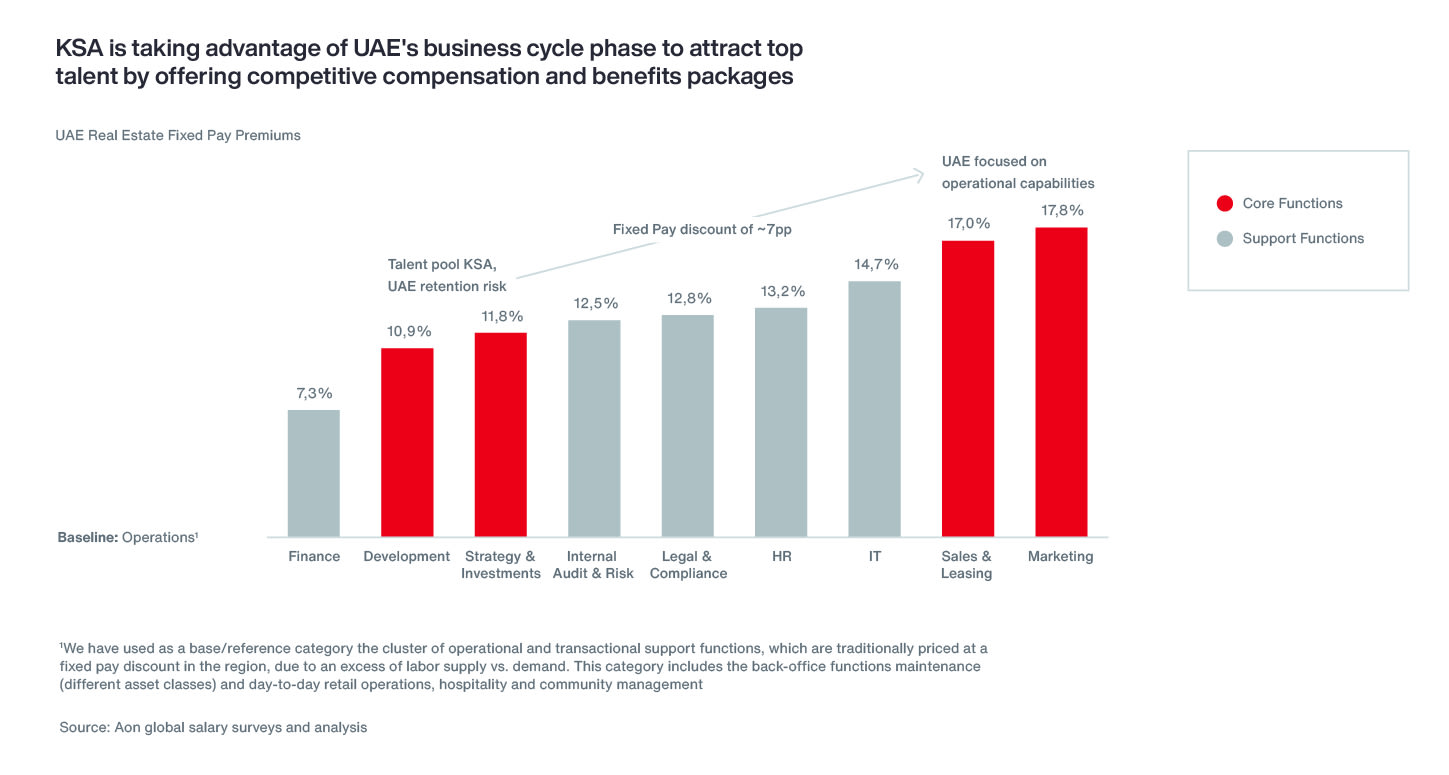 In response, companies in the UAE must rethink their compensation strategies and consider other measures such as career development, a positive work culture, and employee recognition programs if they are to retain their competitive advantage.
Navigating Talent Challenges
In a dynamic and competitive environment, real estate companies across the region must respond rapidly to market changes. They must stay current with key human capital trends and be prepared to navigate them. Rethinking human capital strategy is the key to success.
At Aon, we help companies across the real estate sector to make better human capital decisions, helping them to drive the change they need and maximize their investment in people. To get in touch with a member of our team to discuss the steps you can take, please write to [email protected].
General Disclaimer
This document is not intended to address any specific situation or to provide legal, regulatory, financial, or other advice. While care has been taken in the production of this document, Aon does not warrant, represent or guarantee the accuracy, adequacy, completeness or fitness for any purpose of the document or any part of it and can accept no liability for any loss incurred in any way by any person who may rely on it. Any recipient shall be responsible for the use to which it puts this document. This document has been compiled using information available to us up to its date of publication and is subject to any qualifications made in the document.
Terms of Use
The contents herein may not be reproduced, reused, reprinted or redistributed without the expressed written consent of Aon, unless otherwise authorized by Aon. To use information contained herein, please write to our team.
Cyber Labs
Stay in the loop on today's most pressing cyber security matters.
Environmental, Social and Governance Insights
Explore Aon's latest environmental social and governance (ESG) insights.
Insights for HR
Explore our hand-picked insights for human resources professionals.
Navigating Volatility
How do businesses navigate their way through new forms of volatility and make decisions that protect and grow their organizations?