July 18, 2023
11 Min Read
New Standards Issued for Global Climate Risk Disclosure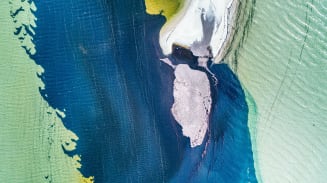 New standards from the IFRS Foundation's International Sustainability Standards Board (ISSB) add expectations for companies to disclose more stringent climate risk and oversight information, as well as greenhouse gas emissions data.
Key Takeaways
With no agreed-upon standard for disclosing climate risk, the new ISSB standards are a step toward consistent disclosure.

These initial standards serve as a foundation, marking the beginning of additional ISSB-issued ESG standards.

These standards and additional ones are expected to target the disclosure of material information to investors.
On June 26, 2023, the International Sustainability Standards Board (ISSB) published two new standards surrounding climate disclosures. The added standards aim to influence more robust and accurate sustainability reporting and minimize corporate greenwashing. As climate risk continues to receive attention as a prominent focal point for investors and other stakeholders, it's important to acknowledge the prevailing inconsistency in the sustainability reporting space. There is currently no officially recognized, agreed-upon international standard for reporting risk information.
The ISSB is looking to reform this by standardizing how and what companies publicly disclose about their climate-related practices, risks, and governance through leveraging existing market-led initiatives. Ultimately, the new standards aim to facilitate a more seamless evaluation of company actions and fulfill the information requirements of investors. The purpose of the standards is to "reassure the financial market about the information it is given," stated ISSB Chair Emmanuel Faber.
ISSB and IFRS Background
The ISSB was launched in late 2021 under the International Financial Reporting Standards (IFRS) Foundation) as part of its efforts to provide a sole, globally accepted framework of sustainability disclosures that make company financial reporting consistent and comparable. Adhering to IFRS standards is beneficial from a transparency and credibility standpoint — especially for investor and stakeholder relations. The reporting framework is very widely used: It's mandatory in 132 jurisdictions (including the EU, Australia, Canada, GCC countries and more). IFRS also reports that 500 foreign private issuers whose securities are registered with the SEC align with IFRS Standards in their U.S.-based financial filings in addition to GAAP. Newly created ISSB standards will be an extension of the existing framework and will be closely aligned and connected to the IFRS standards.
What do the new standards stipulate and how will this impact the pending U.S. SEC climate rule?
Under the new reporting framework (the IFRS Sustainability Disclosure Standards), companies will 1) disclose information and data about climate-related financial risks and opportunities and 2) disclose carbon emissions in alignment with the Task Force on Climate-related Financial Disclosures (TCFD) framework. On July 10, 2023, IFRS announced it will assume the responsibility of the TCFD beginning next year – marking further consolidation of sustainability reporting frameworks.
While IFRS accounting standards (and now, ISSB standards) aren't mandatory in reporting in the U.S., there is significant overlap between the ISSB standards and the proposed SEC Climate Disclosure Rule. Both sets of standards were created to align with the TCFD framework pillars: Corporate Governance, Strategy, Risk Management, and Metrics/Targets. One of the most critical pieces of information required as part of the TCFD framework is company greenhouse gas emissions data. The ISSB standards as they stand today would require company reporting on Scope 1, Scope 2 and Scope 3 emissions — like the initially proposed SEC rule. Commentators have indicated it is possible, however, that the final SEC rule may exclude Scope 3 requirements altogether after the proposed rule received significant political and corporate opposition. The potential influence of ISSB's inclusion of Scope 3 emissions on the U.S. SEC rule's Scope 3 inclusion is unclear.
The SEC has indicated they expect to publish the final rule in October 2023.
When will the standards be adopted by companies or regulatory bodies?
The decision to implement and enforce the standards into the company's annual financial filings and reporting will be left to individual countries. Faber also reported that Canada, Britain, Japan, Singapore, Nigeria, Chile, Malaysia, Brazil, Egypt, Kenya, and South Africa have indicated they may consider implementing the standards. The most telling endorsement will be from the International Organization of Securities (IOSCO) which encompasses market regulators in roughly 170 countries. Faber specified that the IFRS is currently working to secure the endorsement of the standards to "open…the opportunity to engage with countries in a bilateral and multilateral way."
In addition to the prospect that specific countries will enforce adoption, companies individually may also choose to voluntarily disclose against the new standards – especially as investors' expectations expand around climate-related financial transparency.
Implications for Reporting
Regardless of the timeline and large-scale adoption and enforcement, companies are beginning to prepare now. The ISSB framework is modeled after existing, widely used global frameworks TCFD and SASB and as time progresses, financially relevant sustainability and climate reporting will likely be the baseline corporate sustainability expectation from a variety of stakeholders. Below are several, high-level steps to consider and discuss:
Establish and maintain proper ESG governance and oversight mechanisms at the executive and board levels
Prepare to disclose materiality assessment findings and metrics (or begin conducting assessment)
Consider aligning sustainability reporting to TCFD framework and SASB industry-specific standards

If other frameworks have been adopted, determine gaps and overlap from new standards and frameworks currently being used in company-wide reporting
Consider reviewing direct competitor and aspirational peer disclosure practices as context

Begin inventorying Scope 1 (emissions produced by a company's direct activities and operations) and Scope 2 (emissions indirectly produced by a company via utilities and purchased electricity)

Inventorying includes establishing proper governance and disclosure controls surrounding such emissions

Conduct climate scenario analysis
How Aon Can Help
Recent data show that globally, 42 percent of large and mid-caps globally still aren't disclosing Scope 1 and Scope 2 emissions data or climate-related financial risk information publicly to investors. ISSB standards would change that – requiring both disclosure and third-party assurance. Conducting climate and overall ESG governance risk assessments are consistently some of the most challenging issues we hear from our clients.
Aon can assist companies with upcoming climate regulations, providing sustainability, ESG, and TCFD disclosure reviewing and engaging with boards and management teams to provide education and strengthen climate and ESG risk acumen and oversight. For more information on how we can help, please write to [email protected].
Cyber Labs
Stay in the loop on today's most pressing cyber security matters.
Environmental, Social and Governance Insights
Explore Aon's latest environmental social and governance (ESG) insights.
Insights for HR
Explore our hand-picked insights for human resources professionals.
Navigating Volatility
How do businesses navigate their way through new forms of volatility and make decisions that protect and grow their organizations?
Article 17 Min Read

How Academic Research Can Help Drive Climate Risk Resilience

By leveraging the advances made by academic research, companies can develop more robust climate risk resilience.

Article 19 Min Read

Pricing Platform: Avoiding Pricing Pitfalls

Pricing pitfalls are more common than you think, whether it's working with incomplete data or key man risk – but with the right pricing process, many of these issues can be mitigated. Read our article to learn about the most common pricing errors, and what insurers can do about it.

Article 18 Min Read

Pricing Platform: The Importance of Getting Pricing Right

In today's increasingly complex insurance landscape, an inadequate pricing system can not only impact insurers' view of risk, but also prevent them from making the right decisions at the right time. Read our article on why it's essential to get pricing right.