November 15, 2023
23 mins
The Conditions Driving the Rising Global Medical Trend Rate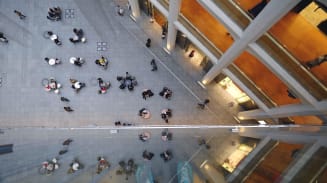 Medical costs continue to rise around the world. Aon's Global Medical Trend Rate report provides insight into what conditions are driving these increases.
Key Takeaways
The medical conditions contributing to upward rates have stayed relatively consistent over the past few years.

Cancer and cardiovascular diseases are the top conditions driving claims — both globally and within each region.

Understanding the conditions behind rate increases can help companies develop a long-term strategy to control costs.
Amid volatile economic conditions, including inflation and the lingering effects of the COVID-19 pandemic, companies budgeting for their medical plans were already expecting to pay more for their programs than in prior years. Part one of this series examined the risk factors behind the increase in costs, as revealed in Aon's Global Medical Trend Rate report. 
While those risk factors are all important, they do not tell the whole story. The medical conditions that drive claims are also key to understanding where and why the trend rate has risen.
Better Informed
Conditions Driving the Medical Trend Rate Stay Consistent
The top five conditions driving the medical trend rate higher have remained relatively consistent over the past few years, though the top two conditions — cancer and cardiovascular diseases — switched places for 2024. As with risk factors, that doesn't mean these conditions are the only drivers of the medical trend rate, or that all of them are the same globally. 
There is much that is not understood about the causes of cancer, apart from some behavioral triggers like smoking, making effective prevention a challenge. That's one reason why cancer/tumor growth continues to be a major driver of claims. Successful cancer treatment often depends on early detection and timely intervention. Delays in these actions are associated with poorer prognosis, leading to higher treatment costs. Screenings, as well as interventions (surgery and radiation treatment), also require timely in-person interactions. Additionally, hindered access to care and delay in seeking care as a result of the pandemic are likely amplifying cancer treatment costs. 
Cardiovascular issues include heart attacks and strokes. These are not only the most common conditions, but also usually the most expensive, given the urgent interventions needed to prevent long-term damage or death. Globally, more than 18 million people1 die from cardiovascular disease each year. High blood pressure, poor stress management, obesity, poor nutrition and lack of physical activity are all major risk factors for cardiovascular disease. 

It is worth noting that hypertension shows up as both a risk factor and condition requiring treatment. A factor driving hypertension's status as a top claim condition is the disparity in the cost of treatment drugs. These drugs can be up to 40 times as expensive depending on where they are sold.2 
Diabetes is underdiscussed as a driver of claims. Patients with long-term diabetes can encounter complications in multiple systems, from neurological and gastrointestinal to vision and more. Medications used to treat diabetes — whether insulin, a drug used to help with the absorption of insulin or one used to treat a complication — generate huge amounts of claims thanks to the cost of the drugs and the ongoing nature of treatment. And while more than half a billion people are living with diagnosed cases of diabetes worldwide,3  it is likely still underdiagnosed. 
It is noteworthy that obesity, as a comorbidity of diabetes and cardiovascular diseases, strongly influences prognosis and treatment outcomes of these conditions. Rising weight challenges across the globe, but especially in the U.S., continue to increase the burden of these diseases. Currently, obesity does not get enough attention in the context of claims costs, but with weight-reducing GLP1 drugs, this might soon change.
Finally, musculoskeletal/back issues continue to be a top source of claims. These conditions are inherent to sedentary lifestyles, stress, and are expensive to address, often requiring long-term treatment.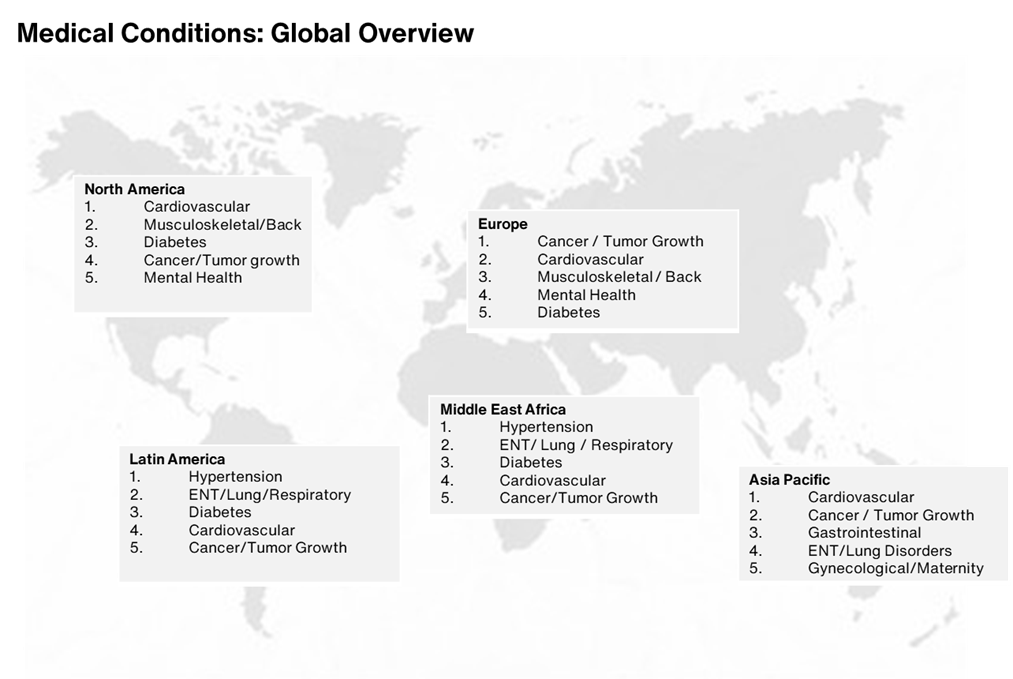 Regional Perspectives
Better Decisions 
Multiple Risks and Conditions Driving the Medical Trend Rate
Understanding the interaction between risk factors and conditions driving the global medical trend rate can be challenging. An obese person is at higher risk for hypertension, which places them at a higher risk for cardiovascular disease. The same can be said for someone with poor stress management. But poor stress management also makes them more susceptible to poor nutrition, which can lead to obesity. 
Another difficulty is that with multiple types of health systems (publicly funded vs. privately insured or somewhere in-between), it is difficult to make relevant comparisons across countries and regions. For example, the mental health infrastructure in Europe is more advanced than in Asia-Pacific. Regulators in other countries are pressuring insurers to cover mental health services like they do for physical health, but progress is slow. And in other regions, mental health issues may be treated less as a medical issue, and more as a social or community issue.
With intricate factors like disease burden, user behavior and healthcare systems at play, it's important to remember that awareness of claims drivers is half the battle. Influencing them to keep costs reasonable is where the real work begins.
General Disclaimer
This document is not intended to address any specific situation or to provide legal, regulatory, financial, or other advice. While care has been taken in the production of this document, Aon does not warrant, represent or guarantee the accuracy, adequacy, completeness or fitness for any purpose of the document or any part of it and can accept no liability for any loss incurred in any way by any person who may rely on it. Any recipient shall be responsible for the use to which it puts this document. This document has been compiled using information available to us up to its date of publication and is subject to any qualifications made in the document.
Terms of Use
The contents herein may not be reproduced, reused, reprinted or redistributed without the expressed written consent of Aon, unless otherwise authorized by Aon. To use information contained herein, please write to our team.
Cyber Labs
Stay in the loop on today's most pressing cyber security matters.
Employee Wellbeing
Our Employee Wellbeing collection gives you access to the latest insights from Aon's human capital team. You can also reach out to the team at any time for assistance with your employee wellbeing needs.
Environmental, Social and Governance Insights
Explore Aon's latest environmental social and governance (ESG) insights.
Q3 2023 Global Insurance Market Insights
Our Global Insurance Market Insights highlight insurance market trends across pricing, capacity, underwriting, limits, deductibles and coverages.
Regional Results
How do the top risks on business leaders' minds differ by region and how can these risks be mitigated? Explore the regional results to learn more.
Insights for HR
Explore our hand-picked insights for human resources professionals.
Cyber Labs
Stay in the loop on today's most pressing cyber security matters.
Navigating Volatility
How do businesses navigate their way through new forms of volatility and make decisions that protect and grow their organizations?
Top 10 Global Risks
Trade, technology, weather and workforce stability are the central forces in today's risk landscape.