Risk Factors Driving the Global Average Medical Trend Rate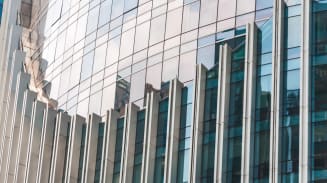 With medical costs continuing to rise globally, Aon's 2024 Global Medical Trend Rates Report examines the risk factors driving the increased costs.
Key Takeaways
Hypertension is both a leading risk factor and a leading condition driving claims. It is the top risk in four of the five regions globally.

While regional variation in the risks exists, the top risks have generally been consistent within each region over the past few years.

Controlling costs in the future will require organizations to collect data on what is driving claims. Understanding risk factors is a critical first step as risk factors work in combination with each other to drive costs.
With widespread economic uncertainty and volatility blanketing most of the world, it should come as no surprise that the 2024 global average medical trend rate, at 10.1 percent, was higher than the previous eight years. But beyond macroeconomic conditions, it is worth exploring what is driving this increasing rate, including risk factors and conditions affecting claims data. 
Better Advised 
Top Five Risk Factors
The top risk factors underlying the conditions driving claims, and the increasing medical trend rate, can work alone or in combination with each other. Many conditions share common risk factors, which can also exacerbate other risk factors on the list.
Hypertension, or high blood pressure, is once again the leading risk factor globally. It was mentioned as a top-five risk in 80 percent of the countries surveyed. Screening for hypertension is easy and widespread, allowing for early detection and diagnosis. While there are some differences in what regions consider hypertension, those differences are seemingly narrowing.1 Hypertension is unique in that it is both a risk factor for other conditions and a condition worthy of concern itself.
Contributing to hypertension is poor stress management — another top five risk, ranking third overall globally. It can be said that this is the most interactive of the risk factors. Not only can stress lead to many other risk factors and the associated conditions, but it can also raise blood sugar and blood pressure. Stress management can additionally be linked to other identified risk factors like physical inactivity, bad nutrition and drug/alcohol consumption. Some research even suggests that stress is related to cancer and autoimmune disease. The COVID-19 pandemic revealed a lack of parity between services for mental health and those for physical health. Despite pressure from government regulators, not all insurers provide coverage for mental health issues. This lack of support is yet another reason why poor stress management is a prevalent risk factor around the world.
The pandemic also led to several lifestyle changes, such as less physical activity, now the second most prevalent risk factor globally. Physical inactivity can lead to musculoskeletal issues, obesity and cardiovascular problems. 
High cholesterol and poor nutrition round out the top five risk factors globally, ranking fourth and fifth, respectively. Like high blood pressure, high cholesterol is a significant risk factor for cardiovascular issues. Also like hypertension, the intervention for high cholesterol can be medicinal, diet-related or both. Poor nutrition as a risk factor is linked to other risk factors like hypertension, high cholesterol and obesity, as well as many of the top conditions. 
Other Risk Factors and Regional Variation
While the top five risk factors globally were similar across regions, variations do exist — some specific to regional circumstances and others specific to culture.
Issues associated with an aging population were of greatest concern in Europe, where the workforce is aging rapidly resulting in a multigenerational workforce dealing with a wide array of health conditions. 
Younger generations prefer interacting through technology like an app or virtual interaction, while older generations prioritize in-person care. Younger generations are also more likely to seek mental health care, as they see it as part of self-care.
High blood glucose was reported as a key risk in both Asia Pacific and the Middle East and Africa, likely linked to stress and bad nutrition. Meanwhile, obesity was the second top risk in Latin America, which is unsurprising since poor nutrition and physical inactivity were also top risks in that region.
Rounding out the top risks within regions is lack of health screening, which was a top risk in both Europe and Middle East and Africa. This is critical, as many conditions will worsen the longer detection is delayed.
It's important to remember that these rankings are not definitive. For example, high blood glucose may not always show up as a risk factor like hypertension. This may only become apparent after a diagnosis and the treatment has started. Additionally, the public health infrastructure in a region is likely to affect what risk factors and conditions are treated, thereby driving the medical trend rate in region. For example, Europe's mental health infrastructure is more developed than that of other regions, thus mental health issues will more often be the subject of claims.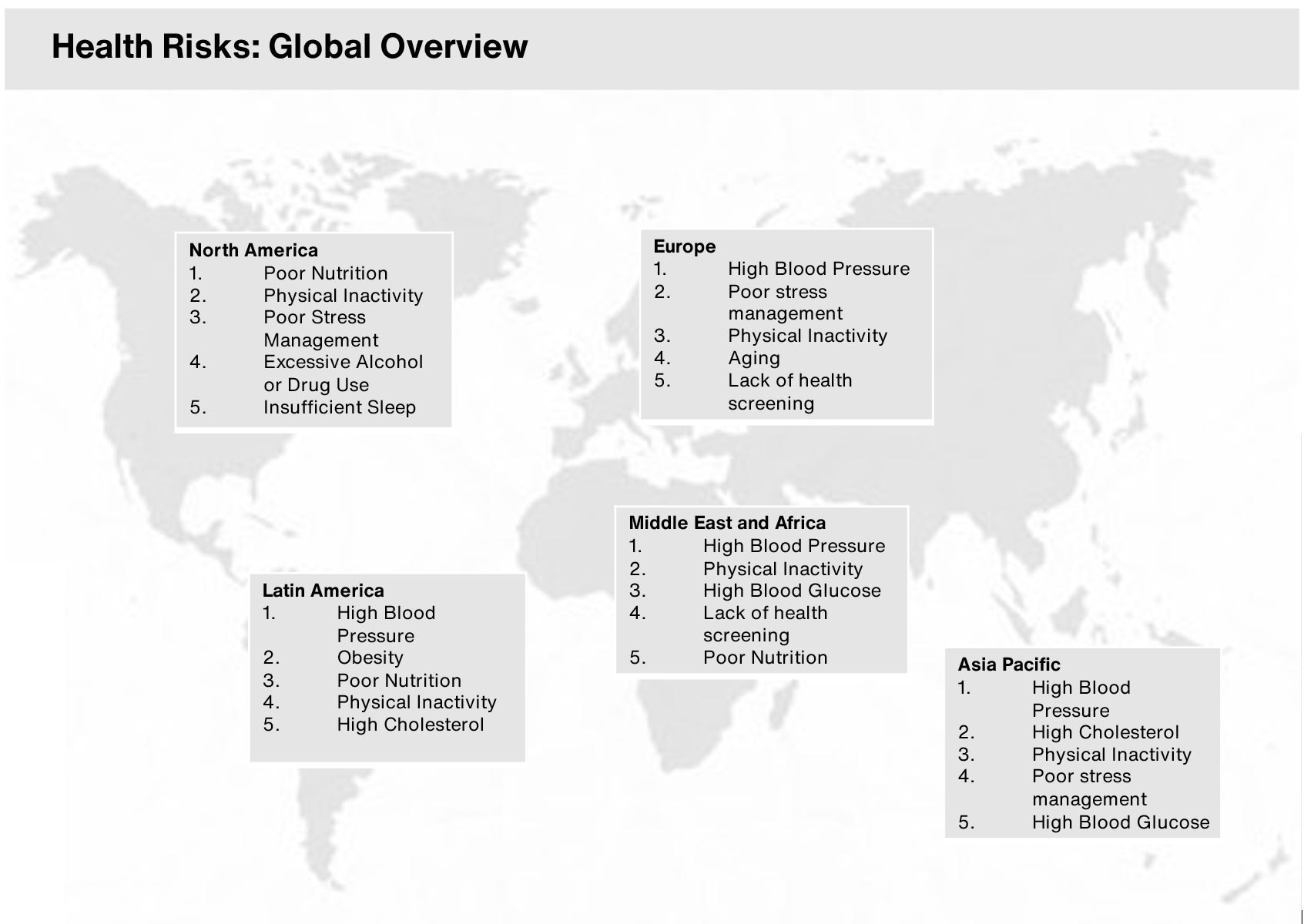 General Disclaimer
This document is not intended to address any specific situation or to provide legal, regulatory, financial, or other advice. While care has been taken in the production of this document, Aon does not warrant, represent or guarantee the accuracy, adequacy, completeness or fitness for any purpose of the document or any part of it and can accept no liability for any loss incurred in any way by any person who may rely on it. Any recipient shall be responsible for the use to which it puts this document. This document has been compiled using information available to us up to its date of publication and is subject to any qualifications made in the document.
Terms of Use
The contents herein may not be reproduced, reused, reprinted or redistributed without the expressed written consent of Aon, unless otherwise authorized by Aon. To use information contained herein, please write to our team.
Climate Change and Sustainability
With a changing climate and new regulations, organizations in all sectors will need to protect their people and physical assets, reduce their carbon footprint, and invest in new solutions to thrive. Our Climate Change and Sustainability collection gives you access to the latest insights from Aon.
Cyber Labs
Stay in the loop on today's most pressing cyber security matters.
Employee Wellbeing
Our Employee Wellbeing collection gives you access to the latest insights from Aon's human capital team. You can also reach out to the team at any time for assistance with your employee wellbeing needs.
Environmental, Social and Governance Insights
Explore Aon's latest environmental social and governance (ESG) insights.
Q3 2023 Global Insurance Market Insights
Our Global Insurance Market Insights highlight insurance market trends across pricing, capacity, underwriting, limits, deductibles and coverages.
Regional Results
How do the top risks on business leaders' minds differ by region and how can these risks be mitigated? Explore the regional results to learn more.
Insights for HR
Explore our hand-picked insights for human resources professionals.
Mergers and Acquisitions
Our Mergers and Acquisitions (M&A) collection gives you access to the latest insights from Aon's thought leaders to help dealmakers make better decisions. Explore our latest insights and reach out to the team at any time for assistance with transaction challenges and opportunities.
Navigating Volatility
How do businesses navigate their way through new forms of volatility and make decisions that protect and grow their organizations?
Top 10 Global Risks
Trade, technology, weather and workforce stability are the central forces in today's risk landscape.