Learn how your organization can benefit from property risk management. 
Commercial Property Risk Management and Insurance
What is the optimal strategy for managing and protecting an organization's assets, balance sheet and growth while reducing high premium costs and peril exposures? A proactive approach to property risk management integrates a complete view of an organization's financial foundation and risk appetite while considering key market dynamics — such as insurance capacity and rates, natural catastrophe exposures and macroeconomics — to develop a strategy that optimizes the value of insurance while employing pre- and post-loss strategies to minimize the impact of a potential loss event.
What Does Commercial Property Insurance Cover?
Commercial property insurance is the central component of property risk management. It offers financial protections against loss of property, buildings, and contents/inventory from a variety of perils, such as fire, natural catastrophe, theft, and vandalism. Commercial insurance can also provide coverage for business interruption, which can help offset the financial losses a company may incur if its operations are interrupted due to property damage.

When choosing a commercial property insurance policy, it is important to work with an experienced broker who can help you assess specific risks and work with insurance carriers to build the right coverage at the right price. Aon's property brokerage and consulting team has significant experience working with:
Business interruption
Captive integration
Claims advocacy
Natural catastrophic exposures and modeling
Risk control
Terrorism and crisis management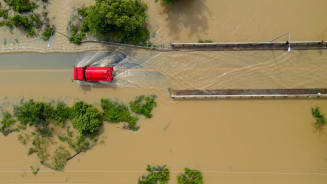 How Aon Can Help
Data-Driven Approach

We work to understand our clients' risks and exposures fully. With the evolution of natural catastrophic modeling, we use the same risk management solution models as leading underwriters. Aon brokers and actuaries also use advanced risk modeling to support better decision-making around key criteria such as rates, retentions, limits and deductibles to ensure the best insurance value for the price.

Benchmarking Data

Our team uses a database of thousands of accounts and data points, including premiums, rates, deductibles/retention and limits. We also benchmark by industry and geography, giving our clients unique insights into the market and delivering optimal program results.

Global Access

Aon annually places $16 billion in property premium, ensuring access to the global underwriting market. Global Broking Centers in the U.S., London, Bermuda and Singapore are staffed with 200 broking professionals who provide additional specialist knowledge and solutions.

Risk Control and Claims Support

Our in-depth knowledge of risk control and claims is integrated into our property service platform. We track potentially catastrophic events around the globe against client exposures using our proprietary ImpactOnDemand technology.

Natural Catastrophe Experience

As extreme weather events increase in frequency, it's important to be aware of potential vulnerabilities to natural disasters and catastrophes. We are a leading broker for large catastrophe-exposed wind, flood, terrorism, and earthquake coverage.

Parametric Insurance and Structured Property Programs

Aon offers innovative alternative risk transfer solutions to finance property risk, including, where applicable: parametric insurance to accelerate claim recoveries and multi-year, loss-sensitive structured solutions that can drive cost savings.

Business Interruption, Contingent BI and Asset Valuations

Reporting accurate values for assets, business interruption (BI), and contingent business interruption (CBI) can be difficult and time-consuming. Aon's experience with quantifying these assets looks to help clients report these values more accurately to underwriters and thereby better manage your total cost of risk.

Property Symposium

Aon's annual Property Symposium is the industry's largest gathering of buyers, insurers and brokers. Most major US and international markets take part, allowing clients to meet with key underwriters in one central location.
The information contained on this page and the rest of this website is subject to the terms and conditions found here.
200+
Global Broking Centers in the U.S., London, Bermuda and Singapore are staffed with 200 broking professionals who provide additional specialist knowledge and solutions.