August 3, 2023
22 Min Read
Value-Led Approaches to Reduce Healthcare Costs in the U.S.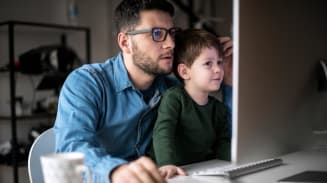 An alarming number of insured Americans still can't afford healthcare treatment, but there are approaches employers can take to reduce costs and improve outcomes for employees and their families.
Key Takeaways
When employees don't seek the care they need, their overall health suffers, healthcare costs go up and they are less productive at work.

Value-led strategies allow employers to lower costs while improving affordability and quality of care.

Employers that create incentives for employees to use lower-cost healthcare providers benefit both parties.
As healthcare costs continue to surge for both individuals and employers across the U.S., many organizations are pursuing value-led strategies. These strategies are known to lower costs while also improving the quality of care and patient outcomes. 
This is particularly important, as high-deductible plans and health savings accounts are commonplace, offering few additional cost savings opportunities.  
However, the time to act is now. Many employees are not seeking the care they need because they can't afford it even with health insurance. This results in less healthy and less productive employees and more costly healthcare outcomes in the long run. Research1 finds 32 percent of individuals with health insurance still have difficulty accessing care due to costs. This increases to 61 percent for those considered "functionally underinsured," meaning they don't have funds to cover basic out-of-pocket costs like deductibles, copays and coinsurance. 
Here are four ways for employers to lower costs and improve care as they try to make healthcare more affordable for employees.
1: Lower Costs by Steering Toward Optimal Providers
It's no secret that there is a wide variation in cost and quality across physicians, hospitals and other healthcare providers in the U.S. But most plan designs and network structures don't make the choice of higher quality and more cost-effective care an easy one. This can result in plan members unintentionally making healthcare decisions that lead to higher cost and poorer health outcomes. One of the most important things to do to lower cost and improve quality of care is to make choosing the right provider simple. This can be done through a guidance service or health plans that make that decision clear, such as variable copay plan designs that offer a range of copays for a service based on the cost and quality of the healthcare provider.
Aon worked with a client recently to implement a high-touch service that helps employees and their families find quality providers for their specific healthcare needs. The employer funded a Health Reimbursement Account (HRA) for employees to use to pay for out-of-pocket expenses when receiving healthcare services from recommended providers. Once the program was rolled out, the client saw healthcare costs fall 12 percent, even after paying up to $2,000 in individual HRA contributions. Employees experienced an average savings of 11 percent in out-of-pocket expenses. Even more important to the employer, however, is the improvement in the quality of care employees and their families are receiving that the company continues to track closely. 
2: Lower Costs with Reference-Based Pricing 
Another strategy is to implement reference-based pricing (RBP), where the health plan pays for services based on a specific reference price, such as a percentage of Medicare, rather than on a provider's billed charge. One of Aon's clients who implemented RBP achieved a 34 percent reduction in medical claims, driven by significant price reductions for costly services like emergency room visits, dialysis, high-cost imaging and surgical admissions. The employer then reinvested some of these savings into other areas of total rewards such as wages, subsidized childcare and expanding their employee assistance program. The client also added a concierge navigation service alongside the reference-based pricing plan. This steered employees to high-quality providers whose prices fall within the allowed price limit.
3: Reduce Cost Uncertainty with Predictive Analytics
The continued increase in the number of insured employees with chronic and complex conditions — coupled with new expensive drugs and therapies — is driving up the number of high-cost claimants for many employers. It's more important than ever for employers to understand this emerging risk so they can better predict and budget claim volatility and make the best decisions on claims mitigation and reinsurance strategies. For example, Aon's Health Risk Navigator uses machine learning to analyze historical claims and demographic data, which then allows the tool to accurately predict future high-cost claim risks. This type of predictive modeling helps employers take control of healthcare spending, integrate support and management for their high-cost claimant risks and ensure long-term sustainability of healthcare benefit programs. 
4: Integrate Support by Bringing Vendors Together
Individuals with chronic conditions and complex healthcare situations often have co-morbid conditions and a variety of needs that call for holistic support. Integrating support can improve the engagement, savings, clinical outcomes and return on investment that employers might not experience through stand-alone solutions targeted at individual chronic conditions or care needs. For example, Aon crafted an agreement with three leading vendors to work as a fully integrated ecosystem to support individuals with musculoskeletal issues. The vendors refer and treat people based on their spectrum of clinical need — ranging from primary care and physical therapy to health coaching, nutrition and surgery.
This type of integrated solution gives employees and their families access to convenient (mostly virtual care except for surgery), around-the-clock, high-quality care with low or no out-of-pocket costs — reducing costs for employees and employers alike. 
Creating a Value-Led Approach to Lowering Healthcare Costs
A value-led approach to lowering costs for employers and individuals doesn't always require a complete overhaul of plan options. Consider the following three strategies and which ones make sense for the specific employee population.
Create a low-cost foundation by narrowing the network, optimizing the place of service, driving the lowest provider cost, limiting access to out-of-network providers and reducing drug costs through pricing coalitions.
Make it simple to choose high-quality care by encouraging use of primary care, steering members to quality care and making the incentives to use higher quality, more cost-effective care clear and compelling.
Integrate support for chronic and complex members by using predictive analytics. This will help employers understand emerging categories of high-cost claimants, simplify care navigation, personalize care coordination, integrate co-morbid support and assure clinical effectiveness.
"Many employers don't realize that employees who are enrolled in health plans with very low affordability often have higher healthcare expenditures," says Farheen Dam, CEO of Aon's Health Solutions in North America. 
Indeed, Aon's research finds employees in low affordability plans had $1,500 higher total costs per year compared to those with medium affordability and $3,600 higher costs than those with high affordability. 
"Addressing the affordability of healthcare through these strategies will end up reducing costs for both individuals and companies," says Dam.
Talk with us or learn more about how Aon can help your organization make better healthcare decisions that save money and improve health outcomes. 
General Disclaimer
The information contained herein and the statements expressed are of a general nature and are not intended to address the circumstances of any particular individual or entity. Although we endeavor to provide accurate and timely information and use sources we consider reliable, there can be no guarantee that such information is accurate as of the date it is received or that it will continue to be accurate in the future. No one should act on such information without appropriate professional advice after a thorough examination of the particular situation.
Terms of Use
The contents herein may not be reproduced, reused, reprinted or redistributed without the expressed written consent of Aon, unless otherwise authorized by Aon. To use information contained herein, please write to our team.
20%
One in five employees are now in the "functionally underinsured" category
Source: Aon research across our database of employers
Cyber Labs
Stay in the loop on today's most pressing cyber security matters.
Environmental, Social and Governance Insights
Explore Aon's latest environmental social and governance (ESG) insights.
Insights for HR
Explore our hand-picked insights for human resources professionals.
Navigating Volatility
How do businesses navigate their way through new forms of volatility and make decisions that protect and grow their organizations?