Using Data to Close Workforce Gaps in Manufacturing Companies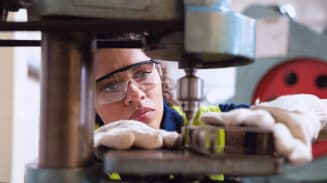 Our research shows three workforce challenges specific to manufacturing companies. Addressing these is critical to future success.
Key Takeaways
Manufacturing is falling behind other industries in promoting a sense of belonging and purpose among employees.

The industry struggles with prioritizing the physical and mental health of its workforce.

Employee financial wellbeing is a greater challenge in manufacturing than in other industries.
Every industry has its own human capital challenges unique to its specific circumstances. Analyzing data from three Aon research programs, we identified sector-specific resilience risks that are facing organizations today.
Our research shows that the three most pressing workforce challenges for the manufacturing sector are improving the physical, mental and financial wellbeing of its people and building a sense of belonging. How can companies tackle these big issues? With the right data and expert advice, organizations will be well positioned to make better decisions. Below are recommended actions to take to improve each area.
3,000

We analyzed holistic HR data from over 3,000 organizations around the world.

Workforce Resilience Diagnostic Insights

1,700

1,700 organizations completed a workforce resilience risk assessment.

2022 Aon Workforce Resilience Risk Benchmark

1,300

1,300 organizations told us their workforce wellbeing priorities.

2022-23 Aon Global Wellbeing Survey
Improving a Sense of Belonging and Shared Purpose
Mitigating the risks associated with not fostering a sense of belonging in the manufacturing industry begins with progressive and inclusive leadership. This involves promoting a leadership style that values diversity, actively listens to employees' concerns and encourages open dialogue. Leaders should create an inclusive work environment where all employees feel valued and respected regardless of their background or position.
The development of a workforce skills framework will also encourage a shared purpose and belonging among employees. This is a structure that allows organizations identify, develop and acquire the skills needed for the workforce of the future. As manufacturing companies increasingly rely on new technologies, such as automation and artificial intelligence, they are competing across industries for talent. A robust skills framework will help attract and retain the talent they need and provide ample reskilling and upskilling opportunities for existing employees.
60%
Sixty percent of manufacturing companies feel they can create a "good" or "very good" sense of belonging for their employees.
Source: Aon's workforce resilience research
Prioritizing Mental Health and Wellbeing
While 60 percent of manufacturing companies identify mental health as a top workforce challenge, only 40 percent have their wellbeing programs (which often include mental health support) integrated with HR strategies. This gap means manufacturing companies need to spend more time refining their employee wellbeing program and ensuring it's integrated holistically with other HR programs.
Improving mental health includes targeting microstresses that occur in the workplace to prevent burnout and providing easy access to mental health services. For example, our 2022 Health Survey found 47 percent of employees in the United States live in areas with limited access to mental health services. With mental health an acute concern among manufacturing companies, employers should focus on ensuring increased access within their healthcare plans.
Aon partnered with a multinational manufacturing firm to provide reskilling. Employees are invited to complete an assessment that provides a report highlighting the top three best matches between their own interests and those identified as a future skill for the company. It also offers development action suggestions and ideas to acquire new skills. From there, employees can join one of the 30 reskilling routes the firm has researched, sourced and funded.
40%
Only 40 percent of manufacturing companies have wellbeing programs fully integrated with their business and HR strategies.
Source: Aon's workforce resilience research
Manufacturing firms haven't always had a history of focusing on employees' mental health, but I'm seeing that change dramatically. Mental health is being destigmatized and seen as a business imperative as much as a talent one.
Improving Organizational Financial Wellbeing
With financial stress also a top concern, manufacturing companies should focus on ways to optimize their people spend, specifically for the programs and efforts that have the biggest impact. Our workforce resilience data and analytics highlight four main actions to consider:
Review people spend - Analyze funds allocated to various personnel-related expenses, including salaries, benefits and training to identify areas of costs savings or areas for investment.
Assess location strategy - Make informed decisions around location strategy by evaluating transportation and infrastructure, labor pool availability, and proximity to suppliers and target markets.
Optimize the workforce - Along with developing and implementing a skills framework, other actions to optimize the workforce — such as enabling employees to routinely gain exposure to new technologies and ways of working through programs like job rotations — will prepare businesses and their people for future demands.
Evaluate leadership spend - Allocate resources to provide competitive salaries, fair compensation structures and performance-based incentives. These actions demonstrate a commitment to leadership, set the tone for fair pay systems throughout the organization and hold leaders accountable for strategic goals.
30%
Thirty percent of manufacturing companies report financial risk and stress as a top wellbeing challenge for their employees.
Source: Aon's workforce resilience research
General Disclaimer
This document is not intended to address any specific situation or to provide legal, regulatory, financial, or other advice. While care has been taken in the production of this document, Aon does not warrant, represent or guarantee the accuracy, adequacy, completeness or fitness for any purpose of the document or any part of it and can accept no liability for any loss incurred in any way by any person who may rely on it. Any recipient shall be responsible for the use to which it puts this document. This document has been compiled using information available to us up to its date of publication and is subject to any qualifications made in the document.
Terms of Use
The contents herein may not be reproduced, reused, reprinted or redistributed without the expressed written consent of Aon, unless otherwise authorized by Aon. To use information contained herein, please write to our team.
Climate Change and Sustainability
With a changing climate and new regulations, organizations in all sectors will need to protect their people and physical assets, reduce their carbon footprint, and invest in new solutions to thrive. Our Climate Change and Sustainability collection gives you access to the latest insights from Aon.
Cyber Labs
Stay in the loop on today's most pressing cyber security matters.
Employee Wellbeing
Our Employee Wellbeing collection gives you access to the latest insights from Aon's human capital team. You can also reach out to the team at any time for assistance with your employee wellbeing needs.
Environmental, Social and Governance Insights
Explore Aon's latest environmental social and governance (ESG) insights.
Q3 2023 Global Insurance Market Insights
Our Global Insurance Market Insights highlight insurance market trends across pricing, capacity, underwriting, limits, deductibles and coverages.
Regional Results
How do the top risks on business leaders' minds differ by region and how can these risks be mitigated? Explore the regional results to learn more.
Insights for HR
Explore our hand-picked insights for human resources professionals.
Mergers and Acquisitions
Our Mergers and Acquisitions (M&A) collection gives you access to the latest insights from Aon's thought leaders to help dealmakers make better decisions. Explore our latest insights and reach out to the team at any time for assistance with transaction challenges and opportunities.
Navigating Volatility
How do businesses navigate their way through new forms of volatility and make decisions that protect and grow their organizations?
Top 10 Global Risks
Trade, technology, weather and workforce stability are the central forces in today's risk landscape.