January 2, 2023
11 Min Read
Life Sciences Industry Prepares for Challenges and Opportunities in a Dynamic Landscape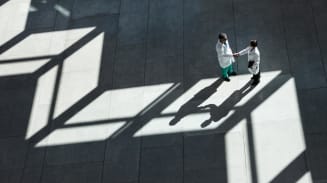 The life sciences industry is facing a dynamic and volatile landscape due to the COVID-19 pandemic and other global risks.
Key Takeaways
The post-pandemic global expansion in infrastructure spending is intended to address critical needs and kickstart economies.

Digitalization and advances in medical treatments are important trends that can help life sciences firms capitalize on new opportunities.

The life sciences industry is facing a significant talent shortage in areas such as artificial intelligence, data science, and machine learning.
Overview
After the accelerated innovation and profound change of the COVID-19 pandemic, the life sciences industry is preparing itself for further challenges and opportunities.
"The industry is in a very dynamic time," says Lars Sørensen, co-lead of global life sciences industry vertical at Aon. "The scope of life sciences continues to grow."
Across small, early-stage startups and large, established global companies, the life sciences industry can include biotech, pharma, medical device and medical technology, nutraceuticals and agricultural sciences. The industry touches many aspects of our global economy, and when circumstances and risks change, the impact is felt across the entire sector.
"Today, if there was one word to summarize the industry, it would be 'volatility,'" says Meaghan Piscitelli, partner and co-lead of global life sciences industry vertical at Aon. Pandemic risk and health crises were among 2021's top 10 risks in the life sciences industry, according to Aon's 2021 Global Risk Management Survey, along with the threat of business interruption and supply chain disruptions.
To address the industry's developing needs and capitalize on new opportunities, companies should maintain awareness of key trends, including digitalization and advances in medical treatments. Intellectual property security and an increasing urgency to attract and retain top talent add to the concerns of pharmaceutical companies and other life science sectors.
In Depth
As life sciences companies respond to global volatility and uncertainty, adaptation and agility have become increasingly important. This means taking a holistic, highly responsive approach to talent, the needs of the public and the complexities of running resilient businesses while being open to transformative processes.
"The way in which we operate is now being infused by different technologies and advancements leading to innovative and efficient ways of doing traditional business processes," Piscitelli says.
Digitalization Transforms the Industry
As part of the digitalization trend, life sciences have become increasingly integrated with other sectors. "We're seeing a lot of tech companies venture into the life sciences space and health sector space. And then we on the life sciences side are also investing heavily in digitalization," Piscitelli says. This cross-pollination of tech and life sciences can challenge companies to innovate while giving them new perspectives on established processes.
With the adoption of new technological advances, the life sciences industry must also consider where it invests its resources. Though a greater focus on technologies like artificial intelligence (AI) has helped to address concerns such as supply chain disruptions and process efficiency, Sørensen cautions that digitization comes with its own problems. "Investing heavily in digital growth gives us other challenges from a risk perspective with cyber security," Sørensen explains. "How do you make sure that the technologies you are using don't have any opportunities for access from the outside?"
Emerging Trends in the Life Sciences Workforce
Along with the rest of the economy, the life sciences industry is working to develop talent strategies for a changing world and tackling forces such as the Great Resignation. There is a growing demand for talent in the field, with percent of life sciences companies planning to increase their workforce.
Though Piscitelli says employers are gaining greater stability in this area, expanding the life sciences workforce has proven to be challenging. "The industry as a whole needs to continue to hire key critical talent and replace vacant roles, but then you place workforce disruption, a new working model and fierce competition for talent on top," Piscitelli says. "It generates a tsunami effect of a whirlwind war for talent."
The need for tech talent means the life sciences industry will need to prioritize upskilling. "Machine learning, data scientists, AI — those positions have been and will continue to be a challenge to hire. We don't have that skill set at many life sciences companies yet, so we need to either hire that in or develop that internally," says Piscitelli. In addition to on-the-job skill building, Piscitelli is optimistic about the potential of academia to produce life sciences professionals with the right digital talents — but adds that "right now there's more demand than there are candidates."
Employee mindsets and values have also changed since the onset of the pandemic. More potential hires are seeking remote work options, flexibility, wellbeing programs and strong DEI commitments from their employers. In addition to addressing these needs, increasing compensation may help to attract talent near cities and universities with clusters of life science professionals.
Until supply chain issues can be sorted out, everyone is dealing with those high prices or sheer lack of availability of material
The Vulnerability of Intellectual Property
Intellectual property (IP) security has become increasingly important in the life sciences industry, particularly in regards to 
costly patent litigation and the sale or transformation of a company. Larger companies may want to buy smaller life science startups to fold them into their research and development departments — but to protect IP during a 
merger or acquisition,
 the buying organization must understand its target organization and employees. By retaining key talent, businesses can contribute to the security of their newly acquired IP; if employees leave, valuable knowhow, reputation, and patents property intel may leave with them.
Patent expiration timelines are also challenging in the life sciences space. "There are close to 90 key pharmaceutical products that are about to go off patent over the next two to three years," says Piscitelli. "That's going to have a big impact when pharma companies think about their IP and their business planning."
Patient Needs Drive Innovation
Innovative treatments and specialized markets are changing business practices, product development and customer considerations in life sciences. "The real focus right now is on what we call personalized medicine and also gene therapy, where the future is for many of the companies in the industry," says Sørensen. To meet this demand, Sørensen says companies are selling off non-strategic parts of their business, setting up separate entities and investing in new areas to combat rare diseases.
Though some treatments and technologies are only relevant to highly specific groups of patients, this can create new opportunities for specialization while also changing the risk profile of a company. "It's very high-value drugs with a very small population. That creates, from an insurance perspective, opportunity and channels it in the clinical trial area," Sørensen says.
Changing Public Perceptions
The medical advances of the pandemic highlighted the potential for innovation and may have had a destigmatizing effect on the pharmaceutical industry. Though more people may have a positive view of pharma now,Sørensen cautions that current states of volatility could affect its reputation among the public. "Make sure your supply chain is as resilient as possible and robust. If you fail there, it will hurt your reputational risk," Sørensen says.
Though the pandemic drew attention to the value of the life sciences industry, innovation and forward thinking have long been central to its identity. "It's been in the mission and the vision of all of our life sciences companies for years, but the truth is everything's been escalated," says Piscitelli. "Yes, COVID put the industry in the spotlight — but beyond that, the speed and efficiency at which we can bring drugs or therapies to market has escalated and the need is there. It's pushed us to become even more innovative, more effective and more creative."
General Disclaimer
The information contained herein and the statements expressed are of a general nature and are not intended to address the circumstances of any particular individual or entity. Although we endeavor to provide accurate and timely information and use sources we consider reliable, there can be no guarantee that such information is accurate as of the date it is received or that it will continue to be accurate in the future. No one should act on such information without appropriate professional advice after a thorough examination of the particular situation.
Terms of Use
The contents herein may not be reproduced, reused, reprinted or redistributed without the expressed written consent of Aon, unless otherwise authorized by Aon. To use information contained herein, please write to our team.
Cyber Labs
Stay in the loop on today's most pressing cyber security matters.
Environmental, Social and Governance Insights
Explore Aon's latest environmental social and governance (ESG) insights.
Insights for HR
Explore our hand-picked insights for human resources professionals.
Navigating Volatility
How do businesses navigate their way through new forms of volatility and make decisions that protect and grow their organizations?